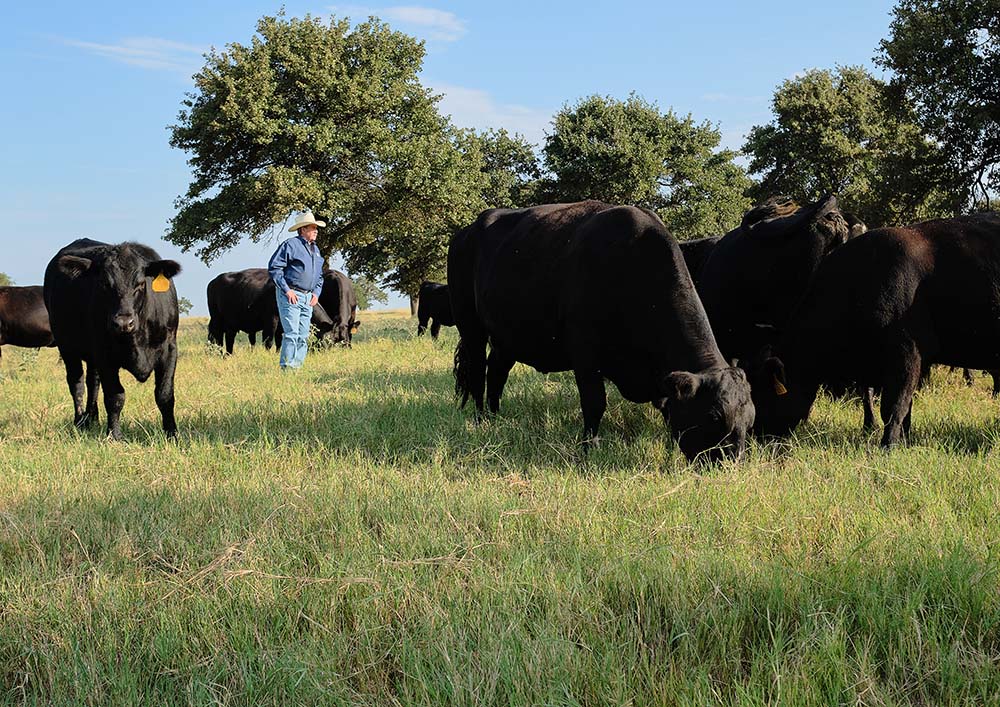 ---
Pass the pasta, please. It's suppertime at the Tallman family's dining table, and three generations are gathered to share their day, as they do every evening.
Patriarch Bob Tallman, "the voice of professional rodeo," often missed out on family meals in the past because he was touring on the rodeo circuit.
Then COVID-19 hit.
"When the pandemic set in and the world shut down, we would have been beat if it wasn't for our cattle and AgTexas Farm Credit Services," Bob says.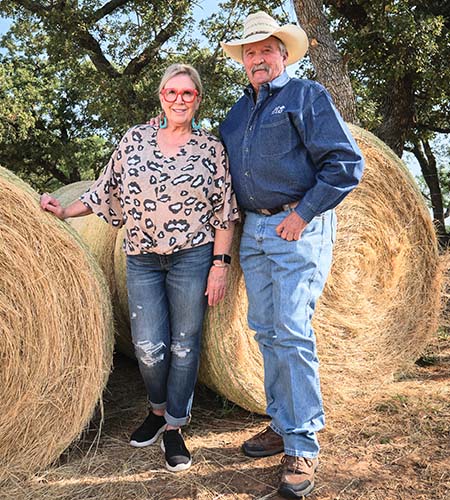 Much to his enjoyment and the delight of Kristen, his wife of 52 years, he found himself at the family ranch full time.
Announcing rodeos
A fifth-generation rancher, Bob's been around livestock and rodeos since his childhood in Nevada. When a rodeo producer gave him a shot behind a microphone in 1969, Bob found his calling at age 22.
For more than 50 years, he's announced rodeos big and small in his trademark drawl. To date, he's been voted Professional Rodeo Cowboys Association Announcer of the Year 12 times and was named the 2020 Legend of ProRodeo.
So, what does a rodeo announcer do when there are no rodeos?
If you're Bob Tallman, you work cattle, build your side businesses, start another career, and enjoy the rural home you financed with Farm Credit.
Raising cattle and selling real estate
On their 3T Rodeo Ranch, northwest of Fort Worth, Bob and Kristen run about 100 head of commercial Angus cows. To feed their herd, they grow and bale sudangrass for hay.
Besides running the cow-calf operation, they produce Bob Tallman's Reserve Beef — organic Black Angus beef available by the box or custom order. During the pandemic, "pasture-to-plate" marketing via social media helped keep their beef business afloat. So did their ties with AgTexas.
"A lot of small businesses didn't survive, but we kept going," Bob says. "A big reason why is our strong relationship with AgTexas Farm Credit Services. Everything we do on our property is through operating loans for feed, cattle and equipment with AgTexas. We also have our pasture and rainfall insurance with them."
In the meantime, Bob used his time away from the arena to launch a new career. In mid-2020, he studied up and became a licensed Texas real estate agent.
"I thought I'd forgotten algebra, but I passed the test," says Bob, an associate with The Platinum Group in Weatherford. "Toughest one I ever took!"
Making jerky
Boxed beef and real estate are not his only side gigs. More than four years ago, AgTexas backed Bob and Kristen when they founded Bobby T's Beef Jerky, billed as "authentic cowboy beef jerky."
"When I was on the road, I got tired of buying junk jerky at truck stops and convenience stores," Bob says. "I told Kristen that we could make something better than that. So we did."
After researching the market, the Tallmans partnered with Ranch House Mesquite Smoked Meats in Menard, Texas. The company hand-cuts, marinates, smokes and private-labels the jerky using top USDA-inspected beef from San Angelo. Available in four flavors, Bobby T's Beef Jerky is sold online and at Boot Barn, Central Market, National Roper's Supply and other retail stores.
Expanding the ranch
Texas has been home for the Tallmans since the late 1990s, when they relocated from Oregon to a small ranch with a large house south of Weatherford. A few years later, they bought a larger ranch and built a smaller house.
"We downsized our home and upsized our acreage," Kristen says. "This ranch also had better soil."
More space allowed daughter Nicole and her husband, Daniel Pennell, and twins to build a house on the property.
Even Bob and Kristen's house and ranch have a Farm Credit connection. In 2014, they refinanced with AgTexas. Two years later, they bought adjoining land with AgTexas financing. Other loans allowed them to enlarge their home. Constructed of metal and steel with spray-foam insulation, it was designed to withstand hail and high winds.
"Our favorite room is the kitchen," Kristen says. "I cook every night for all six of us. That's rare these days, but it's a tradition in our family. We've always been close."
Bob chuckles.
"Yep, Grandma does the cooking, and the kids do the praying," he says. "It's a pretty good old-fashioned way to live life."
— Sheryl Smith-Rodgers
To learn about the Tallmans' jerky, visit bobbytsjerky.com.
---