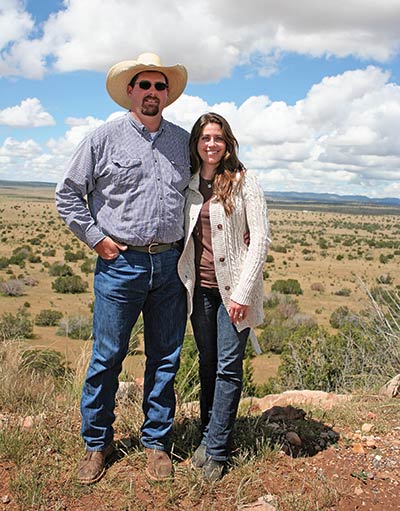 To Kyle Jones, the solution to juggling his full-time position at the BNSF rail yard in Belén, N.M., with his burgeoning cattle operation is simple.
"You just learn to live on very little sleep," he says with a laugh.
This might scare most 30-somethings away from the cattle business, but both hard work and the cattle industry are in Kyle's blood. A fourth-generation New Mexico cattleman, Kyle recalls hearing stories of how his great-grandfather would drive his herd 15 miles to water every single day in the 1930s.
Today, Kyle and his wife, Kaisa, are raising Hereford and Hereford-cross cattle on some of the same property near Mountainair, N.M., where his grandfather, great-aunts and uncle got their starts in the business.
Setting Sights on Being a Cattleman
Kyle says he has always wanted to raise cattle. He grew up working on his family's ranch on weekends and in his other spare time, and also helping his father, who managed a university ranch. Kyle credits his elders for patient guidance and for teaching him most of what he knows about the cattle business today.
"If we were loading cattle and one of us kids was in the wrong spot, instead of yelling, they'd tell you where to be and how to do it right," he recalls. "We just learned by doing."
When Kyle met Kaisa, a former city girl who grew up in nearby Albuquerque, he made it very clear that he had his sights set on being a cattleman.
"He told me before we got married, 'Be sure you want to do this with me, because this is what I want,'" she says.
"I told her it was going to be rough, and it's going to be dirty — everything it's not in the movies," Kyle adds. "We joke about that now. We'll be riding along getting ready to work cattle and it'll start snowing, or we'll come home sunburned and covered in white caliche dirt, and she'll ask me, 'Is this the romantic part of this?'"
Joking aside, the couple takes their responsibility as cattle producers seriously. Knowing that many people of their generation who want to get into agriculture face the obstacle of finding land, the Joneses acknowledge they are fortunate to be able to lease property from his family's estate. Kaisa says that it's a win-win situation for everyone, as she and Kyle needed acreage and the family needed leasees who would be good stewards.
"It's the only way I could be able to go into ranching at my age," Kyle says. He adds that he has sadly seen too many family ranches broken up by lack of interest or disputes, and he doesn't want his family to follow in those footsteps.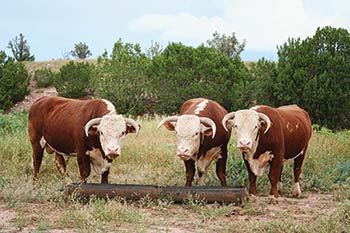 First-Time Ag New Mexico Customers
In 2013, the couple received financing from Ag New Mexico, which enabled them to buy additional cattle.
The association, like many other Farm Credit institutions, offers special programs for young, beginning and small farmers and ranchers.
"I really enjoy working with Kyle and Kaisa," says John Heckendorn, Ag New Mexico relationship manager and Jones' loan officer. "I'm excited to be able to help a couple who wants to be in agriculture achieve their goals in ranching. I know they will be successful."
The terrain around the ranch varies from rolling hills to rocky mesas, and can suffer from extreme cases of drought, as recent years have proved. Because of the hard country, Kyle says they don't raise their cows to be too heavy, usually averaging around 950 pounds.
Brush control is a recent focus for Kyle. In the past they have used a front-end loader to push down brush before moving it into a pile for burning. In the near future, Kyle would like to cut the trees and sell them as firewood for additional ranch income. It's an option that would work better with their sandy soil; the remaining stumps will hold the soil in place, protecting it from erosion.
Knowing that there are some day-to-day responsibilities he can't handle while working full time with the railroad, Kyle hired his cousin Jacob to help out — a dream come true for the two, who grew up plotting and planning to raise cattle all across New Mexico together.
The couple's long-term goal is for Kyle to ranch full time. Meanwhile, they work five days a week, with Tuesdays and Wednesdays off, to focus on their cow-calf operation and to remodel their house — a home Kyle's great-grandparents once lived in. Kyle says the only downside is a lack of vacations or ski trips in their immediate future, but they know the sacrifice will be worthwhile.
"Working here would be like retirement for me," Kyle says of the ranch. "It's comfortable, and the work doesn't really stress me out. I enjoy doing it — it just doesn't seem like work."
— Staff 
Special Farm Credit Programs for Young, Beginning and Small Ag Producers
To encourage new producers in agriculture, many Farm Credit associations offer special programs for young, beginning or small (YBS) producers like the Joneses.
Components of YBS lending can include:
Loan guarantee programs: Farm Credit associations work closely with many government and farm organizations, including the FSA Guarantee Program, to assist farmers in getting into and staying in business.
Flexible loan terms: By using flexible loan terms and working closely with governmental agencies and other organizations, Farm Credit institutions can tailor loans to fit the unique situations of YBS borrowers. In addition, through the New Generation Loan Program, Farm Credit can offer reduced closing costs and special underwriting standards.
AgFAST loan-scoring program: AgFast allows for quick loan approval for smaller loans and has been an asset for many YBS customers.
Sponsorships and scholarships: Farm Credit actively supports other programs, events, scholarships and educational activities that benefit YBS farmers and ranchers.
To learn more about programs specific to YBS producers in your area, contact your local Farm Credit lender.
---