Editor's Note: We are sad to report that since this article was first published, Donald Pilgrim lost his courageous battle with cancer and passed away on Aug. 18, 2014.
When Donald Pilgrim retired from a distinguished 30-year teaching career in 2000, he had no plans to ride off into the sunset. To hear him tell it, he didn't plan to run a feed store either, but life has a way of working out. Today, many a former student stops by Pilgrim Farm and Ranch Supply in Weatherford, Texas, to catch up with their former ag teacher, who owns and operates the successful store with his sons, Carson and Cody.
"The main reason we started the feed store was to have a place to market our hay," Donald says. "I thought, 'we'll work together and build something that the boys can have later.' That's been important to me."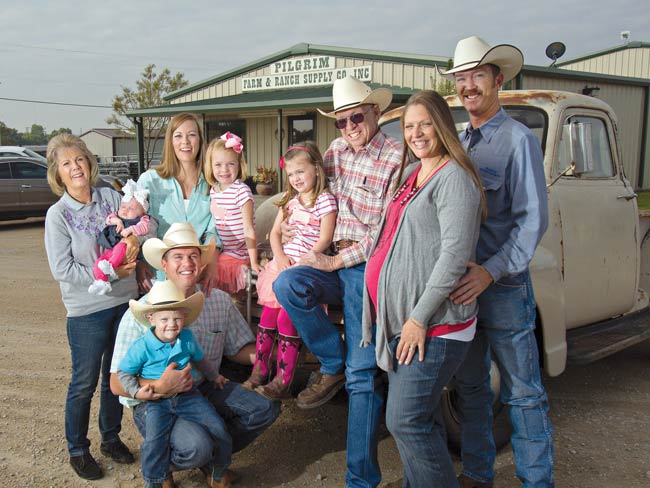 ---
"The main reason we started the feed store was to have a place to market our hay," Donald says. "I thought, 'we'll work together and build something that the boys can have later.' That's been important to me."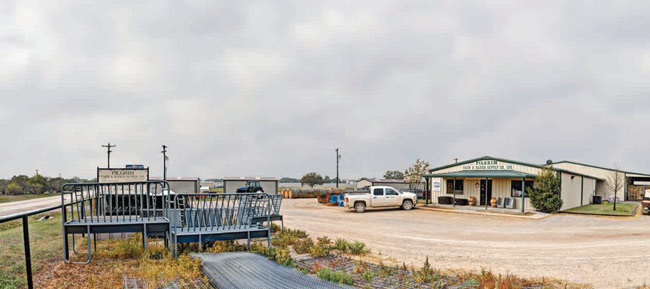 ---
Teaching and Farming
The fact that Donald went from teaching agriculture to young people to running an ag business isn't all that surprising, however.
While still teaching in the nearby community of Peaster, Donald always had an ag enterprise on the side. Throughout the years, he farmed peanuts, watermelons and cantaloupe, in addition to raising cattle. He loved farming, but after spending school nights planting hundreds of acres of crops with little to no return, he re-evaluated his operation in 1992.
"A farming friend of mine decided that from then on he wasn't raising anything that couldn't walk itself into a trailer, and I decided that wasn't too bad a philosophy for us," Donald says with a laugh.
Donald continued to raise cattle, and that same year, he got his first loan from AgTexas Farm Credit Services.
"I told all of my students, 'you make a living from 8 to 5, and what you do from 5 to 10 gets you ahead,'" he says.
A few years after fully retiring, Donald was looking to branch his business further, and both sons were at crossroads in their own careers; Cody had recently graduated from Tarleton State University and Carson was stretched thin operating his own fleet of dump trucks. To the Pilgrims, the fertilizer business seemed like a logical addition to supplement their endeavors at the time, and they turned to AgTexas for financing to purchase fertilizer trucks.
Branching Out
Never ones to sit idle, Donald says they soon wanted to branch out in yet another direction, and began offering custom hay services, harvesting and marketing hay for local producers. Trying to market hay in the rural area of Peaster presented several challenges, so the Pilgrims began looking for a place to build a hay facility closer to Weatherford. After reviewing construction plans and costs, Donald knew they needed to sell more than just hay to be profitable, and he saw an opportunity to bring his family together in business. With that, the idea for Pilgrim Farm and Ranch Supply was born in April 2005.
Today the store retails feed, agricultural supplies and hay in addition to the Pilgrims' fertilizer services. Hay is a large part of the store's business, as farmers, ranchers and horse operations have flocked to the region. During the prolonged Texas drought, local hay has been in short supply but high demand, so the Pilgrims supplement their inventory with bales from Arizona, New Mexico and Idaho.
"When we were out in the country and someone wanted two round bales, you had to drop everything you were doing to load just those two bales, and you really didn't make any money on it. The store is just a more convenient way to get paid what it's worth," Donald explains. "And it blends really well with the rest of our operation."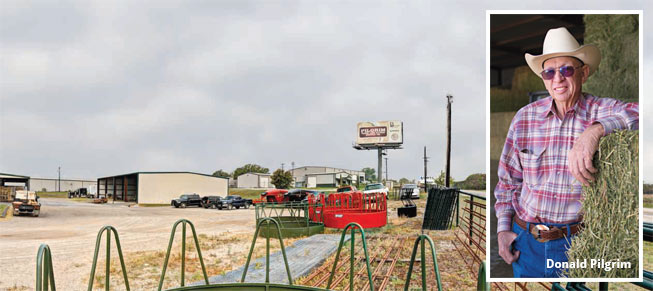 ---
Sticking With AgTexas
As logical as each next step for the family operations seemed, the Pilgrims say that choosing to finance multiple facets of their businesses with AgTexas was just as logical.
"There wouldn't be a Pilgrim Feed or a farm in the country or any of the other stuff if it wasn't for AgTexas." - Donald Pilgrim
"There wouldn't be a Pilgrim Feed or a farm in the country or any of the other stuff if it wasn't for AgTexas," Donald says, matter-of-factly.
In addition to growing hay, he farms more than 300 acres of wheat and has a 400-head replacement heifer herd. He purchases quality Angus heifers from established programs in the northern United States, feeding them on grain fields in the winter and coastal Bermudagrass in the summer, before selling them each fall. Two years ago, Donald and his sons began raising cattle together, too.
"Dad is pretty sharp at the buying and selling cattle," Carson says. "Cody and I handle the manual labor and he's more the brains behind the operation."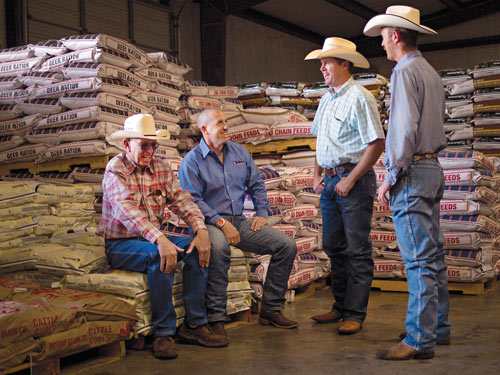 Cody manages the store's daily operations, and a majority of the family's fertilizer operations. From April to May, both he and Carson spend 10- to 12-hour days in the driver's seat of a fertilizer truck, applying liquid fertilizer for producers throughout Parker County. Cody also owns a successful fencing company in Weatherford. Carson admits he spends less time in the store than his brother, but he handles most of the custom hay business for the family, including the baling, and is more involved with the cattle herd with Donald. He also owns several commercial properties in town.
Two Generations of Farm Credit Customers
Cody and Carson obviously share their father's entrepreneurial spirit and strong work ethic, but they also followed in his footsteps by becoming AgTexas customers. Carson got his first loan from AgTexas when he was just 18 to purchase a dump truck, providing the foundation for a trucking business that he eventually sold after the store opened. Cody became an AgTexas borrower in his twenties when he needed an equipment loan.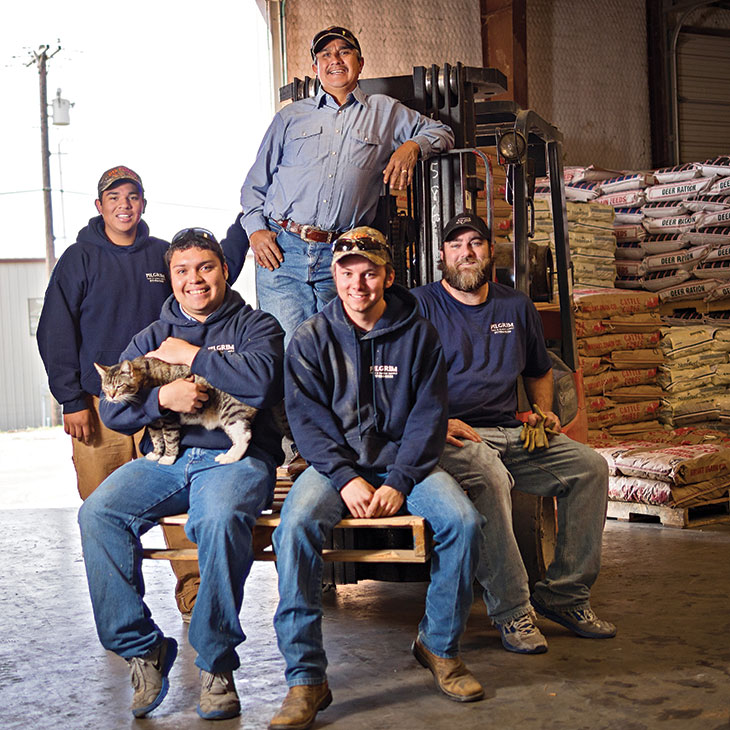 ---
"When Dad was our age, he'd go to a bank and be told 'no,' but we've been fortunate," Cody says of their relationship with the lending co-op. "When you're in business trying to branch out, and you've got someone backing you who has as much confidence as you have in yourself, you keep that confidence and your business benefits."
Chad Alleva, vice president of lending services in AgTexas' Stephenville office, has watched the Pilgrims' operation grow as their loan officer for the last 14 years.
"AgTexas has been good to us because of the relationship they had with Dad, but we've never called Chad when he hasn't backed us 100 percent," Carson says.
Alleva says that he respects the family's sophisticated business model, and that they keep him well informed about their day-to-day activities. In turn, he says he often relies on Donald's knowledge of the cattle industry for his own herd.
"None of this is by accident," he says of the Pilgrims' integrated operation. "In lending, one of the most important things is communication. They keep me in the loop so it allows me to have the information to make quick decisions when they need me."
Pitching in to Provide Great Customer Service
The Pilgrims acknowledge that their store isn't the only option for producers in their robust agricultural area, and Cody says they work hard to make customer service their competitive advantage.
The three men also give a lot of credit to their employees and wives for helping them juggle their many responsibilities. Donald's wife, Linda, who also worked for the Peaster school district for 25 years, can often be found running errands for her sons, and she did the bookkeeping for the store before Carson's wife, Jackie, assumed the responsibility. Both Jackie and Cody's wife, Jennifer, are heavily involved in the operation.
Laughing, Donald and his sons say that working side-by-side with family members has presented its share of squabbles and tension, but they rest easy knowing that they all focus on a common goal, instead of on short-term problems.
"At the end of the day, this is my dad's idea and he got his boys to go for it. He knew we'd stand by him and do a good job," Cody says. "This business is built because of his reputation as an ag teacher and a farmer, and those are the reasons it thrives."
Even though Donald's retirement has been anything but leisurely, he wouldn't have it any other way.
"No matter what I was doing, I've always had a burning desire to succeed," Donald says. "You can't wait for things to come to you."
– Staff
---