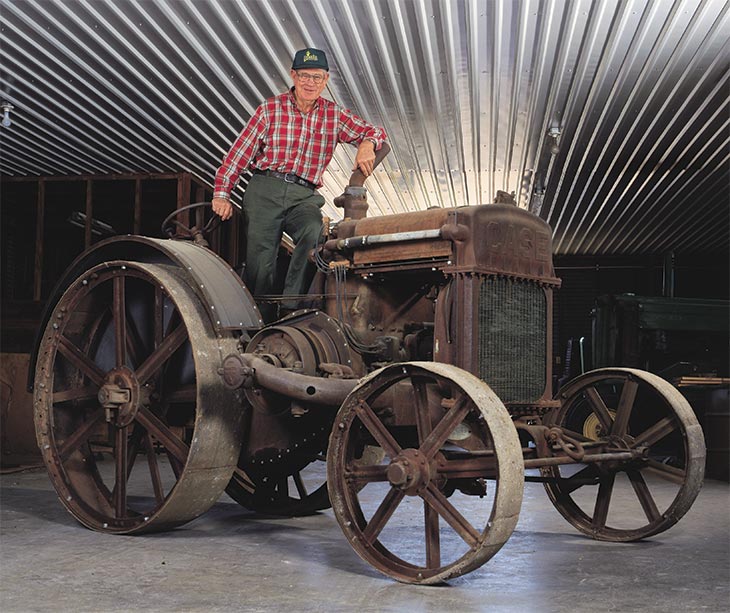 ---
Ask farmers if they like antique tractors and farm machinery, and you may get a puzzled look. You might as well ask why the sky is blue. For some, it's simply a part of the vocation that is difficult to explain.
"I think farmers are passionate and have a caring heart for what they work with," says Dan Taylor, an AgTexas Farm Credit member and president of the Bayer Museum of Agriculture in Lubbock, Texas. "We [farmers] are bonded to the equipment that we use out on the farm and simply have a major love for it. These machines are sort of like animals. You don't want to mistreat them. The equipment is a part of you, a part of your occupation. You develop a real bond, and later the equipment becomes such a novelty to you that you want to keep restoring it."
For some antique equipment lovers, their hobby is all about nostalgia. They appreciate the opportunity to own and operate tractors that they envied when they were younger, or perhaps they still have an old tractor that their father or grandfather purchased "back in the day."
Vintage iron workhorses also inspire an appreciation of modern methods and technologies that allow agriculture to be vastly more productive and efficient.
"When I'm riding on one of these old tractors in a parade, I often think what it would have been like to have spent 12 to 14 hours a day in that old seat," says Cody Gruhlkey, a Capital Farm Credit customer from Kress, Texas, who with his dad, Perry, owns and restores antique tractors. "Today, if the auto-steer goes out on our tractor, we think we have to go to the house. They were real farmers back then."
A Family Tradition
Other enthusiasts use their hobby as a tool to share their love of farming and machinery with a younger generation.
"I bought my first Farmall Cub tractor with the intention of teaching my grandchildren how to work and to raise a garden," says Jodie Perry, a Louisiana Land Bank customer from Monroe, La. "It's given them an interest in old machinery and provided us a common interest."
Similarly, three generations of the Gully family from Rowena, Texas, have collaborated to bring old equipment back to life.
"It's a great family tradition that we really love to carry on," says Central Texas Farm Credit customer Stanley Gully. "When my kids were young, they would help Grandpa (Harvey) in the barn. There's not too many hobbies where grandpa, son and grandkids can share an interest in the same thing."
Whatever their motivation, numerous farmers love to share their enthusiasm for antique equipment with others, even as they embrace the latest technology.
Landscapes salutes the following Farm Credit customers for their dedication to preserving and maintaining machines from past eras.
—Glen Liford
---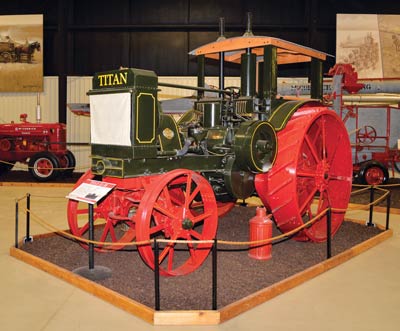 1915 International Harvester Titan 12-25 Tractor
This rare 1915 International Harvester Titan 12-25 tractor is the centerpiece of the extensive collection of farm machinery, implements and tools housed at the Bayer Agricultural Museum in Lubbock, Texas.
Costing $900 when it was new, the Titan 12-25 was primarily used as a traction engine to pull plows and power belt-driven units such as threshing machines.
This particular four-cylinder, 575 RPM model was sold by Egenbacher Implement Co. in Knox City, Texas, and used on the McFadden Ranches in southeast Texas. It's conceivable that it could have been purchased late in 1915 and put to work for the first time in 1916, the year Farm Credit was established.
The Titan was restored by Cody and Perry Gruhlkey and fellow Bayer Ag Museum volunteer Red Rivers and sponsored by Dan and Linda Taylor. Restoring such a rare model proved challenging, says Cody, because factory and field photos of the Titan were scarce. For reference information, he turned to tractor enthusiasts in International Harvester clubs.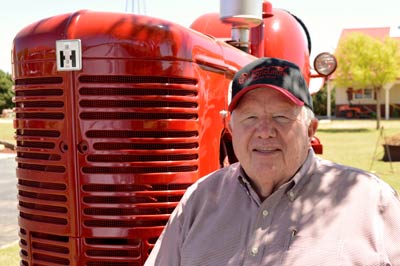 This 1953 Farmall Super M owned by Dan Taylor of Ropesville, Texas, originally belonged to Dan's father. It was restored by Early Iron Restorations in Mount Pleasant, Texas, and is one of several tractors that Dan owns.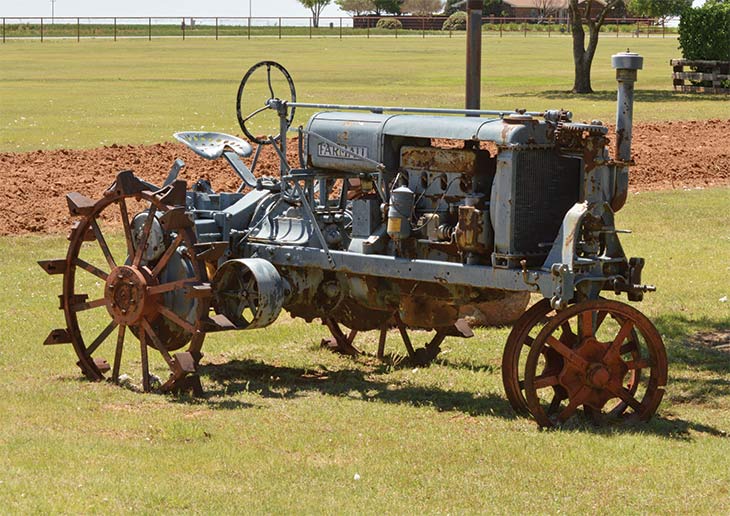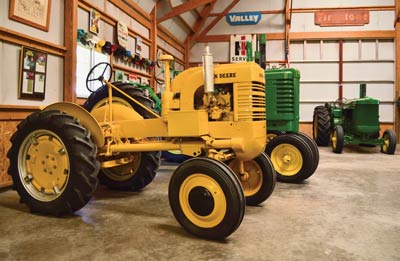 "You learn not to keep them in the same place," he says with a mischievous smile. "That way your wife can't count them."
A circa 1940s yellow John Deere LI tractor is one of the rare pieces in Dan's extensive collection of tractors and farm equipment. The "I" stands for industrial use, as opposed to the maker's agricultural tractors. It was used by the Ohio Highway Department for mowing.
Not all of Dan's tractors are in running order. A steel-wheeled 1929 Farmall, for instance, decorates his backyard.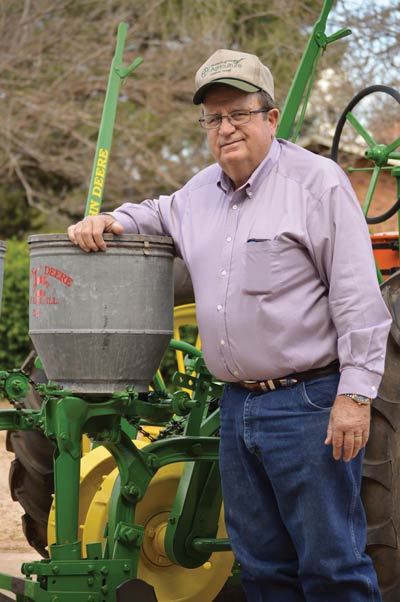 Vic Coker of Muleshoe, Texas, counts himself fortunate to own the John Deere A that his dad purchased new in 1936 in trade for five mules and three horses. A friend restored the engine, and Cody Gruhlkey completed the cosmetic restoration for Vic, who is a former Capital Farm Credit director now serving on the Bayer Museum of Agriculture board.
A 1936 two-row planter, now affixed to the tractor, and a two-row cultivator were part of a package purchased by Vic's father. Vic plans to restore a matching John Deere A and attach the cultivator to it.
The 1962 Ford is one of 19 vintage tractors in Vic's collection. It was picked by his wife, Judy.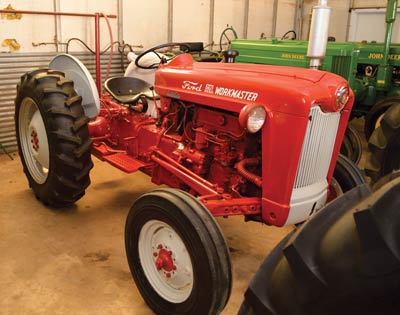 ---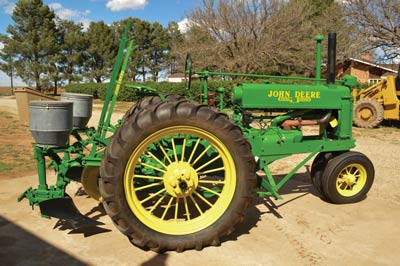 ---
---
Cody Gruhlkey
Cody Gruhlkey and his dad, Perry, have a collection of nearly 65 antique tractors. While many of them have been restored, others are tucked away in sheds and barns awaiting their turn.
---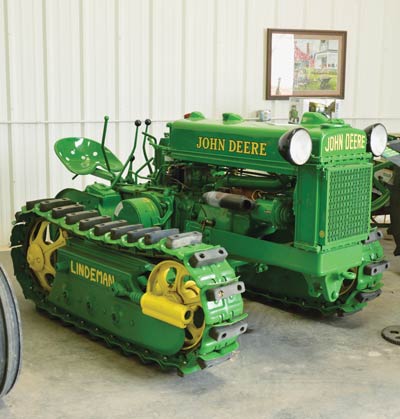 "I'm always looking for just one more," says Cody, who began restoring tractors while still in high school. He worked after school and on Saturdays for the Massey Ferguson dealer in Plainview, Texas, where he learned many of the techniques he uses today.
Cody says that a John Deere BO crawler, customized by Lindeman, is the most unusual item in his vast collection. One of only 1,600 manufactured, it was used in a walnut grove in Stockton, Calif. The machine is based on a John Deere BR tractor, and has features exclusive to machines designed for use in orchards.
There's no comparison between the production ability of Cody's modern John Deere 8285R tractor and vintage machines like his 430 model, circa 1959, of which only 68 were built.
He has collected shelves full of rare parts that he uses in his restoration work.
---
Jodie Perry and the Verhoff brothers
Jodie Perry of Monroe, La., and the Verhoff brothers, Clete and Mark, of Selma, Ala., recently restored an Oliver Red River Special threshing machine manufactured between 1929 and 1931. The vintage machine was part of an old-time threshing demonstration near Elmore, Ala., in May.
"It's been a challenging project," says Jodie. "Some of the parts are difficult to find, and the project has challenged our mechanical expertise as well." Forced to become "pretty good tinsmiths," he says the trio learned to fabricate and crease body panels and were fortunate to track down rare parts, such as external pulleys made of paper by only one company.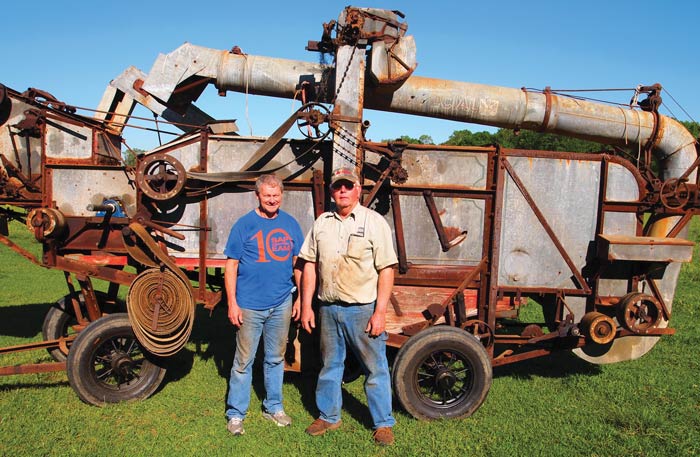 ---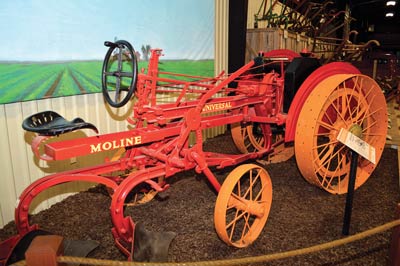 Where to See Antique Equipment
If you enjoy old farm equipment, visit some of the museums and antique equipment events showcasing artifacts from agricultural history. Here are just a few places in the Texas Farm Credit District where you will find antique equipment on exhibit:
ALABAMA
Landmark Park, Dothan – landmarkparkdothan.com
Pioneer Museum of Alabama, Troy – pioneer-museum.org
LOUISIANA
LSU Rural Life Museum, Baton Rouge – lsuagcenter.com/portals/burden
MISSISSIPPI
Mississippi Agriculture & Forestry Museum/ National Agricultural Aviation Museum, Jackson – msagmuseum.org
NEW MEXICO
New Mexico Farm & Ranch Heritage Museum, Las Cruces – nmfarmandranchmuseum.org
TEXAS
Agriculture Heritage Museum, Boerne – agmuseum.us
Bayer Museum of Agriculture, Lubbock – agriculturehistory.org
To find antique equipment shows by date and location, check out these sources:
Farm Collector Show Directory – farmcollectorshowdirectory.com
Tractor Shows Calendar – antiquetractorblog.com/calendar-2
Hands-On Learning
FFA Member Matt Mahler Wins National Restoration Award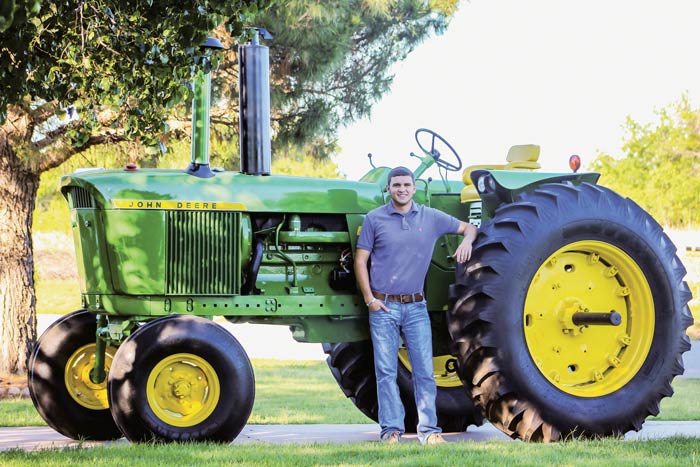 ---
Preserving the past is not the only reason to restore old tractors. For Matt Mahler of Iowa Park, Texas, tractor restoration has sown the seeds for a promising future.
Mahler, the son of Capital Farm Credit customers Barry and Sheri Jo Mahler, was recognized for his restoration skills last fall when he took home grand champion honors in the 2015 Chevron Delo Tractor Restoration Competition at the national FFA convention in Louisville, Ky.
It was the fourth time that the outgoing young man had qualified for the prestigious competition, but it was his first grand champion win, and it came with a check for $10,000.
For 20 years, the Delo tractor competition has recognized high school–aged tractor restoration experts from across the country. The young participants develop skills in equipment mechanics, teamwork, project management, budgeting and planning that will help them transition to agricultural leaders.
The Perfect Project
Mahler won for his restoration of a 1972 John Deere 4320 diesel, which was his project in the Iowa Park High School FFA program last year. Previously, he restored a 1955 Ford 850, a 1976 John Deere 2240 diesel and a 1970 John Deere 4020 diesel.
The moment he discovered the 4320 in a used tractor yard, he knew it was a perfect candidate for his FFA project.
"It was near the end of its run," he says. "It had nearly 8,000 hours on it, and it was in rough shape."
Over 700 Hours of Work
Mahler figures that he spent more than 700 hours bringing the tractor back to showroom condition. The job involved mechanical, wiring, paint and body work, and required disassembling nearly every piece of the machine and refurbishing it to like-new condition.
He credits his agriculture teacher, Alan Reed, his dad, Barry, and his brother Braden for cultivating his love of tractors and the restoration process.
"I gained skills every year from each project," says Mahler. "Each year, I did more and more on my own. But the community as a whole was a big help. This project was probably more applicable to working on modern equipment, since the tractor was a newer model."
Mahler currently works as an equipment salesman at Star Tractor in Fort Worth, Texas, and attends Vernon Regional Junior College. He hopes to later transfer to Stephen F. Austin State University and use his $10,000 Chevron Delo award to pursue a degree in agricultural mechanics.
—Glen Liford
---