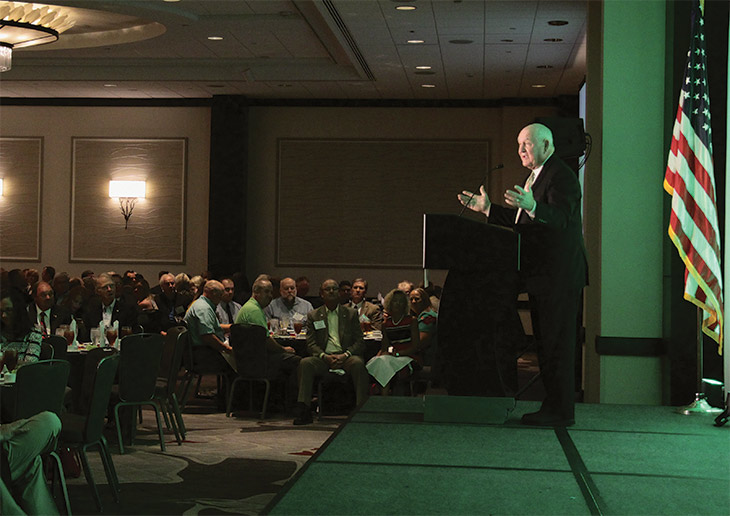 ---
With the expiration of the current farm bill next year, Farm Credit is letting Congress know how important it is to pass a strong bill that supports agriculture and rural communities. 
Over 600 Farm Credit representatives from across the country traveled to Washington, D.C., this summer to meet with their respective members of Congress and advocate for a strong farm bill — one that strengthens the federal crop insurance program, expands the Farm Service Agency (FSA) guaranteed loan program and boosts investment in rural infrastructure. 
Ensuring the availability and affordability of crop insurance is a critical component of any farm legislation. This point was underscored in recent months as hurricanes, hail storms, wildfi es and tornadoes destroyed thousands of acres of crops across the South. Some in Congress want to reduce government's role in crop insurance; doing so, however, would only make the product less effective and increase risks to farmers and their lenders. 
In addition, FSA-guaranteed loans are an important tool that helps Farm Credit institutions to work with their customers, especially young and beginning producers. Unfortunately, FSA loan size limitations have not kept up with the requirements of the marketplace and need to be adjusted. 
Lastly, whether as part of the farm bill or as part of stand-alone infrastructure legislation, Farm Credit supports programs that are tailored to the unique needs of rural America and that attract more private investment in rural infrastructure. 
During the Washington visit, the Farm Credit representatives from every state voiced their unique personal stories, while communicating the collective message that Farm Credit's mission is to provide muchneeded credit to rural communities and agriculture.
In addition to meeting with congressional members, the group met with newly appointed Secretary of Agriculture Sonny Perdue, who expressed his support for these public policy positions and lauded Farm Credit's "reputation of supporting agriculture through thick and thin" — and Sen. Pat Roberts, Senate Agriculture Committee chairman, who spoke of his intention to hold meetings on the farm bill as early as this fall.
As Congress contemplates the next farm bill, Farm Credit's mission is especially critical. Declines in commodity prices in the past several years are pushing down farm income, and many farm families are making adjustments to their operations. For the most part, farmers entered this lower price cycle with healthy balance sheets, but the long period of low prices is taking a toll. Farm families need a farm bill that provides a safety net for their operations to help them make it through this cycle.
Farm Credit's mission remains just as vital today as when the fi st Farm Credit loan was made more than 100 years ago. Our efforts in Washington, D.C., this summer helped demonstrate that in addition to providing financial capital Farm Credit is willing to bring political capital to the table by adding its many voices of support for rural communities and agriculture.
– Stan Ray
---