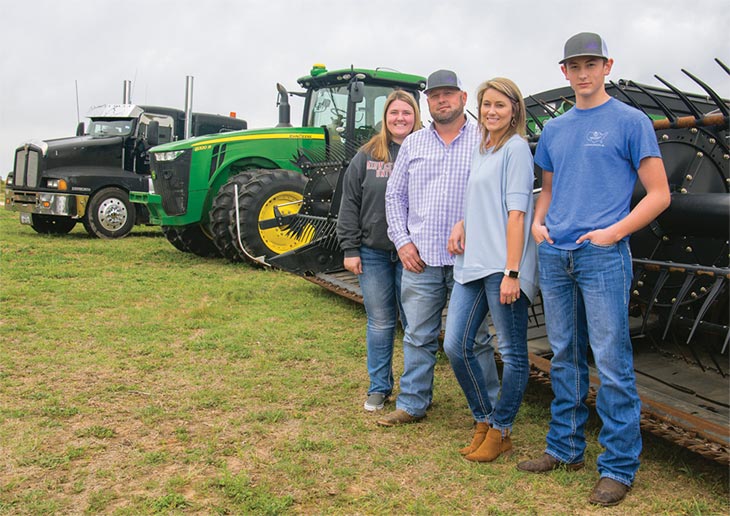 ---
Hail, tornadoes and dust storms don't faze Jeff Gregory, who owns 4G Harvesting and Trucking in Early, Texas. As a custom harvester, he often deals with iffy weather as he and his crew cut crops across the Midwest.
"I grew up on a peanut farm," says the third-generation farmer. "My family always had a combine, and we'd cut crops for other farmers. So I always wanted to start my own business."
Financing the Equipment
Jeff started the business in 2013. Since 2017, he's partnered with Central Texas Farm Credit to help finance operating expenses and equipment purchases.
"We've built 4G Harvesting and Trucking from the ground up," he says. "Nothing has been given to us. But I couldn't have done it without Farm Credit's help."
As a custom harvester, Jeff travels for nine months. He and three or four hired hands haul two combines, two tractors, one grain cart, two hopper bottoms and two headers. They also take two RV trailers.
---
Harvesting from April to December
The season starts in late April in South Texas, where the crew cuts and trucks wheat to coastal ports. In May, they harvest the Gregorys' wheat crop near Early. Then everyone caravans north into Oklahoma, Colorado, Kansas and Montana, cutting wheat, oats, soybeans and other crops as they ripen. Each job runs 10 to 14 days. When the work's done, they move again.
The majority of 4G's customers are large, family-owned farms, Jeff says. Since combines cost $500,000, and headers start at $100,000, it's cheaper for farmers to hire custom harvesters. 4G also hauls their crops to nearby grain elevators or terminals.
Traveling as a Family
When schedules allow, Shana, a school nurse, and their children, Hadley, 18, and Hayden, 16, join Jeff on weekends during school. In summers past, all four worked together. Hayden, who willingly traded school sports for farming, drives a grain cart. He will join the family business full time after high school. Hadley starts college in August.
Typical days start at daylight and end by 10 p.m. For her part, Shana handles paperwork and laundry, plus family breakfasts and lunches. For supper, she serves everyone in the field a tasty dish made in her slow cooker.
Tight living quarters has its challenges. Imagine fitting belongings, office equipment and kitchen goods for four people into less than 400 square feet.
"Oh, yes, there's nothing that will bring your family closer than living in a camper," Jeff says. "It's an adventure every day."
– Sheryl Smith-Rodgers
---