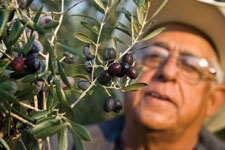 Among the many labels of imported olive oil on Texas grocery store shelves, shoppers can now find a surprising newcomer — Texas Olive Ranch 100% Texan Extra Virgin Olive Oil. Texas grown and bottled, it is the first of its kind to hit grocery store shelves.
The long-awaited product represents years of hard work and risk for entrepreneurs who set out to prove that an olive oil industry could be established in Texas.
"Some said it couldn't be done," says Capital Farm Credit customer Jerry Farrell, who now owns part of Texas Olive Ranch in Carrizo Springs, Texas. "But the fat lady was singing when we ran that press for the first time and started bottling oil."
For Texas Olive Ranch co-owner Jim Henry, an early pioneer in the Texas olive oil industry and founder of the Texas Olive Oil Council, the day was long in coming — and very rewarding.
"After 14 years of trying to do something, and you finally do it, that's very satisfying," Henry says. "Several people were there who have supported me through the years. I was happy for all of us. I didn't do it by myself; I did it with all their help."
Consumers Want to Buy Local
The response by consumers has been positive. Shoppers like the taste, and more than that, they appreciate that the product was produced in Texas. The fact that it is local can have a big impact on the quality of the oil when it reaches the consumer.
"There are a lot of parallels between olive oil and wine, but unlike wine, olive oil is best when it's young," says Karen Lee, another co-owner of Texas Olive Ranch, along with a fourth partner, Farid Rebeiz.
"For Texans, our oil is fresher, closer to the source and gets to market sooner than any other olive oil in the world," she adds.
"My wife is always telling me, 'You didn't retire; you just changed your address.'" — Jerry Farrell
Lee believes their olive oil fits in perfectly with the growing "locavore" trend, a term coined for consumers who prefer locally grown foods. It is a consumer preference also being documented by the Texas Department of Agriculture through the GO TEXAN program.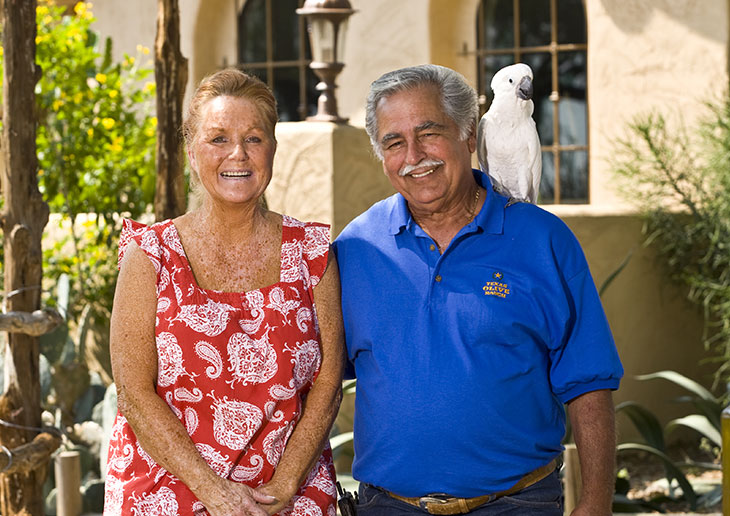 ---
"We have seen an increasing trend over the past few years with people wanting local products. The number of certified farmers' markets has increased, and we're getting more calls from people asking where they can buy local," says Richard De Los Santos, a marketing coordinator with the GO TEXAN program.
"Every time I tell a retailer about Texas olive oil, they are totally shocked. They had no idea there was olive oil production happening in Texas," De Los Santos says. "Next, they usually ask where they can get it."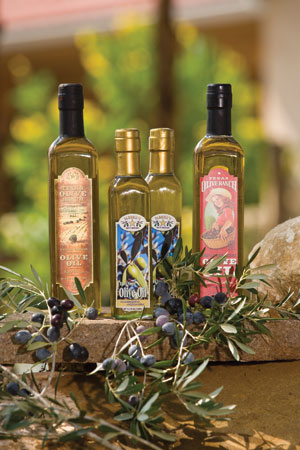 The Potential Market is Strong
All of the Texas Olive Ranch partners feel strongly about the potential to grow a new agricultural industry in Texas. Consumption of olive oil worldwide is on the rise, growing about 20 percent per year.
"The United States consumes more than 20 percent of the world's olive oil, but we produce less than one percent," Henry says. "So you can see that the opportunity to make and sell oil is very good."
Plus, there are health benefits from eating olive oil, Lee adds. "I am delighted to be involved in olive oil, because it is a guiltless food."
She believes that Texans will embrace new ideas for cooking traditional foods in healthier ways. Already she is seeing interest from producers of other Texas foods.
"When we go to food events, we're kind of like the prom queen, because everybody wants to dance with us," Lee says. She gives an example of a recipe for a watermelon salad she saw in a magazine recently. One of the ingredients was olive oil.
"Olive oil enhances the flavors of virtually every kind of food," Lee says.
Bumper Crop in 2007
Last year was a good year for olives in Texas. It was the first year that a crop was harvested at Texas Olive Ranch, a 40,000-tree orchard planted in early 2005. The largest operation of its kind in the state, the ranch harvested and pressed 100 tons of olives in 2007. Each ton produced 28 to 32 gallons of oil.
It was also the first year that Farrell harvested olives from his much-smaller 2,300-tree orchard on his ranch in nearby Artesia Wells, Texas. All of his supply, bottled under the label "Farrell's Olive Orchard Extra Virgin Olive Oil," was sold by Lee at a regional wine festival.
"We harvested all the olives in my orchard by hand, and it took almost two weeks to pick two tons," Farrell says. "On the other hand, it took Texas Olive Ranch less than five days to pick more than 100 tons with a mechanical harvester. That's definitely the way to get a quicker return on your investment."
Farrell has been involved in olives since he planted his orchard in 2002, and over the years, he has learned a lot about what to do — and what not to do.
"If you have a technical question, Jim's the guy to ask," Farrell says. "I don't mind telling people, 'If you want to see how not to do it, then come and see my orchard,'" he jokes.
Farrell points out several of the differences between his own orchard and the Texas Olive Ranch. His orchard took five years to produce a crop, while Henry's orchard produced a crop in half that time. He started out with an expensive "fin pin" irrigation system and later converted to drip irrigation, which is the system of choice at Texas Olive Ranch.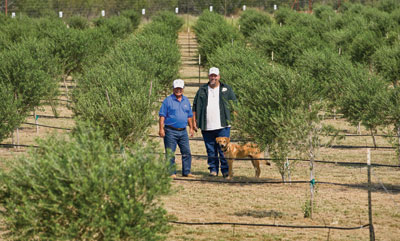 The biggest difference, however, is the density of the trees. Farrell's orchard is planted with 9-foot or 10-foot spacing between trees. Texas Olive Ranch was planted as a high-density orchard, with trees planted five feet apart in rows 13 feet apart. This style of planting leads to 695 trees per acre and allows for mechanical harvesting.
Interest Increasing Among Future Growers
The phone has been ringing daily since the first successful harvest, with calls from interested people who would like a taste of future olive oil profits. The Texas Olive Ranch partners expect hundreds to attend a field day they are hosting this fall.
Henry says he gets three or four phone calls and an equal number of e-mails every day. He hopes that one day he can pass on the role of advisor to someone else.
"I'm uncomfortable with people asking me all the questions, but I'm the only one giving answers. There is still no research on olives in Texas," Henry says. "We need some scientific research; it would be beneficial for everyone. There is some interest now in doing research by USDA and the Texas Department of Agriculture, but there is a lack of funding."
Henry gained his knowledge the hard way — through trial and error. "I'm the only one left that's been doing it this long," Henry says. "I don't know if that makes me stupid or stubborn."
Every Year Is Different
Texas Olive Ranch had a light harvest this year, and Farrell's Artesia Wells orchard did not produce a single olive.
"It's one of the things we have to tell people who are interested in getting into the business," Farrell says. Like any other type of agricultural production, results are not guaranteed, and growers have to be prepared for just about anything.
"You have to be patient and not give up," says Farrell's stepson Emery Wilson Jr., who helps tend Farrell's orchard. "It is farming, after all."
Farrell adds, "And it's still new. We haven't been at it long enough to predict what will happen next."
Henry says that growers across the United States had an "off" year. "We think it was because we had cooler weather during the bloom, and that slowed down the process." Olives bloom around April and are harvested in September.
To keep up with the expected demand, the partners already have more orchards in the works. An 11,000-tree orchard was planted in February 2008, and another 65,000 trees will be planted in February 2009. New growers will be putting in orchards also.
"I expect another 200,000 trees to be planted in 2009," Henry says.
The partners will also be looking at additional ways to use their press, including producing pecan oil and avocado oil.
"Equipment doesn't pay for itself sitting still," Farrell says.
Getting Back to Their Roots
For each of the partners, getting involved in the olive oil business was a way to return to their roots.
A native Texan and branding expert, Karen Lee is proud to be involved in bringing a new, healthy, local product to the market. She believes that producing oil from olives, one of the world's oldest crops, ties us back to our ancestors. The same is true for Rebeiz, who is from Lebanon, and is sharing a part of his homeland legacy through olive oil production.
Henry, a Dallas businessman, comes from a long line of farmers, and he always knew that he would eventually be involved in agriculture somehow. "Farming is in my DNA," Henry says. "I first thought about growing grapes for wine, but at that time, 30 years ago, people were saying that it couldn't be done. I took that advice at face value.
"But in the early '90s, I started inquiring about olives. There wasn't any research, and again people said it couldn't be done. This time, however, I decided to ignore those opinions and try anyway."
"I'm the only one left that's been doing it this long. I don't know if that makes me stupid or stubborn." — Jim Henry
At first, Farrell viewed olives as a project to pursue after retiring from his longtime career with Schoenmann Produce Company in Houston, which packs Mountain King Potatoes. He had read an article about people who were starting to plant olive trees in hopes of growing a new industry in Texas.
As an Italian-American, whose grandparents had migrated to the United States from Calabria, Italy, in the 1900s, he was intrigued. He remembered his grandparents' love of the land and how they grew numerous fruits and vegetables on their small farm in western Pennsylvania. Planting olive trees would not only put him at the beginning of an exciting new venture, it would also be a tribute to his ancestors and, in a way, return him to his roots.
"I called Susan Combs, who was then the commissioner of agriculture," Farrell recalls. "I asked her who I should talk to about this olive oil idea. She told me to call Jim Henry. That was the very beginning for me."
Farrell has since become much more involved in growing olives. He and his wife, Penny, bought an interest in Texas Olive Ranch in 2008. It's a big change from what he first planned when he bought his ranch.
"We were living in Houston, and I wanted to have a place where the family could go hunting," says Farrell, who purchased the Artesia Wells property in 1995 with financing from Capital Farm Credit. "When I was getting ready to retire, I asked my wife where she wanted to live. She said, 'Let's retire to the ranch.' And that was that."
They built a Spanish-style home that was completed in 2005. Now that they are living there full-time, Farrell stays busy with his orchard and Texas Olive Ranch.
"My wife is always telling me, 'You didn't retire; you just changed your address,'" he says.
–Staff
---