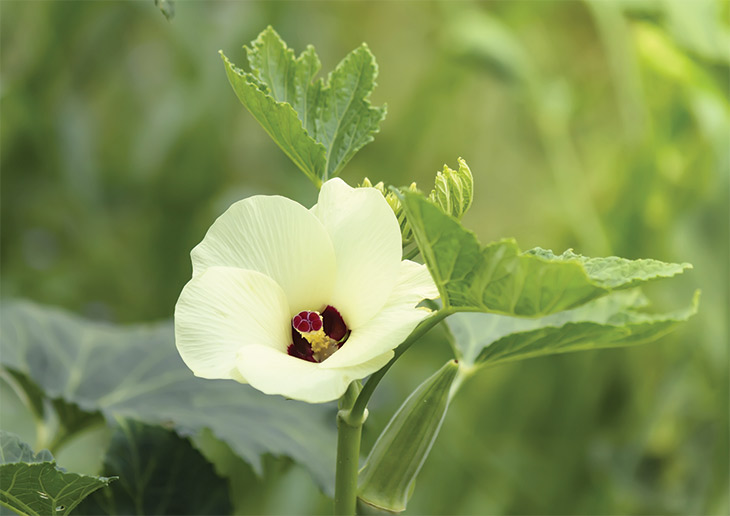 ---
If you've never heard of Southern popcorn, you probably haven't been paying attention or haven't lived in the South very long. This crunchy fried okra is so named because when you eat it, you just can't stop.
And why should you, when the latest information reveals the multiple health benefits from consuming these nutrient-dense pods? Whether boiled, fried, steamed, roasted or pickled, okra is rich in dietary fiber, vitamins A, B, C and K, and essential minerals including iron, calcium, manganese and magnesium.
And let's not forget the mucilage, or okra "slime," which displeases those who don't care for the vegetable: Good for your gut, it aids in digestion. It also makes a great thickener for soups and stews. If the goo isn't for you, it can easily be reduced by frying or cooking with acidic elements such as tomatoes, vinegar or lemon juice.
If that isn't enough to make you go buy some okra, then check out these health benefits:
lowers total cholesterol and triglyceride levels, and curbs appetite because of its high soluble fiber
reduces fasting glucose levels and controls diabetes by inhibiting the enzyme alpha-glucosidase that breaks down carbs and improves cells' insulin sensitivity
helps prevent brittle bones because of high vitamin K
A Pod Primer
Okra, also known as "lady's finger" for the shape of its pod, is a warm-season crop that is believed to have originated in Ethiopia and was first brought to the New World during the transatlantic slave trade. The veggie is also referred to as "gumbo,"a derivative of the African Bantu word ki ngombo. Indeed, for some Southerners, gumbo stew is not a true gumbo without okra.
A member of the mallow family, like cotton and hibiscus, the plant produces beautiful flowers that, along with the leaves, are edible. Okra seeds also have been been roasted and ground as a coffee substitute, and in Mediterranean countries are pressed to make oil.
Okra is grown commercially primarily in the South, where much of it is produced for sale to the soup and frozen-food industries.
But harvesting okra is not easy, according to Southern AgCredit customer Ed Lester, who grows 8 acres of okra to sell at his fruit and vegetable farm stand at Ed Lester Farms near Coushatta, La.
"We just love our okra here in the South," said Lester. "It's a popular product for us, and it is easy to grow, economical and low input. The hardest part is the harvesting, where the pods all have to be cut from the stalk by hand."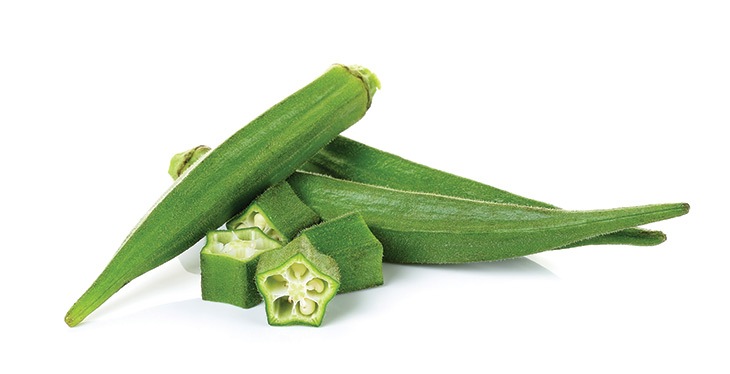 Oven-Roasted Okra
This roasting method reduces the okra "slime" factor and makes for a unique snack
to offer friends and family.
1 pound okra
2 tablespoons olive oil
½ teaspoon garlic powder
Salt and pepper to taste
Dipping sauce:
6 tablespoons mayonnaise
2 large garlic cloves, pressed
1 teaspoon fresh lemon juice
2 tablespoons olive oil
¼ teaspoon agave syrup, honey or sugar
Salt and pepper to taste
Preheat oven to 400° F. Cut okra in half lengthwise and place in a bowl. Add olive oil, garlic powder, salt and pepper, and toss to coat. Spread okra pieces in a single layer, making sure they are not touching, on baking sheet. Roast until tender and browned on the edges, about 20-25 minutes. Combine sauce ingredients and serve.
Backyard Basics
For many Southerners, a backyard garden is not complete without okra, which thrives in warm weather. To grow your own, wait until after the last spring frost date when the soil has warmed to 65 to 70 degrees F. Soil should be fertile, well-drained and in full sun. Sow seeds ½ to 1 inch deep and 12 to 18 inches apart.
Okra can be harvested within 50 to 60 days of planting, when the pods are 3 to 4 inches long. To harvest, use a sharp knife to cut the pod from the stalk, and handle the pods carefully to avoid bruising. Be sure to wear gloves and long-sleeved shirts for protection, as okra plants and pods have small spines that can cause skin irritation.
Happy okra growing and eating!
–Tina Jackson
---