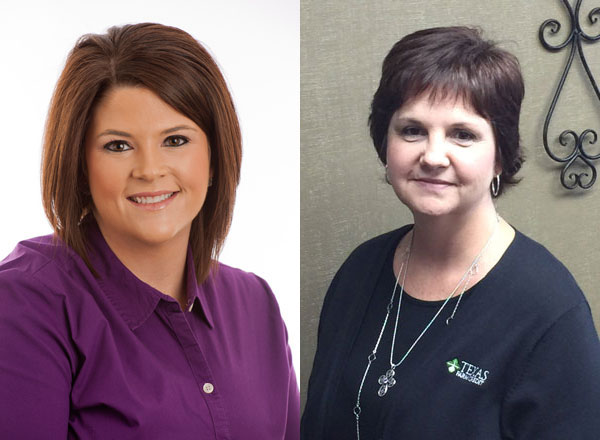 ---
Farm Credit Crop Insurance Group to Provide Input for Farm Bill Talks
Bree Nelson of AgTexas Farm Credit and Charmain Nelson of Texas Farm Credit recently were named to the 12-person Crop Insurance Advisory Workgroup established by the national Farm Credit Council.
Composed of crop insurance experts from throughout the nationwide Farm Credit System, the workgroup will evaluate anticipated crop insurance proposals and help the council in its work with Congress prior to the next farm bill.
The group advocates for a strong crop insurance program to meet the needs of producers. In early September, it helped the council pen a letter to the USDA Risk Management Agency (RMA) asking to revise federal crop insurance regulations. The letter came in response to the RMA's proposed rule setting out criteria for double-cropping and replanting-related issues. The council's letter argued that RMA's proposal regarding replanting requirements would create challenges for soil conservation and undercut the individual farmer's ability to make the best decision possible for his or her operation.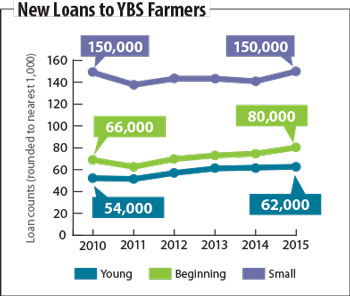 Lending Increases to Young, Beginning and Small Producers
Farm Credit institutions' new lending to young, beginning and small (YBS) farmers outpaced the growth in Farm Credit's overall ag lending in 2015, according to a recent Farm Credit Administration (FCA) report.
The FCA's 2015 Annual Report on the Farm Credit System's Young, Beginning and Small Farmer Mission Performance was released this past summer. It includes the results of a survey of Farm Credit associations across the country.
The report states that the number and dollar volume of loans outstanding increased in all three YBS categories — young, beginning and small — from 2014 to 2015.
As defined by the FCA:
A young farmer is age 35 or younger.
A beginning farmer has 10 years or less farming experience.
A small farmer has gross annual farm sales of less than $250,000.
The number of Farm Credit loans made in 2015 to young, beginning and small farmers rose by 5.1 percent, 7.5 percent and 6.7 percent, respectively, from the previous year. The System's overall number of new farm loans closed in 2015 grew by 3.7 percent.
The report also noted that:
The System made 150,022 loans, totaling $11.8 billion, to small farmers in 2015
The dollar volume of new loans made to beginning farmers rose by 12.2 percent from 2014 to 2015.
Farm Credit institutions closed 62,143 loans to young farmers in 2015, representing 17.2 percent of all farm loans made during the year.
Farm Credit Celebrates Centennial, Sets sights on successful future
Farm Credit centennial festivities wrapped up this fall, after lending cooperatives across the nation celebrated Farm Credit's 100th birthday on July 17 and throughout the year. Many local Farm Credit co-ops that began as National Farm Loan Associations will celebrate their 100th anniversaries in 2017, continuing centennial festivities into next year.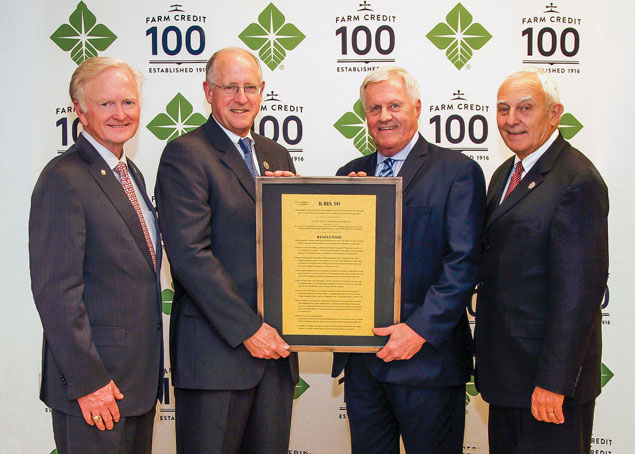 ---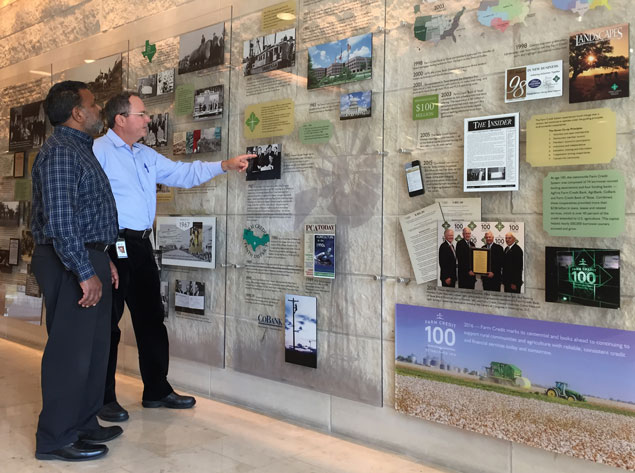 ---
Congress Urged to Act on Farm Policy Matters
The Farm Credit Council this fall urged Congress to act on several pending issues important to Farm Credit borrowers, including the following policy matters.
Fund FSA Loan Programs
The council, which is Farm Credit's national trade organization, teamed with 14 other farm organizations in a letter calling on Congress to adequately fund FSA loan programs in the 2017 fiscal year.
USDA recently provided $185 million of additional FSA funding — reprogrammed from other resources — to address the 2016 funding shortfall and backlog of pending applications. However, this funding is estimated to fall $215 million short of pending requests, and no new applicants can be considered in 2017 until existing applications are evaluated.
The letter urged Congress to address the funding shortfalls for 2016 and 2017 so that producers who cannot be fully serviced by commercial credit under current price conditions will be able to get the financing they need.
Extend Tax Provisions
In September, the council joined agricultural, business, energy and transportation groups in a letter to House and Senate leaders calling for a seamless, multiyear extension of tax provisions that are set to expire at the end of 2016 unless they receive congressional approval.
This year, the expiring tax provisions most important to agriculture include the biodiesel tax credit, the second-generation biofuel producer tax credit and other renewable energy provisions.
Keep Farm Policy Strong and Crop Insurance Affordable
Farm Credit Council President and CEO Todd Van Hoose lent his voice to crop insurance discussions, penning a guest editorial in Farm Policy Facts to educate Congress and the public about agriculture.
"For most farmers this is the second or third straight year of declining prices, while inputs have not followed the same trend," he wrote. "With a 56 percent drop in net farm income, there is a lot of pain in farm country right now, and we are seeing a lot of farmers limiting or forgoing equipment purchases and recalibrating other expense controls to balance their operations against the new commodity price level. This is why maintaining strong farm policy and keeping crop insurance affordable are critical."
---