---
Fitch Affirms Farm Credit Ratings
Fitch Ratings recently affirmed the strong ratings of both Farm Credit Bank of Texas and the Farm Credit System.
In September, Fitch Ratings affirmed the long- and short-term issuer default ratings of Farm Credit Bank of Texas (FCBT) at "AA," and "F1+", respectively. At the same time, Fitch upgraded FCBT's support rating floor to "A" from "A-." The rating outlook is stable.
This follows the bank's mid-year results, which reported increased earnings during the second quarter of 2011. Net income for the six months ended June 30, 2011, was $91.3 million, up 12.6 percent from the same six-month period of 2010.
In addition, the System's high investment-grade long-term issuer default rating (IDR) of "AAA" and short-term IDR of "F1+" were affirmed with a stable outlook in August. The affirmation reflects the System's consistent operating performance, good asset quality metrics, and conservative liquidity and capital management, as well as resilient funding sources. At the present time, Fitch anticipates that the ratings of the System will remain equalized with that of the action on the sovereign ratings of the U.S.
Agricultural TV Series Airs Until February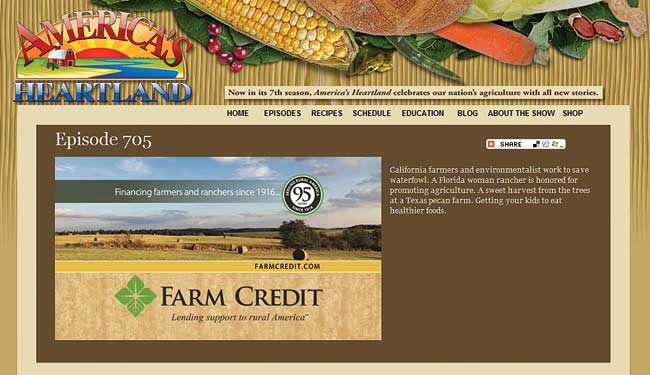 ---
The seventh season of "America's Heartland," a national television series about American agriculture, began in September with the support of Farm Credit. The award-winning series introduces viewers to farm families and production agriculture, and also features special consumer segments, including "Farm to Fork," "Fast Facts About Food" and "Ask a Farmer."
The show's current season includes 22 half-hour episodes and runs until February. It airs on more than 230 public television stations across the country and reaches more than 38 million viewers. For more information about the show, including a schedule, go to www.americasheartland.org.
---