Farm Credit donates to winter storm relief in Texas communities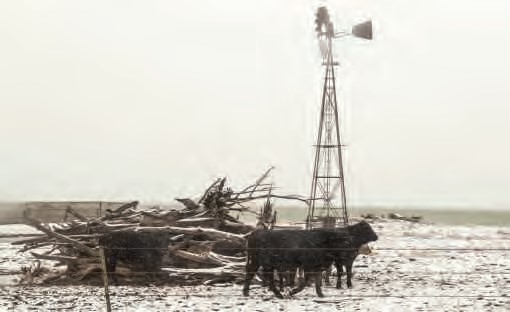 In response to February's winter storm, Farm Credit organizations contributed $250,000 to help Texas rural communities.
Millions of Texans were without power and water in the storm's aftermath, and the economic toll is expected to cost billions.
The unprecedented weather conditions hindered ag producers' ability to restore operations.
The combined donation supported:
Texas Department of Agriculture's State of Texas Agriculture Relief (STAR) Fund
Texas and Southwestern Cattle Raisers Association (TSCRA) Disaster Relief Fund
American Red Cross
Capital Farm Credit initiated the donation with a $50,000 gift. Farm Credit Bank of Texas matched the donation, and other local Farm Credit lending cooperatives quickly joined the effort.
Partnering in the donation from Texas were:
AgTexas Farm Credit
Capital Farm Credit
Central Texas Farm Credit
Farm Credit Bank of Texas
Heritage Land Bank
Legacy Ag Credit
Lone Star Ag Credit
Plains Land Bank
Texas Farm Credit
Two Farm Credit associations from other areas of the country also contributed.
Boleman elected to FCBT board; Floerke becomes vice chair
Elections last winter brought changes to the Farm Credit Bank of Texas (FCBT) board of directors.
Texas Farm Credit District stockholders elected Dr. Larry Boleman and reelected Jimmy Dodson to the board. Their three-year terms began Jan. 1, 2021.
During the board's annual organizational meeting in January, FCBT directors reelected Dodson chair and elected Linda Floerke vice chair of the board.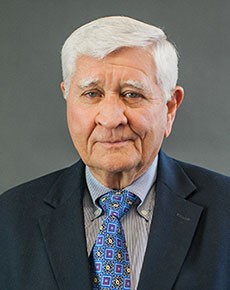 Boleman, a retired Texas A&M University executive and animal science professor from College Station, Texas, previously served on the Capital Farm Credit board of directors for eight years.
He runs a cow-calf business with operations in Brazos and Burnet counties.
His lifelong university career involved teaching, executive administration and extension work with ranchers, farmers and rural youth. He is past president of the Texas Purebred Cattle Alliance and a former member of the Independent Cattlemen's Association and the Texas Beef Council boards.
He currently is the superintendent of the Houston Livestock Show and Rodeo's 4-H and FFA Livestock Judging Contest.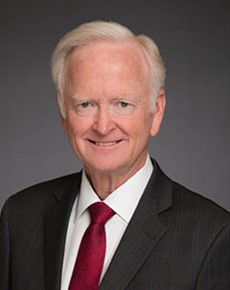 Dodson, of Robstown, Texas, joined the FCBT board in 2003 and has served as board chair since 2012. In addition, he chairs the Tenth District Farm Credit Council and is immediate past chair of the national Farm Credit Council board.
A farmer who grows cotton, corn and milo, Dodson also serves on the boards of the Texas Agricultural Cooperative Council and Gulf Coast Cooperative. He is past chair of the National Cotton Council of America, the American Cotton Producers and the Cotton Foundation.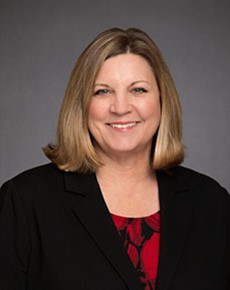 Floerke has been an FCBT director since 2017. She is a rancher and hay producer from Lampasas, Texas. She and her husband co-own AgroTech Services Inc., which provides liquid fertilizer, crop chemicals, custom application, cattle protein supplements and other products and services to farmers and ranchers.
In addition, Floerke serves on the Texas A&M AgriLife Extension Leadership Advisory Board for Lampasas County and is a member of the Texas Agricultural Cooperative Council board. She is a former director or trustee of numerous civic organizations.
Amie Pala succeeds Larry Doyle as CEO of Farm Credit Bank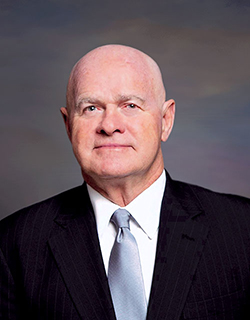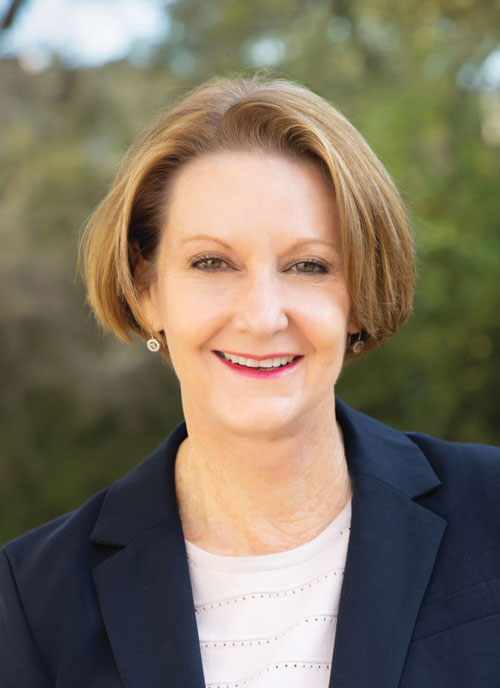 Amie Pala was named Farm Credit Bank of Texas (FCBT) chief executive officer effective Jan. 1, 2021. She succeeds Larry Doyle, who retired after 17 years with the bank and 45 years in the Farm Credit System.
Pala was the bank's chief financial officer for the past 10 years. Previously, she served for 15 years as vice president and treasurer.
"Amie's progressive leadership, knowledge and experience in banking, treasury management, capital markets and corporate finance will be of remarkable value to Farm Credit Bank of Texas as she leads the organization forward," says Jimmy Dodson, FCBT board chair.
Her leadership and expertise extend to her roles on the Farm Credit System Disclosure Committee and the Farm Credit Captive Insurance Board. Pala holds a degree in finance from the University of Texas and an MBA from the University of Dallas.
During his years with the Austin-based bank, Doyle transformed its business model, increasing high-quality earning assets and growing net income by 300% and 235%, respectively. Over his tenure, capital increased $1.6 billion, and the bank paid $735 million in patronage to Texas Farm Credit District associations.
Scholarship prepares students for careers in agriculture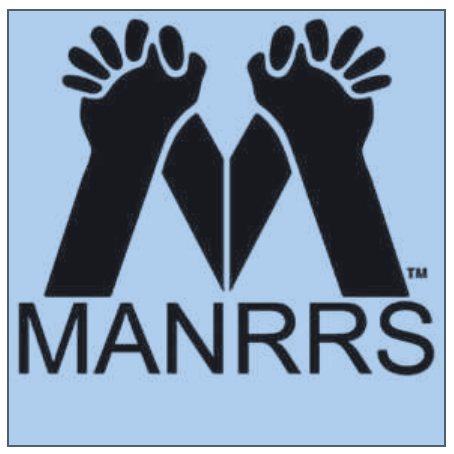 Farm Credit and Minorities in Agriculture, Natural Resources and Related Sciences (MANRRS) presented the 2021 Farm Credit/MANRRS VIP Scholarship to 30 college students nationwide this spring. Kenndall C. Bennett and Nurudeen O. Taofeek are the recipients in the Texas Farm Credit District.
This competitive academic scholarship provides $1,000 and special training for outstanding MANRRS students who have expressed an interest in Farm Credit.
Scholars could participate in the Farm Credit VIP Track of the 2021 National MANRRS Conference in April.
Bennett, of Zachary, Louisiana, studies agriculture and animal science at Southern University and A&M College in Baton Rouge. He's using the scholarship to pursue an agriculture career so he can make a positive difference for others.
Taofeek, of Ibadan, Nigeria, is pursuing a Ph.D. in food science and animal bio-health at Alabama A&M University in Huntsville. His goal is to be a USDA senior research scientist so he can use his understanding of feed intake to help reduce the cost of poultry production.
"I am very grateful to Farm Credit and MANRRS for the scholarship," Taofeek says. "Through MANRRS, I have developed my public speaking and leadership skills. These have allowed me to build my network and professional opportunities."
For more information, visit manrrs.org.
District lending cooperatives declare record patronage to stockholders
Texas Farm Credit District lending associations declared a total of $348.4 million in patronage based on their 2020 earnings. The rural financing cooperatives distributed patronage checks to customer-owners in the spring, effectively reducing their borrowing costs for the previous year.
The district comprises Farm Credit Bank of Texas and 14 local lending co-ops in Alabama, Louisiana, Mississippi, New Mexico and Texas. District net income totaled $578.2 million in 2020.
Farm Credit Bank of Texas — the funding bank for the associations — reported a record $251.1 million in net income for the year. It distributed 85.5% of its earnings to its stockholders and lending partners in the form of patronage payments and other dividends.
Farm Credit leaders introduce new Congress to ag issues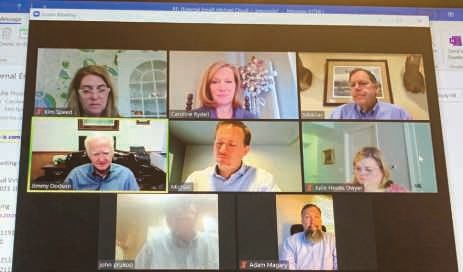 The COVID-19 pandemic prevented Farm Credit directors and managers from visiting Capitol Hill this past spring. But it didn't stop them from meeting with their elected officials.
The purpose — to introduce new members of Congress to Farm Credit and the issues facing Farm Credit customers and rural communities. The meetings also allowed Farm Credit leaders to reconnect with members they'd worked with in the past.
Chance to tell Farm Credit story
"Each new session of Congress brings opportunities to tell Farm Credit's story to policymakers," says Jimmy Dodson, Farm Credit Bank of Texas board chair and past chair of the national Farm Credit Council board.
"The November elections resulted in a significant turnover in the congressional delegation from our district. Some new House and Senate members aren't well-acquainted with agriculture or Farm Credit's impact on rural communities," Dodson says. "That's why association leadership makes it a priority to help educate new legislators about issues in rural America."
Online meetings — face to face
Dodson was part of a Texas Farm Credit delegation that met virtually with new House Agriculture Committee member Rep. Michael Cloud and his staff. Several Texas District association directors also met virtually with Sen. John Cornyn.
The Farm Credit Council helped Farm Credit associations across the nation coordinate online meetings with their elected officials and congressional staffers. The council is the national trade association representing Farm Credit institutions.
Also, the council will coordinate the biennial Farm Credit "fly-in" to Washington, D.C., this November. That's when several hundred association leaders from across the country visit Capitol Hill for in-person visits with their elected officials.
Key legislative, regulatory priorities
Among the council's priorities this year are to protect and advance Farm Credit interests in the following areas.
Legislation:
Pandemic response
Climate change and sustainability
Support for minorities in agriculture
Rural infrastructure, including expanded broadband service
2023 farm bill preparations
Regulatory matters:
Pandemic-related relief
Paycheck Protection Program rules
Appraisal requirements
Programs for young, beginning and small farmers
"With so many urgent issues facing the new Congress, it's critical we engage our locally elected leaders to ensure Farm Credit members' concerns are heard," Dodson says.
Congressional committee members from your state
Following are the House and Senate members from the Texas (or Tenth) Farm Credit District — Alabama, Louisiana, Mississippi, New Mexico and Texas — serving on key committees in the 117th Congress. These committees significantly influence federal spending and legislation impacting agriculture and rural communities.
House Committee on Agriculture
Rep. Michael Cloud, Texas
Rep. Trent Kelly, Mississippi
Rep. Julia Letlow, Louisiana
Rep. Barry Moore, Alabama
Rep. Filemon Vela, Texas
Senate Committee on Agriculture,
Nutrition and Forestry
Sen. Cindy Hyde-Smith, Mississippi
Sen. Ben Ray Luján, New Mexico
Sen. Tommy Tuberville, Alabama
House Committee on Appropriations
Rep. Robert Aderholt, Alabama
Rep. John Carter, Texas
Rep. Henry Cuellar, Texas
Rep. Tony Gonzales, Texas
Rep. Kay Granger, Texas – ranking member
Rep. Steven M. Palazzo, Mississippi
Senate Committee on Appropriations
Sen. Richard Shelby, Alabama – vice chair
Sen. Martin Heinrich, New Mexico
Sen. Cindy Hyde-Smith, Mississippi
Sen. John Kennedy, Louisiana
House Committee on Financial Services
Rep. Sylvia Garcia, Texas
Rep. Vicente Gonzalez, Texas
Rep. Lance Gooden, Texas
Rep. Al Green, Texas
Rep. Van Taylor, Texas
Rep. Roger Williams, Texas
Senate Committee on Banking,
Housing and Urban Affairs
Sen. John Kennedy, Louisiana
Sen. Richard Shelby, Alabama
---