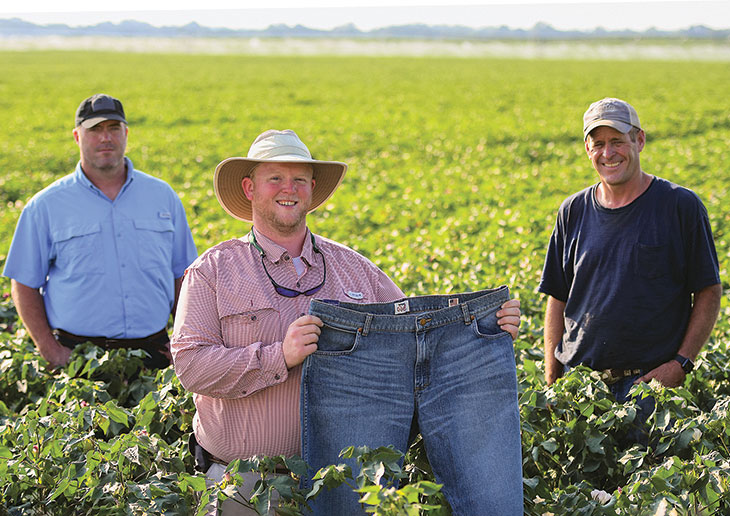 ---
Have you ever wondered where your favorite jeans came from?
Wrangler wants you to think about it, and they've recruited the Newby family of Athens, Alabama, to help.
"More than ever, people want to know where and how their food is produced," says Jerry Allen Newby, whose family has grown cotton for seven generations. "Wrangler wants to apply that trend to garments as well, and they've asked us to be a part of what they're doing."
In 2017, the Newbys — Alabama Farm Credit members for three generations — were the first of five U.S. farm families selected by Wrangler for the clothing company's new "Rooted Collection."
Labels Feature Five States
The collection features blue jeans made of cotton from Alabama, Tennessee, Georgia, Texas and North Carolina. Sold mostly online, each state's jeans are customized.
The state map appears on the jeans' shanks, rivets and patches. The farmers' names are printed on the inside of the pockets.
"This is a groundbreaking project, and we feel fortunate to have been approached," says John Newby. He partners with his father, Jimmy; his brother, James; and his cousins Jerry Allen and Elizabeth. "There are plenty of great farmers in Alabama that Wrangler could've asked."
Wrangler chose the Newbys because of their stellar reputation as community leaders and excellent farmers who use sustainable farming methods and other best practices.
"Wrangler was really concerned with environmental impact," says John. "This is something we feel strongly about and were already addressing. Like any good farmer, we take care of our land and try to be a great neighbor to the community."
Grown, Spun and Sewn in the U.S.
Wrangler purchases cotton from the Newbys that is traceable to specific fields and harvest dates. The cotton is spun and woven in Trion, Georgia. Then it's sewn into jeans in El Paso, Texas.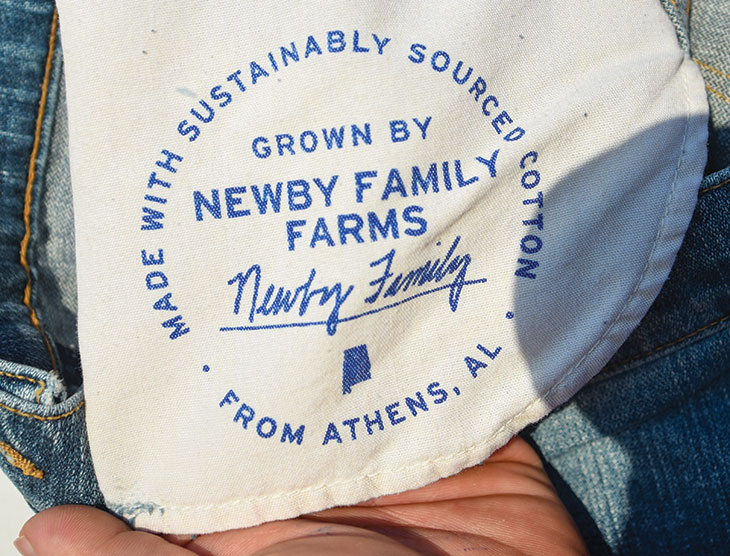 "Every part of the process happens in the U.S.," John says. "That's pretty unusual these days."
Jerry Allen sees the program as an important way to promote the American farmer.
"There is a big disconnect between the general public and farming," he says. "Many people think we still harvest by hand, and they have never seen a cotton boll in real life. During harvest season, you see folks pulled over on [Interstate] 65 and running over to a field to pick a little off a plant — they're not sure what it is.
"This program is quite literally a bridge between the farmer and the man or woman buying clothes. It removes some of the mystery of where the product comes from."
– Mark Johnson
Learn about Newby Farms and the Rooted Collection at wrangler.com/collections/wrangler-rooted.
---