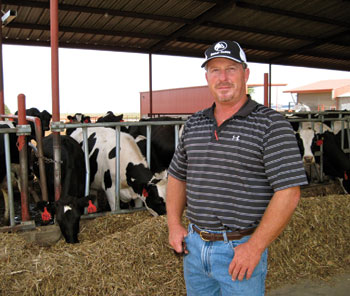 Like Chuck Krause (see Feta is Their Forte), Art Schaap learned the dairy business and inherited his can-do spirit from his father. Andy Schaap emigrated from Holland to California in the 1950s.
"When we moved to New Mexico in 1977, we were milking 400 cows on one farm," says Art, who carries on the Dutch dairy tradition. "Today my family has 10 dairies. Cows love the dry weather and eat a lot in the evenings when the weather cools." The family raises its own calves and most of its feed on farms in Clovis, Portales and Hobbs, N.M., and Hereford, Texas.
An independent entrepreneur, Schaap wants to vertically integrate his operations, and investing in Tucumcari Mountain Cheese presents a way to do so. More than 90 percent of all Schaap milk goes toward cheese, which adds value to milk and improves returns. "My dream is to take the cow to the consumer, with no middleman," Schaap says. "Every time the product changes hands, you lose money."
Organic Niche Leads to New Opportunity
Schaap Dairies produces most of its milk the traditional way through its Highland Dairy operation. Six years ago, Schaap bought a farm and started farming the crops and pastures organically, to obtain the organic certification required by USDA. So far, sales have been brisk for the new farm, Native Pastures.
"I was a critic of organic farming," Schaap admits. But the region produces good grass needed for an organic operation, and he saw a chance to boost profitability. "I decided if you can't beat 'em, join 'em. It's worked out for us."
Milk prices took a dive in recent years, forcing Schaap to cut back on feed costs, labor, supplies and repairs. Margins remain tight, but organic practices help spread the risk.
Schaap started out selling milk to Organic Valley, a large organic processor that offers a premium price. The co-op would accept only a limited amount of milk, however, so Schaap approached Tucumcari Mountain Cheese about producing organic cheeses. "Eventually their eyes lit up," he says. "But they asked me to share the risk by becoming an investor in the plant."
Recycling, Revising and Expanding
Nothing goes to waste at Schaap Dairies. The farms recycle animal nutrients as fertilizer, through pivot irrigation systems. The family trucking company hauls milk to market, and backhauls liquid whey from the Tucumcari plant to feed to the cows. For the future, Schaap dreams of condensing whey as an ingredient for sports drinks and other healthful products for humans.
Schaap's wife, Renee, helps with the dairy. The couple hopes their three children, now in high school and college, will take an interest in the business too. Nevertheless, he enjoys training and developing his employees and encourages them to embrace dairying.
The elder Schaap retired a few years ago, but keeps an eye on the dairy operation, as his son finds new ways to keep the business growing and profitable. "Every time I've gone out of the box, it turned out to be a great business decision," Art Schaap says. "With milk prices down, if I had stayed with business as usual over the last few years, it would have been a tough go."
– Nancy Jorgensen
---