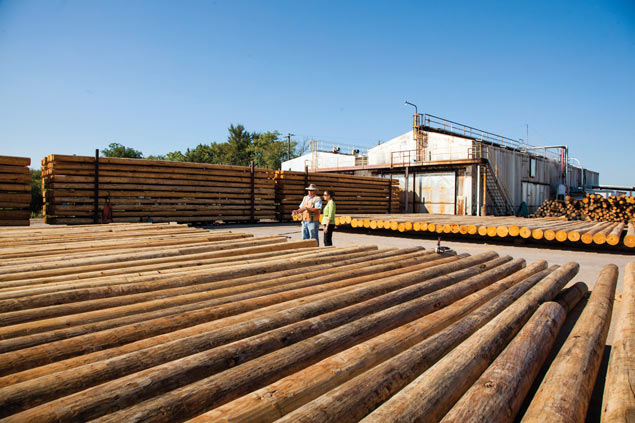 ---
Twenty years ago, Pat Thomasson had a conversation with her father and mother that she was not expecting — at least not yet. Hugh and Helen Thomasson asked their only child to come home to Philadelphia, in east-central Mississippi, to help run the family's wood products business.
"Our company was in trouble," says Pat, who was working as a senior securities analyst in Jackson, Miss., at the time. The highly competitive wood products industry was changing, and Thomasson Co. needed to change too.
"We made it through those tough years, and kept looking for ways to make our business better."
— Pat Thomasson
"My parents both grew up in the lumber industry, and it was part of their culture," Pat says. "We all recognized that we needed to become well-rounded."
A certified public accountant, she had the financial and business expertise to help the company reorganize and look beyond its core products of lumber and utility poles. Plus, she'd literally grown up in the business herself, running the postage meter at age 10 and mapping out delivery routes as a teenager.
In 1996, Pat returned to Philadelphia, population 7,500, and after working in several positions took the helm as chief executive officer.
"We made it through those tough years," says Pat, "and kept looking for ways to make our business better."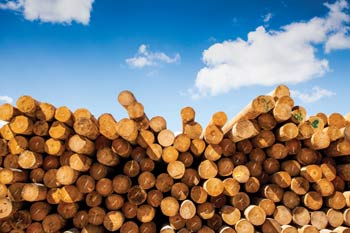 Today, Thomasson Co. is flourishing under Pat's leadership. The business has gone from near bankruptcy to becoming one of the most widely recognized wood products companies in Mississippi, selling products in 48 states and 10 countries. In fact, annual sales have more than doubled since 2010.
But Pat is quick to point out that she didn't turn the company around on her own.
"I'm not the brain power here," she says. Rather, she stresses, it's been a team effort involving her parents and a core group of five longtime managers, several of whom have worked for Thomasson Co. for 35 years. "We all think differently, but we work together every day to make this company succeed," Pat says.
"Lumber leads the way into a recession, and when housing picks up, it leads the way out of it."
— Pat Thomasson
A Master Salesman
There's no forgetting, though, that until he passed away in 2008, Pat's dad was the heart and soul of the company.
Hugh Thomasson was a "master salesman," according to his daughter. He grew up working in his father's mill, and worked as a salesman for other lumber companies as a young man. In 1972, he sold a tract of land to start his own distribution business. Soon, he was buying lumber from sawmills and selling it to building supply companies and end users. Two years later, Thomasson Co. sold its first load of utility poles to a Bell Telephone customer, and by the early 1980s, the company was selling more poles than lumber.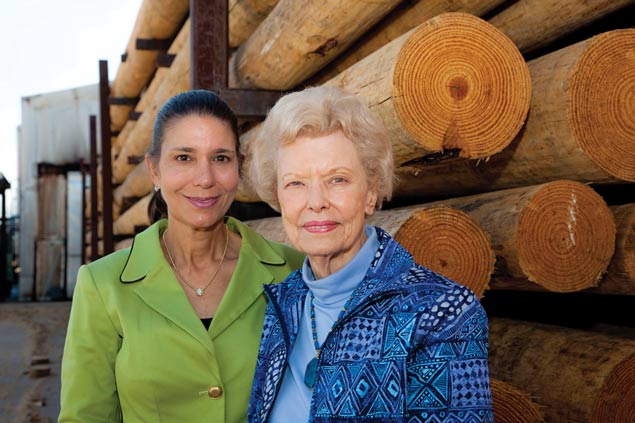 ---
Hugh was on the right track, but several challenges pressured the business.
With Pat on board, the management team assessed the company's strengths and weaknesses. They hired good people, established a board of directors, formalized business contracts, entered new markets, innovated business models and took advantage of opportunities.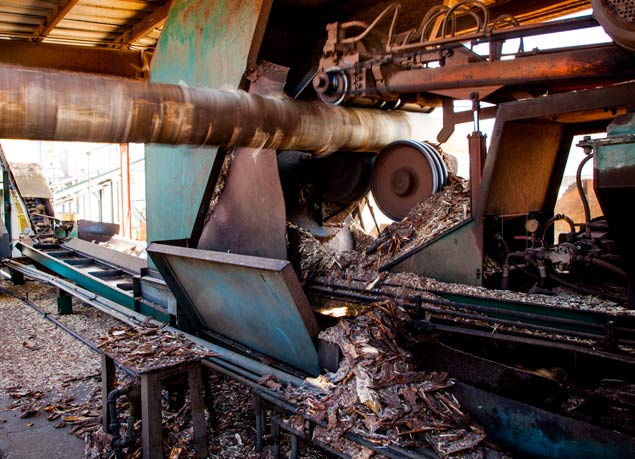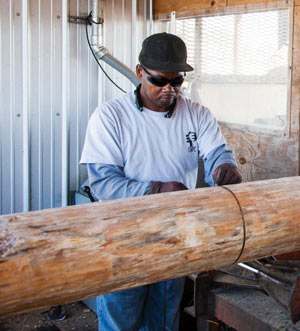 Today, Thomasson Co. owns some timberland but doesn't grow its own trees. Instead, its sister company, EMPC, leases tracts of mature trees and has the timber harvested. Thomasson then mills the wood into utility poles, pilings, railroad crossties, and heavy-duty wood mats that support cranes and other heavy equipment. The company also manages inventory for customers and sells wood products to larger mills.
Quick Service Boosts Reputation
Over the years, Thomasson Co. has built a reputation for quality, service and meeting exacting specifications — critical in an industry that demands fresh products and prompt delivery. For example, after Hurricane Sandy downed electrical lines on the East Coast, Con Edison, a New York utility, commended Thomasson's quick delivery of power poles.
The company innovated an inventory management and consignment model for utility poles that became an industry standard. Previously, utilities purchased poles and kept them in their own inventory.
"We began storing for utilities, managing their stocking programs, and allowing utilities to only pay for poles when they needed them," Pat says. "This saves our customers money and makes their lives easier."
It was a Thomasson salesman who suggested the company add another product line. The employee was selling poles in Maine, when he noticed that a different operation was selling hardwood mats to the same customer. He called the home office and said, "We're in the wrong business!"
Mat sales were slow to take off. "But along came the energy boom, and we ran with it," Pat says. "Today, about 40 percent of our sales are in hardwood mats, and the other 60 percent are utility poles."
An Innovative Lender
Thomasson Co. looks for innovation in lenders, as well. As the company expanded heavily into mats, so did its financing needs. Before long, it had outgrown its local bank's capacity.
In addition, the lender for Thomasson's pole manufacturing subsidiary wanted to increase fees and paperwork. That's when Thomasson Co. president and part-owner Brent Gray called Andrew Mangialardi, whom he had known for years in banking circles. Mangialardi, vice president of capital markets at Southern AgCredit in Ridgeland, Miss., offered an alternative loan structure.
"Andrew suggested we use the equity in the pole plant as collateral when we borrow to obtain timber tracts," Pat explains, adding that the refinancing idea proved a more affordable and efficient solution.
Southern AgCredit also brought in other lenders, including Farm Credit Bank of Texas, to expand financing to the growing enterprise.
"Andrew's always gone to bat for us, and never leaves us hanging," Pat says. "Our lending relationship is really where we need it to be now."
Surviving the 2008 Recession
Even with a top team behind you, succeeding in the wood products industry isn't easy. Lumber sales declined rapidly in 2008 with the start of the recession and the drop in housing starts.
"Lumber leads the way into a recession, and when housing picks up, it leads the way out of it," Pat explains.
The recession prompted the industry to implement layoffs and shutdowns. The Thomasson Co. sold Laurel Lumber Co. and concentrated on its industrial operations.
"It was a painful time," Pat says. "We had 30 employees at our Laurel facility, and we worked hard to help them keep their jobs. However, it didn't work out as well as we had hoped."
Thomasson Company: 21st Century Growth
1972 – Began when Hugh Thomasson started a lumber distribution business
2005 – Purchased EMPC, a softwood utility pole manufacturer in Macon, Miss.
2008 – Opened the Macon Treating Company to treat poles and construction pilings
2009 – Sold Laurel Lumber Company, a remanufacturing plant
2010 – Started building and buying heavy-duty hardwood mats
2016 – Purchased Yazoo Lumber and Mats in Yazoo City, Miss., to expand its mat-making capacity
Today, Thomasson Co. is thriving again, and employs 75 full-time workers.
Helen has been involved through all the ups and downs. She remains part owner and treasurer, and reports in to the Philadelphia office every day, opening the mail, costing pole orders, approving payables and reviewing customer files.
"I have worked in every capacity except sales," Helen says. She was especially adept at handling accounts payable during tough times.
The Right Qualifications
While Helen and Pat learned on the job, Pat's academic background and outside work experience also have been assets. She graduated from the University of Mississippi with a master's degree in accounting, and worked for the accounting firm Arthur Andersen in New Orleans and the Securities Division of the Mississippi Secretary of State's Office before returning to Thomasson Co.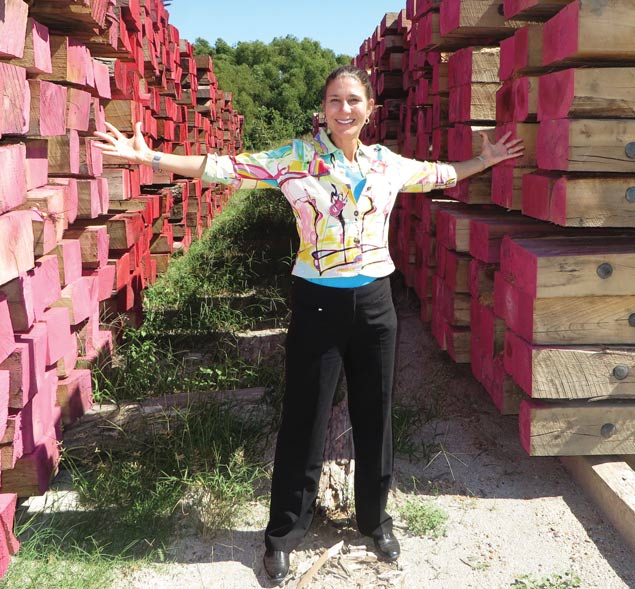 ---
"When Hugh sold that wood products tract to start his own business, that was supposed to be Pat's college fund," Helen says. "Pat worked her own way through college. Like her dad, she works hard, and her forte is working with people."
Pat's awards prove Helen's point.
In 2010, Pat was elected the first female president of the Mississippi Lumber Manufacturers Association. In 2014, the Mississippi Business Journal named Pat the Business Woman of the Year, and in 2015, the Women's Business Enterprise Council South presented her with an enterprise award.
That's not all. Under the current leadership team, Thomasson Co. earned the 2011 Small Business Exporter of the Year award from the U.S. Small Business Administration Mississippi District Office, and the 2012 Governor's Cup Award for Small Business. And in 2016, Thomasson Co. received a supplier diversity award from Oncor Electric Delivery Company LLC, a large electric transmission and distribution company.
While Pat didn't intend to return home to run the family business, she has no regrets.
"I love the people here, I love Mississippi, and I love going to work every day," she says.
— Nancy Jorgensen
AgSweep
Helping Businesses Manage Cash
Thomasson Co. started using a Farm Credit cash management tool called AgSweep in February 2016. Within weeks, it had already saved time and money.
"We have been growing rapidly, and AgSweep increases our efficiency, freeing up time for other things," says Pat Thomasson, CEO of the wood products company. "That's good, because new opportunities are always coming our way."
Sweep accounts particularly benefit customers that have a high cash turnover and daily cash needs.
Jane Thomas, the controller at Thomasson Co., spent a little time initially learning the system. Now she uses AgSweep daily to monitor loan and checking account balances. She counts on AgSweep to increase the company's earnings by automatically minimizing excess bank balances that might otherwise sit idle, and applying the excess funds to reduce loan balances.
Thomasson Co. maintains a revolving line of credit with Southern AgCredit, a Farm Credit association based in Ridgeland, Miss. AgSweep links the company's association loan to a Wells Fargo checking account.
Here's how AgSweep can work for you through your Farm Credit association:
AgSweep automatically advances funds from your line of credit when the associated checking account falls below a target balance that you have set.
When excess funds are available in your checking account, AgSweep "sweeps" funds and applies them to the outstanding balance of your line of credit.
AgSweep provides other cash management services and reports as well. While the software captures a large amount of information, Thomas only downloads reports she needs.
"If we need additional information, it's there — we don't have to re-create anything," she says. "Everything I need is in one place. Wire transfers are a breeze. It is a burden lifted."
For more information on cash management programs like AgSweep, contact your local Farm Credit association.
— Nancy Jorgensen
---