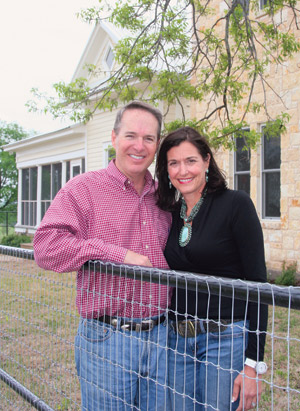 The opening of dove season has always been an eagerly-anticipated event for Dallas businessman Stan Gardner and his wife, Sara Lee. It's a weekend they invite friends out to the 1,400-acre family ranch in Hamilton County, Texas, that his grandparents purchased in 1912.
"We've always come down here, usually with about 20 guys. People would bring sleeping bags, and some would sleep on the porch," Stan says. "My mother, Frances, who still lives in the town of Hamilton, would bring out lots of home-cooked food to feed everyone."
The hunters would barbecue outside and camp in the old ranch house. If the water in the rusty old pipes was too dirty to bathe in, as it usually was, they hosed down outdoors or went home dirty.
Not any longer. Last year, the hunters were treated to clean showers and comfortable beds, not to mention more spacious — and gracious — accommodations.
In 2009, Stan and Sara Lee spent six months renovating, remodeling and expanding the century-old home, so they would have a comfortable gathering spot for friends and their large extended family. But especially, they wanted the home to be a place that their three almost-grown children would continue to enjoy and take pride in for years to come.
"Literally nothing had been done to the house since 1966," Stan says. "We knew that if our children were going to take an interest in the ranch and continue to bring their friends and want to spend time here, we had to make some changes."
Blending Old With New
"If there's any disappointment, it's that we didn't do it sooner." – Stan Gardner
The Gardners needed more living space and bigger and better accommodations for overnight guests. But Stan wasn't about to tear down the 1908 structure where he and his sister spent time as children. Although the family lived in Hamilton when he was a youngster, they gathered at the ranch a couple of nights a week to entertain friends, hunt and enjoy the outdoors. "The last thing I wanted to do was put a modern-looking house here," says Stan, who studied architecture at the University of Texas, before switching to a business major.
Instead, a friend, Dallas preservation architect Gilbert Hickox, drew up plans that would blend old with new, while more than doubling the size of the house, from 1,500 square feet to 3,300.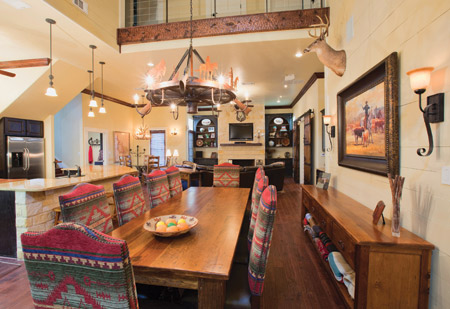 Hickox's plans involved knocking out one side of the house to add a large open living room and a small study downstairs and two spacious bedrooms upstairs. Sun porches were sacrificed on either side of the house so that two bedrooms, bathrooms and a pantry could be extended outward. But Hickox's most daring idea was to remove the attic above the living, dining and kitchen areas, allowing the ceiling to soar 20 feet and giving the house a fresh personality.
After four years in the planning stage, the project began March 15, 2009, with a completion deadline of Labor Day, just in time for dove-hunting season. Acting as general contractor, Stan found construction specialists and craftsmen for the various aspects of the job.
If You Feed Them, They Will Work
But from the outset, the couple's plan was to involve their children as much as possible. "We wanted them to have sweat equity in the place so they would feel some ownership," Stan explains. Sons Madison, 20, and Luke, 16, and their friends handled part of the excavation, demolition and clean-up work. Daughter Helen, 18, and her friends stained crown molding and helped with painting.
Plenty of food and the opportunity to ride four-wheelers or shoot skeet at the end of the day kept the young people focused on the job. "As long as they were fed, we could get a lot of work out of them," Sara Lee recalls with amusement.
Fortunately, the house proved to be very sound structurally. "It was built like a rock," Stan says, pleased. "We only had to level it in one area of the kitchen."
The first thing to go was the 1960s wood paneling, which encased every room. Underneath were walls covered with original cheesecloth wallpaper — and an even bigger surprise: "People had signed and dated the wallpaper in a guest bedroom. It was like a guest book from 100 years ago," Stan says.
To achieve a rustic look, they stripped the wallpaper down to the horizontal 10-inch ship-lap planking, treated the wood and then painted it. The same rough-hewn appearance was carried through to the new addition by texturing Sheetrocked walls with a broom painting technique.
Updating for Energy Efficiency
Conservation-minded, the Gardners updated the house with water- and energy-efficient features such as tankless water heaters, sprayed-in foam insulation, solar-powered covers over the skylights, and Texas-hardy landscaping plants.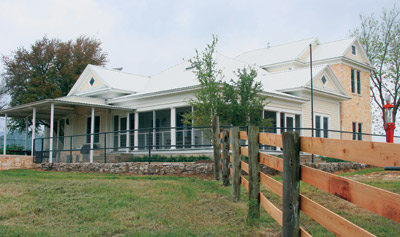 At the same time, they tried to preserve as many original details as possible. The old porch swing, the attic windows and an original side door all stayed, as did the original exterior wood siding. "Fortunately, my parents had taken very good care of the house," Stan notes.
The couple even kept the old butcher block that had stood in the middle of the kitchen for decades. "It was too heavy to move, so we just worked around it during construction," Sara Lee says.
A former real estate broker, whom Stan credits with having "a vision" of a house's potential, Sara Lee is largely responsible for their home's "ranchy comfortable" décor, as she describes it. From the "Shabby Chic Room" to the "Hill Country Room," which looks out on rolling pastures that are leased to a local rancher, each bedroom has its own attitude.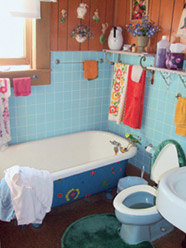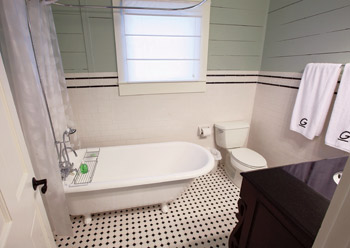 There's even a "Stranger Room," now decorated with two sets of log bunk beds, which was a part of the original house. With its exterior entrance, it was the room offered to strangers passing through the countryside a century ago. Today, it usually accommodates teenagers.
Completed in Eight Months
While the project was completed largely by Labor Day, the Gardners admit their goals were ambitious. "When we first started the project, and they were doing the tear-out, we wondered what we had gotten into!" Stan recalls. "Then it started to take shape, and we could visualize it finished."
But their loan officer, Ryan Janek, Hillsboro credit office president with Texas Land Bank, had no doubt that Stan and Sara Lee would execute the project on time and on budget. "They are strong visionaries and good business people, who have a real appreciation for the land. Texas Land Bank is pleased that we were able to play a role in helping them improve this old family property," Janek says.
In retrospect, the Gardners have one regret about the project: "If there's any disappointment, it's that we didn't do it sooner, so our family could have enjoyed the expanded living space the last 10 years here," Stan admits.
"Hopefully, it's a place where our children can come and do the same things with their children that we have done," Stan says. "We're not doing this for the next 10 years; we're doing it for the next 50 years."
– Staff
Ten Tips for Renovating an Old Home
Family members involved in the project must communicate well with each other. Write down and share your goals for the house before starting renovations.

Find the right people for each aspect of the job, and give them specific details about the work to be done. Only deal with people you trust.

Get professional help. If you are doing the work yourself, you will need to have a flexible schedule, so you can spend time on the worksite.

If you plan to renovate an old house, make sure it is structurally stable before you start.

Be flexible. When you open something up, you don't know what you'll find.

Be prepared to spend more money than you had planned. The Gardners, for instance, discovered they needed to replace the metal roof on the existing house.

Take your time, or at least be prepared to slow down for situations you had not anticipated.

If you have children, involve them, and they will take more interest in the building project in the long run.

Treat your volunteer labor well, and make sure there are recreational outlets, such as sports equipment, available. "Kids don't want to haul rocks all day with no break for recreation," Stan Gardner says.

Know when to stop. Otherwise, the renovations and remodeling could go on forever.
---