For his 13th birthday, Chad Groce asked his parents for a present most 12–year–olds wouldn't consider — a welding machine.
"My friend had one, and I thought it was pretty neat," Groce recalls. "My dad thought it might be throwing money away, because he expected me to use it a couple of times and then forget about it. But he bought it for me anyway."
Fortunately, his dad was wrong about him losing interest in welding. Instead, Groce continued to improve his skills.
As it turns out, the welding machine was a better gift than his parents could ever have anticipated. It opened up a world of opportunity for Chad. He excelled at welding and was equally good at saving money. He was able to earn good money as a welder right out of high school. In two years, after saving enough for a down payment on a conventional home loan, he bought a three-bedroom house with a detached garage on four acres near Caldwell, Texas — just days after he turned 20.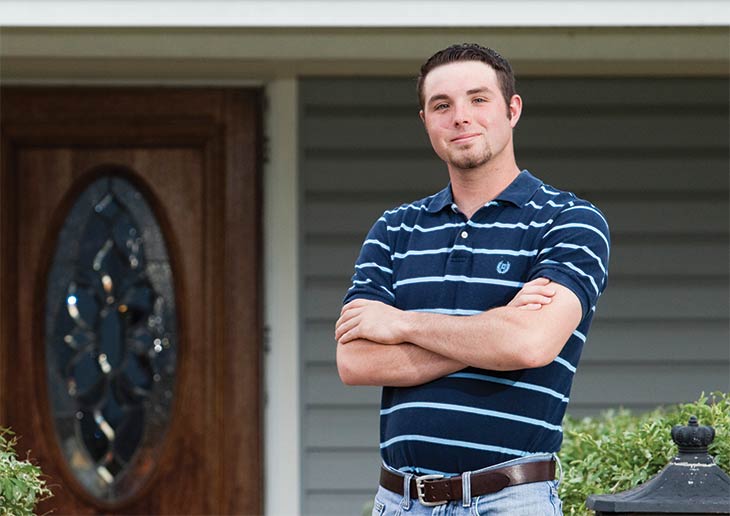 Youngest Borrower Is One of the Best
Victoria Greer, president of Capital Farm Credit's Residential Lending Division, remembers the day Groce first met with her about getting a home loan.
"Chad was only 19 years old when he first started talking to me about a home," she says. "I had never tried to get a teenager approved before, but he was very organized. He brought in every important document I had asked for. I knew right then that we wouldn't have a problem. In fact, he was one of the best buyers I've ever had. He had great credit and didn't owe on anything. His financial position was stronger than most people twice his age."
Although he was the youngest applicant from his rural community, he was in good company. "In the past eight years, I've made 14 loans to people under 30 in Caldwell, more than anywhere else in Texas," Greer says. "I joke that there must be something in the water, but the truth is, they are a hardworking group of people who have been taught good values."
Parents Taught Him the Value of Money
His determination and focus are traits he has developed since childhood. He credits his parents, Mickey and Michelle Groce, for his responsible attitude toward his finances.
"My mom and dad taught me the value of money and working hard," he says. "I knew if I am going to have something, it isn't going to be because someone gave it to me. I am going to make it on my own."
He also knew that to succeed, you often have to start at the bottom and work your way up. While in high school, he started working for a welder, sweeping floors and grinding. Pretty soon, his boss was giving him small welding jobs to do, which helped Groce build his confidence.
When he was 17, he bought his first full-scale welder and mounted it on his truck — both of which he was able to pay for without financing. He continued to improve his craft and take on more welding responsibilities. Ultimately, his hard work led to a good-paying, full-time position.
A Home of His Own
Most days, he works from early morning until early evening, coming home to mow the grass, water his peach trees or do home improvement projects. Since buying his home, he has installed new carpet in part of the house, painted two rooms and purchased new stainless steel kitchen appliances.
From a map of the original Texas territory on the living room wall to the filled candy dish on the counter, Groce has slowly made the house into a home over the last year. It is a place he plans to enjoy for many years to come.
However, when Greer mentions that it is a home he could enjoy forever, he grins and shakes his head.
"I'm thinking more like 10 years," he says. "I'm always making plans. Someday I'd like to build my own house."
True to her loan officer role, Greer answers, "Well, we finance that, too!"
– Staff
---
Groce had been referred to Capital Farm Credit from a commercial bank. He was pleased that Capital looked at more than just his age.
"When I was waiting to get approved, I was thinking, 'I hope they're not just looking at my age and are not going to approve me because of that,'" Groce says. "When I go out on oil rigs [on welding jobs], I'm always the youngest guy out there. I always have to prove myself because I'm young. I never let that stop me. You're never too young to do anything."
---