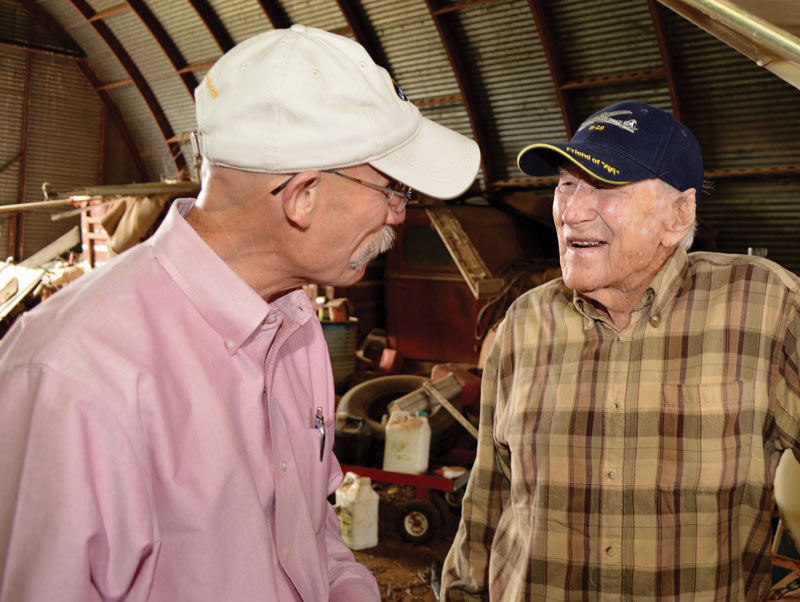 ---
This July, when the Farm Credit System marks its 100th anniversary, Elmo Snelling of Edmonson, Texas, will celebrate an even greater milestone, his 102nd birthday.
The West Texas cotton and row-crop farmer and former Plains Land Bank customer may be one of the few active farmers who has been around for the entire existence of the System, and actually lived through the Depression, the Dust Bowl and the drought of the 1950s.
Snelling still owns his very first tractor, a restored 1941 John Deere Model A, and he continues to use a well-maintained 1950s-era Farmall Cub as his spray tractor.
"We didn't think about saving these for a collection," he says, while giving Kenneth Hooper, senior vice president of Plains Land Bank, a tour of his operation. "We just needed them to work with."
But Snelling, who prefers to use his modern Allis Chalmers 7080, doesn't dwell on the past. Instead, this centenarian embraces the latest farming technology.
At age 95, Snelling installed a drip irrigation system on his farm west of Plainview — water-saving technology that many farmers half his age have not invested in.
"It's much easier to punch a button than move that pipe," he quips. "I'm getting weaker but wiser."
Snelling reports that he saw a considerable spike in yield after the underground drip system was installed.
"I don't think a person should just turn it on and let it go," he says. "You need to conserve all the water you can. If it's not paying off, then shut it down."
As welcome rain clouds loom on the horizon, Snelling is pleased to take a break from chores to show Hooper the irrigation controls and discuss some of the changes he has seen over his career.
I don't think I would enjoy doing the whole thing anymore, but I would like to make four bales [of cotton per acre] this year. —Elmo Snelling
There may be less spring in his step these days, but determination and resolve are evident in his eyes. Although he has scaled back his operation, leasing most of the land under the center pivots to a neighbor, he continues to farm three of four corners.
"I still enjoy getting out on the tractors," he says. "I don't think I would enjoy doing the whole thing anymore, but I would like to make four bales [of cotton per acre] this year."
Snelling has lived more than half of his life in the Texas Panhandle. He and his wife, Eva Mae, moved to the South Plains from Oklahoma in 1949. Here, they earned a living from the land, raising two boys and two girls. Sadly, Eva Mae passed away in 1999, but his son Guy still farms nearby.
At one time, Snelling had 93 head of cattle on the farm, but the animals were taking land, time and attention away from the crops. He decided to concentrate on what he loves best — planting crops and watching them grow.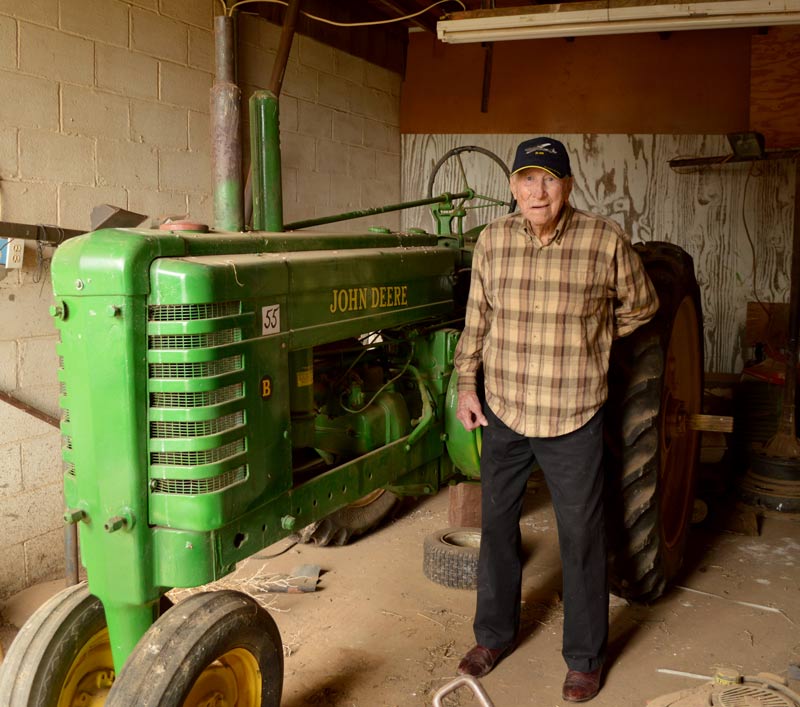 ---
"What are the most significant changes that you have seen during your career?" asks Hooper, as Snelling leans in close to hear him better.
For a few moments Snelling struggles to answer. There have been so many changes in farming over the century — improvements such as computer technology, more efficient equipment, and better seed, fertilizer and chemicals, all things that have contributed to his farming success and made some of his work more manageable, he says. But he finds it difficult to pinpoint just one.
Finally, Snelling has an answer. "From the time that Woodrow Wilson signed the Farm Credit Act until this present time, there have been so many people whose lives have been improved by those services and the role the cooperative has played," he says. "I know I have been blessed. I was extended a loan, and it allowed me to improve my well-being. It kept me going and allowed me to pursue my chosen occupation.
"I've had a good life and I appreciate every day that the good Lord gives me," he adds.
—Glen Liford
---