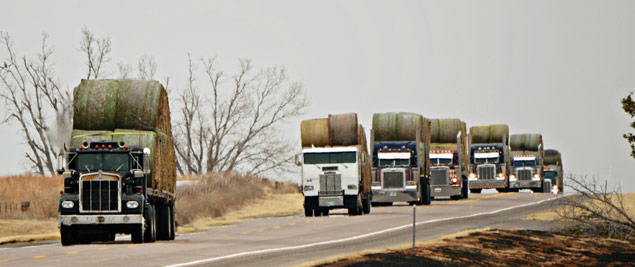 ---
Seeing the public's generous response to devastating wildfires in the Texas Panhandle earlier this year, we were reminded of what so many people value about living and working in rural America — the family-like bond that exists among people in agriculture.
Unfortunately, those who enjoy country living often are faced with what seems like more than their share of natural disasters. Hurricanes Katrina and Rita packed a one-two punch in 2005. Extreme weather dominated the headlines in 2011 with massive wildfires, intense drought, tornadoes and even flooding in various parts of the South and Southwest. And last year, blizzards claimed thousands of head of cattle on the South Plains. It is hard to identify a year when some part of rural America hasn't suffered a disaster.
Ironically, though, it is in times of distress that loyalty and sacrifice rise to the occasion, especially in rural communities, where neighbors help neighbors without a second thought. Sometimes those neighbors and helping hands are in different parts of the state, or even in different states altogether. In March, for instance, money, hay, fencing materials, feed supplies, water tanks, portable corrals, seed and vet supplies poured in from around the country after fires destroyed property and claimed lives in the Texas Panhandle.
Farm Credit is rooted in this same rural tradition of neighbors helping neighbors. In fact, concern for community is one of the seven key principles upon which Farm Credit cooperatives are founded. A big part of our mission is to help rural areas grow and flourish, during both good times and bad. We're committed to that mission and to supporting our communities in times of need.
Following widespread damage from hurricanes several years ago, Farm Credit associations contacted borrowers, waived late charges and interest, re-amortized loans, made new loans for repairs until insurance payments arrived, and offered disaster loan programs with discounted rates. Working on a case-by-case basis, associations assisted customers with their individual needs to get back on their feet, whenever possible.
Farm Credit entities have a long history of extending a helping hand to the agriculture industry that we serve. Employees volunteer to help rebuild homes, raise funds to support local fire departments and food banks, and provide animals for 4-H and FFA members who otherwise would not have livestock projects due to adverse events.
This family bond and culture is what so many people truly value about rural America. It's what's special about working and living in the country, and it's one reason why we in Farm Credit are proud to support rural communities.
– Stan Ray
---