The sky was pitch-dark and the grass wet with dew as Jackie King heaved two coolers into the bed of her pickup. Climbing up into the cab, she surveyed her cargo one more time, switched on the high beams and headed down the lane.
At 3:30 on this April Saturday morning, not a single farmhouse on the road showed its lights — none but the King house, that is.
Buoyed by excitement, King had been up since 2:30 a.m., filling her coolers with natural, grass-fed beef, checking her cash box and anxiously anticipating the day that lay ahead. Today, she and fellow organic farmers from north-central Texas would launch their first organic produce stall at the famed Dallas Farmers Market in downtown Dallas, Texas.
By mid-morning, King's dreams for the market had come true.
"Today I took tenderloin, filet, chili meat, tenderized round steak and meaty soup bones — and I sold out! I was shocked," she later reported, grinning broadly. "I sold 6 to 8 pounds of tenderloin at $22.50 a pound, and I could have sold twice as much if I'd had more product to sell."
Direct Marketing Is the Key
As a natural beef producer and the 2008-09 president of the Texas Organic Farmers and Gardeners Association (TOFGA), King believes that direct producer-to-consumer marketing is the answer for small-scale organic farmers and ranchers like herself.
"When we sell at market, we get a dollar of income on a dollar of product sold, not 40 cents on a dollar, like we would get selling to a distributor, or 50 cents on a dollar to a grocer," she points out. "A small producer, in my opinion, has to direct-market their beef to make a profit."
King also contends that organic farming and ranching — that is, producing food without the use of pesticides, chemical fertilizers, feed additives, antibiotics or other pharmaceuticals — can be a low-cost way for small landowners to earn income from their property and thereby keep the land in agriculture.
"Farmers and ranchers around metropolitan areas have a tremendous opportunity to provide consumers with fresh organic produce," she says. "There's a strong demand, and it's all consumer-driven. Right now, we cannot supply the demand."
From Fraud Auditor to Beef Producer
For King, organic agriculture has become both her vocation and her avocation since she retired four months ago from her job as a Medicaid fraud investigative auditor in Dallas.
In 2000, she had been attending TOFGA seminars and reading extensively about organic gardening and farming, when she met her soon-to-be husband, Donald, a certified public accountant. They shared a mutual interest in organics. Reared on a traditional Maine-Anjou cattle operation near Huntsville, Texas, he was eager to try raising natural grass-fed beef.
The couple married in 2001 and purchased 80 acres near Pursley, southwest of Corsicana, with Texas Land Bank financing. In 2004, they bought an additional 43 acres, started a cattle herd, and moved from Farmers Branch to a house on the property.
Since then, King has been doing her part locally to bring producers and consumers together. In January 2007, she was instrumental in establishing the Farmer-Rancher Network, an alliance of nearly 40 organic producers in Navarro and surrounding counties, who produce everything from animal fiber to vegetables to bread. They share information on how to farm naturally, organically and sustainably, says King, and work together to market their products. Several of the members participate in weekly farmers markets in Corsicana and Mesquite, a suburb of Dallas. If a grower can't attend the market or doesn't have enough produce that day to bother going to market, another network member will sell their produce for them.
That's King's intention for the Dallas Farmers Market too. "With the high price of gasoline today, we car pool or take turns taking each other's product to market," she says. This also guarantees that there is plenty of produce to fill the tables and make an attractive display. One Saturday, for instance, she took produce to Dallas for five other farmers.
Meet the Producer
But King believes it is important for growers to work at the market themselves. "People want to know how their food is grown, and they want to meet the producers," she says. "If I am there and can talk to customers, my product sells better than others' sell."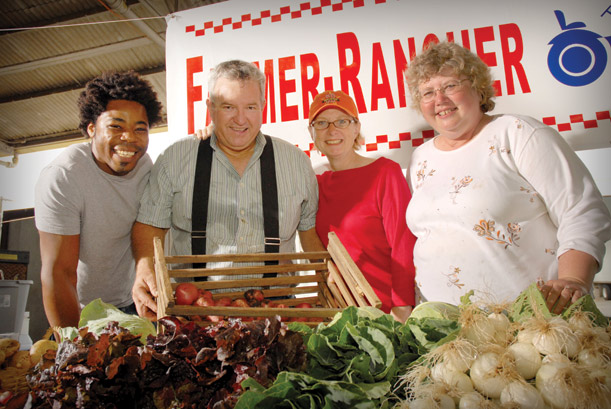 ---
Tony Johns, farm/resource coordinator for the Dallas Farmers Market, says that "Texas is just catching up with what's been going on in California and the northeast for years with regard to organics." She is fielding more and more calls, these days, from consumers wanting to know if the 67-year-old market offers organic produce.
"Jackie's efforts in establishing the Farmer-Rancher Network will go a long way in helping us bring organic farmers and ranchers to the Dallas Farmers Market. She is a tireless advocate of farmers markets, especially our market," Johns says.
"We have all the high-tech gadgets in the world, but there is something so wholesome and basic about buying direct from farmers," she says. "We've always taken our food supply for granted, but with e-coli outbreaks, people are thinking differently about their food sources."
Buying direct from the farmer, she notes, "requires patience, knowledge and awareness of the seasonality of farming, and a better understanding of the elements that affect the local farmer, such as drought conditions, global warming, and the cost of seed, fuel, labor, etcetera."
8,500 Certified Organic Operations
As of 2005, there were 8,493 certified organic operations in the United States, according to the USDA Economic Research Service. Based on the interest King sees among new TOFGA members, she expects the number of organic farmers in Texas to continue to increase. Many of the new members, she says, "are informed, they have a source of income to support their land, and they are willing to learn new skills."
Sustainable, organic agriculture can provide a way for more people to enter farming and ranching, according to King. "If people can find a way to farm (and make money), then maybe those people can stay on the land, and we can stop urban sprawl," she says.
Natural Beef
Last fall, when Donald and Jackie King's veterinarian checked their cattle for worms, he couldn't find a thing wrong with the herd.
"The vet said, 'whatever you're doing, keep doing it, because I can't give you anything better,'" Donald recalls with pride.
For a couple who have never given their cattle any traditional worm medications or other animal health products, that finding was a strong endorsement of their natural approach to ranching. What they have done to prevent parasites since establishing the small herd four years ago is to treat the animals with natural preventatives — apple cider vinegar, Shaklee Basic-H and diatomaceous earth (fossil-shell flour).
"If the cattle are healthy, they will resist parasites," Donald insists.
The couple also keeps grain and hormones out of the cattle's diet, instead pasturing them on a mixture of native and seeded grasses, including bunchgrass, coastal Bermuda, wheat grass, vetch, oats, rye, buckwheat and sweet clover. "We have chicory, too," says Donald. "It fits into my philosophy of salad bar grazing."
Although many producers consider Johnson grass to be a menace, he doesn't fight it. "If the cattle have a choice of coastal or Johnson grass, they'll go for Johnson first," he says.
For minerals, the Kings feed the cattle kelp meal, Redmond Natural Conditioner, Redmond salt, a little humate and organic alfalfa pellets. Instead of using chemical fertilizers, they spread compost tea, molasses and fish emulsion, and use humates as a natural soil conditioner.
By following these practices, the Kings have been able to obtain organic certification for 80 acres of the ranch, but they have not pursued certification of their beef. To label the meat as organic, it would have to be processed in a certified organic processing plant, and there are none in their region. The beef is, however, processed into cuts at USDA slaughter and butcher plants in north Texas.
Meanwhile, the lack of a "certified organic" label has not detracted from the Kings' beef sales. "People say our beef has a wonderful flavor, like it's been cooked in wine," Jackie says.
-Janet Hunter
Thinking of Going Organic?
These resources will help you get started:
What's Organic?
The USDA sets the national standards and labeling rules for agricultural products sold as "organic" and issues the "USDA Organic" seal, which tells consumers that a product is at least 95 percent organic.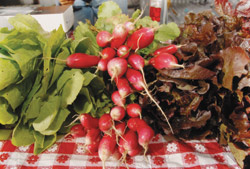 ​

Organic food is produced without using most conventional pesticides, fertilizers made with synthetic ingredients or sewage sludge, bioengineering, or ionizing radiation.

Organic meat, poultry, eggs and dairy products come from animals that are given no antibiotics or growth hormones.
The farm where the organic food is produced must be inspected annually by a USDA-approved certifier to ensure that the farmer is complying with all of the rules necessary to meet USDA national organic standards.
Farms that sell less than $5,000 worth of organic agricultural products annually are exempt from certification, but must comply with the USDA regulations in order to label products as organic.
---