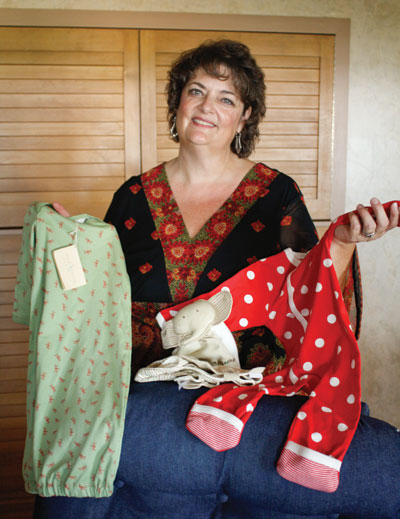 If you see organic cotton towels at Sears, organic cotton bedding at Wal-Mart or organic cotton t-shirts at Nordstrom, you can be sure that LaRhea Pepper was responsible for them — at least in an indirect way.
For the past 19 years, she has dedicated herself to promoting organic cotton, not just in Texas but around the world.
An organic cotton farmer from O'Donnell, Texas, Pepper is the senior director of the Textile Exchange, a global nonprofit organization focused on growing the market for organic cotton and other organic fibers. Working with a staff of six in O'Donnell and 13 other staff members around the world, Pepper has played a key role in forging relationships with members of the international fiber industry, from textile manufacturers to well-known clothing retailers.
She even built a guest house on her farm, where she hosts foreign visitors and executives from major apparel companies, who come to West Texas to learn how organic cotton is grown.
"From the beginning, we felt it was important for our organic farmers to have that direct contact with Nike, Anvil, Patagonia, Timberland and all the other brands. Our recipe for success has been based on building those bridges," she says.
Pepper's involvement with the fiber began long before most people had ever heard of organic cotton. In the late 1980s, after several years of low cotton prices, she and her husband, Terry, started looking for ways to diversify their farm and make it pay, without depending on the traditional cotton market. About that time, organic certification standards were being developed.
"I'd always been environmentally aware, and we already had a low-input operation, so we didn't have to make a lot of changes to become certified," she explains.
In 1990, the Organic Foods Production Act was passed, and in 1991, the Peppers were among the first U.S. cotton farmers to receive organic certification.
"Our deal was that Terry would grow the cotton, and I would sell it," says Pepper, who has been an AgTexas FCS customer since 1995. She had the more challenging job; there was no infrastructure for milling organic cotton, and the textile industry was not interested in the crop.
Pepper, who had studied fashion merchandizing in college, was convinced, however, that there were consumers who would buy organic cotton products, given the opportunity. She and Terry paid to have their organic cotton spun and woven into denim. The response from manufacturers was so positive that the couple couldn't meet the demand. In 1993, they joined with other local growers to form the Texas Organic Cotton Marketing Cooperative. She was instrumental in developing markets for the co-op, and she and Terry started Organic Essentials, a company that produced organic cotton healthcare products.
Meanwhile, Pepper served on the board of the Organic Trade Association, which developed the standards for processing organic cotton, and continued to search out new markets for organic cotton.
"We found common kindred spirits in other countries and started working together," says Pepper, who in 2002 helped establish the Organic Exchange — recently renamed the Textile Exchange — to promote organic cotton globally. "When you're selling organic cotton, it takes a lot of partners.
"The majority of the growth in organic cotton has happened overseas, because we're not the low-cost producer," she says. "We don't have the processing and manufacturing options in the U.S."
The Textile Exchange is credited with helping to drive global sales of organic cotton apparel and home textile products to an estimated $4.3 billion in 2009. With its focus on building supply and demand simultaneously, the organization serves more than 300 international farm groups and over 230 major brands and manufacturers.
"The choices we make have an environmental impact on the world," says Pepper. "Companies recognize this and are looking in a holistic way at their impact."
In 2007, Terry Pepper died of a brain tumor. Since then, his wife has carried on their work, promoting sustainable farming practices and organic cotton.
"I am carrying a torch," she admits.
- Staff
---