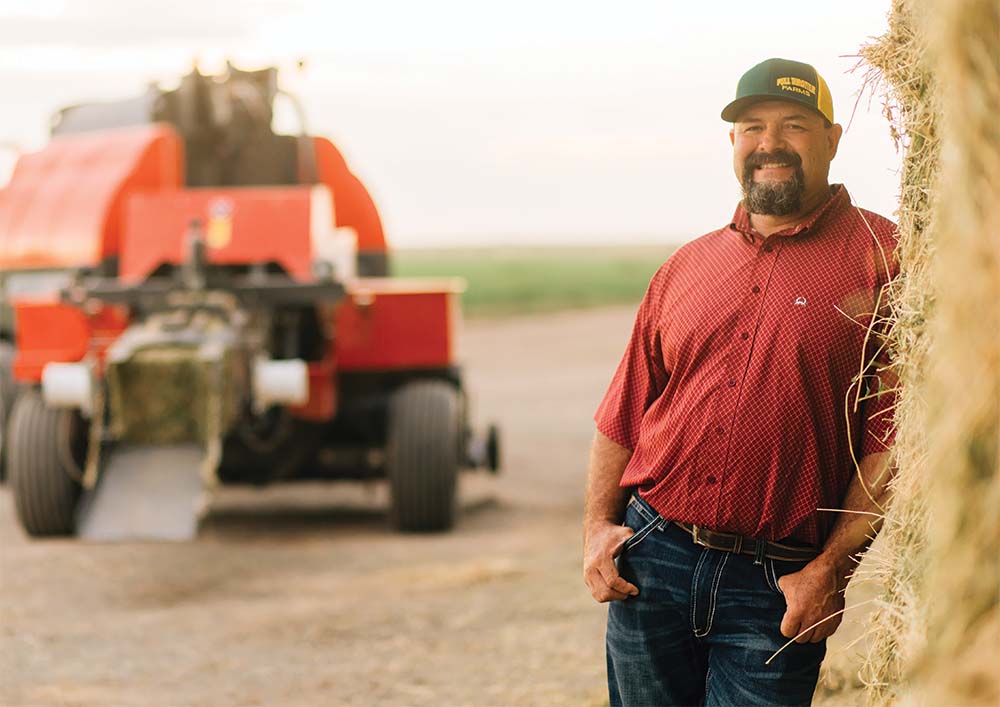 ---
If there was ever a year for Denver Collins to be in the alfalfa hay business, 2022 was it.
Drought took a toll on forages across the Southwest, drying up pastures and drastically cutting hay yields.
The grass shortage caused many ranchers to market their cattle early. Texas Panhandle farmers who normally would have harvested three or four cuttings of hay were lucky to get two.
Fortunately, Collins was positioned to help meet the need.
Two years earlier, he had moved his Texas farming operations nearly 300 miles south to secure a more reliable water source for irrigation. The move took him from the Panhandle community of Farwell, Texas — on the state line near Clovis, New Mexico — to Balmorhea in Far West Texas.
"We're able to do so much more with the water here at Balmorhea. At Farwell, we got six cuttings of hay," he says. "At Balmorhea, we have a longer growing season, and we get eight to nine cuttings."
Looking for water
The decision to relocate wasn't easy. For seven years, Collins grew corn and hay grazer near Farwell on land he and his wife, Darci, had purchased from her family. It was just a half-hour drive from their home in Portales, New Mexico. Plus, the soil was productive, and the farm had seven irrigation circles. However, there was only enough water to farm on two of them.
After a neighbor moved to Balmorhea and reported plentiful water, Collins followed. In 2020 he and Darci purchased 860 irrigated acres in the Balmorhea area with financing from Ag New Mexico, their lender for both real estate and operating expenses since 2018.
"We bought the steamer so we'd be able to work through the night. That way, if we don't have enough humidity, we can still get the hay out."
– Denver Collins
The move brought new farming opportunities, including the option to focus on alfalfa.
Collins now grows about 500 acres of alfalfa, along with cotton, wheat and hay grazer. He includes millet in the crop rotation to help rejuvenate the soil. The land came with water rights primarily from the Pecos Valley Aquifer. And — the critical part — he now has five circles for center pivot irrigation, and all five are usable.
"The water's a bit saltier here," Collins says, "but we get over 1,000 gallons of water per minute on every pivot." It means he can budget for about 8 tons of alfalfa per acre, although his 2022 yield was closer to 12 tons per acre.
Working through the night
In the dry Trans-Pecos climate, low humidity is one of the biggest challenges facing hay producers at certain times of the year.
"We aim for 15% to 18% moisture in the hay," Collins says. "So, most of the time we bale at night until just about sunup, when the humidity is highest."
This past summer, he added a steamer to his equipment lineup, which includes three balers — two for small bales and one for large — plus a loader, all operated by a four-man crew. The steamer attaches to a baler and hydrates the hay as it is picked up in the windrow.
"We bought the steamer so we'd be able to work through the night," Collins says. "That way, if we don't have enough humidity, we can still get the hay out."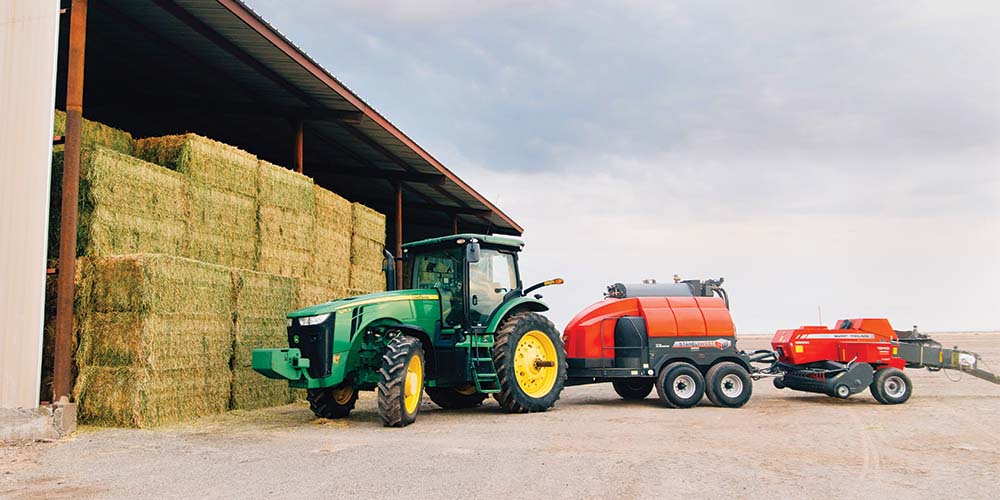 ---
Lowering expenses
The move south has paid off in several ways.
"Down here our electricity cost is a little lower," Collins says. "We can buy power off the grid and lock in the price for five years."
He's also within an easy drive of the eastern New Mexico dairy market. With up to nine hay cuttings a year, he can consistently supply hay to dairies in the Hobbs–Lovington region and back-haul dairy compost for his own farm. The practice not only offsets his trucking costs, but also reduces his commercial fertilizer bill — one of his most expensive inputs — and even helps the environment.
His other markets include livestock and horse operations and feed stores across the South and Southwest, from the local Reeves County Feed & Supply to Central Texas retailers near Stephenville and Waco.
Collins primarily produces large square bales. He doesn't make any round bales.
"I don't have a market for large round bales," Collins says. "I'm used to the dairy market, and large square bales are what dairies want, because they're easier to handle. But there's more profit in small bales."
Building barns and raising cattle
Hay farming isn't Collins' only business. Growing up in Portales, where his family grew peanuts and sweet potatoes, he learned the construction trade and started his own company specializing in dairy barns. Today he continues to run High Plains Building Solutions in Portales, with a focus on dairy and hay barns in both New Mexico and Texas.
In addition, he partners with his father in a cattle operation near Portales. Darci manages the office, and sons Dravin, 13, and Dayne, 10, often help with the hay and cattle work. Adult daughters Morgan and Tori occasionally help, too.
"Full Throttle Farm, the name of the ag operation, is appropriate," says his Ag New Mexico loan officer, Ryan Bone. "Denver doesn't know how to take a break."
But he's not only an energetic entrepreneur.
"Denver's a fantastic operator and manager. He's always on top of his books — he makes my job easy," Bone says.
— Janet Hunter
---