In a Farm Credit district that spans five states and encompasses mountains, prairies, deserts, bayous and forests, there's tremendous diversity in agriculture and in people. But one thing many of us have in common is a desire to make a statement with our gates and entrances.
At the western edge of this district, New Mexico has a rich history and a blend of cultures. Arches or simple cattle guards are common at working ranches, while more elaborate entrances reflect Native American, Spanish and American territorial architecture, sometimes with stucco-covered adobe walls and vivid colors.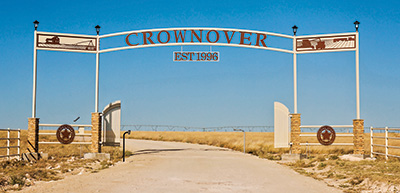 Texas tastes are as varied as the terrain. In the rocky Hill Country, generations have put craftsmanship on display with decorative gates flanked by stone walls. Arches rule the day in West Texas and the Panhandle, and South Texas entrances often are landscaped with rugged native plants. The farms, ranches and timberland of East Texas frequently boast brick columns and board or pipe fencing.
Farther east, history is at the heart of many entrances in Louisiana, Mississippi and Alabama. Tree-lined drives may lead the way to plantation-style homes, while hand-painted signs and antique equipment often mark the entrance to farms.
Across the district, Farm Credit staff notice a growing interest in creating a sense of place.
"My granddad used to say, 'The bigger the gate, the smaller the ranch.' Nowadays that's not necessarily the case," says Sarah Cortese, Capital Farm Credit director of communications, who grew up in eastern New Mexico. "Simplicity and utility were the accepted norms then. They still are, but now entrances are more often used as a form of self-expression."
Curb appeal signals landowners' pride in their homesteads and hunting properties, while functionality matters more at full-time farming and ranching operations.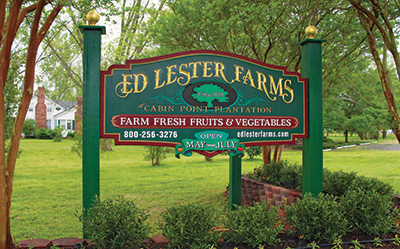 Many properties incorporate both.
"You have your main entrance for a home and office, and larger operations have separate entrances depending on the business carried out on that portion," Cortese says. "A horsebreeding operation or an area where livestock are worked or shipped will be separated out almost like a service entrance."
Form and Function
Few things identify a place as much as the landscaping.
"Historic entrances are some of the most appealing," says Hunter Taylor, assistant vice president at Mississippi Land Bank's Senatobia branch office. "You know when you pull up to a drive that has sweeping live oaks or magnolias lining it, it's going to be a historic property with a story to go along with it."
Louisiana has its own blend of styles, from grand expressions of its French and American roots to understated, private entrances.
"On timberland, especially, it's about being secluded," says Kyle Glover, vice president and branch manager at Louisiana Land Bank's Port Allen office, on the edge of Bayou Country. "People want to be off the beaten path and in the woods. Many don't even put a name on the entrance."
Fencing varies extensively. In some areas, property is only fenced to keep livestock in or unwanted visitors out. In others, a wrought iron or picket fence signals a historic home; a board fence is typical at horse farms; barbed wire, electric or pipe fence is used on cattle operations; thorny plants can form a living fence or windbreak; and a high game fence is used at hunting properties.
"It really depends more on the commodity produced than it does the region," says Grace Ellis, director of marketing and public relations for Alabama Ag Credit, who grew up on a cattle farm. What she does see frequently are signs.
Increasingly, landowners display how they use their property like a badge of honor, loan officers say. Hand-painted signs or metal silhouettes depict cattle, crops, game, and family or business names. Some are made by ag mechanics students, providing training for them and a point of pride for the owner.
"The advent of the plasma cutter has made a huge difference in entrances. If you can dream it, they can cut it," says Kenneth Hooper, senior vice president and officer in charge at Plains Land Bank's branch office in Plainview, Texas. Signs also reflect the owners' personality.
"Every rancher is unique, and each sign is unique," says John Heckendorn, vice president and branch manager at Ag New Mexico's Belen office. One of the most memorable in his area was made by local ag students who reversed some letters and dangled the H in "ranch." The owners embraced the humor, and ended up with a local landmark.
Getting Started
Frequently the entrance is one of the first improvements new property owners take on, whether they are just changing the name on the gate or building a new home with matching brickwork at the driveway.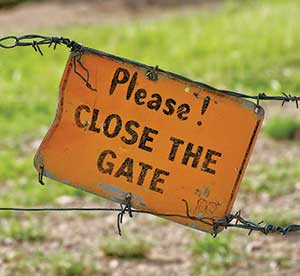 A simple way to enhance an entrance is to add an automatic gate opener, which can be hard-wired or solar-powered, operated by remote control or keypad, and customized with security features.
"New technology lets owners monitor who's accessing the gates and when by using different access codes or taking pictures of the people passing through," says Jolene Curtis, chief operating officer for Texas Farm Credit, who is based in Brenham, Texas. "Property with oil and gas leases will have multiple people coming in and out, for example."
The cost of an entrance varies greatly, ranging from about $3,000 for a utility gate with an automatic opener to $75,000 or more for custom masonry and metalwork. A culvert and other improvements add to the price.
An entrance can be financed in one of several ways — with the land purchase, with a package of improvements such as fencing and land clearing, or with an operating line of credit for an agricultural operation.
"Being able to spread the cost over a term is an advantage," Hooper explains. "You can have manageable debt rather than burning all of your liquidity making capital improvements. You may need some of your cash to buy calves or equipment later."
Practical Matters
When you're ready to build, make sure your entrance is designed with safety and practicality in mind. Most rural driveways adjoin highspeed roads, so think about visibility and room to maneuver, brake and accelerate.
"From a very pragmatic standpoint, engaging a transportation agency would be important, and the sooner the better," says Bill Eisele, a Texas A&M Transportation Institute senior research engineer. "They work with landowners frequently, and are very knowledgeable about driveway placement and design."
For a safe, functional and attractive entrance, choose a contractor carefully:
Look for a local contractor who has the experience and large equipment necessary for rural property improvements.
Get bids and warranties in writing, and make sure they are in line for your area.
Ask to see previous work and interview clients.
Have the contractor obtain necessary permits and inspections.
With financing and a reputable contractor lined up, all you'll need to make your dramatic entrance is imagination. – Staff

10 Tips for Rural Entrances
Contact the appropriate state, county or municipal agency about driveway design, placement, rights of way and permits.
Locate driveways away from curves and hills, and avoid blocking visibility with masonry, fencing, vegetation and mailboxes.
Consider installing separate entrances for the different functions on your property, such as a residence, ag operation, or oil and gas activity.
Make sure an entrance is wide and tall enough for the vehicles and equipment that will use it.
Set the gate far enough from the road to accommodate a truck and trailer. Structures might be restricted within the right of way, which could extend as far as 100 feet from the center stripe.
Consider adding a turn bay on the adjoining road, so driveway users can slow down without blocking traffic.
For security and convenience, consider gate openers, intercoms, driveway sensors or cameras.
Use reflectors or lighting to improve visibility at night and during bad weather.
Ensure good drainage with proper driveway placement, slope and culverts.
Check your county soil survey to verify that soil can support traffic.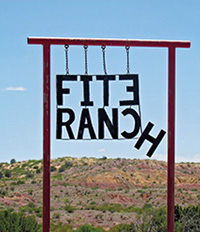 ---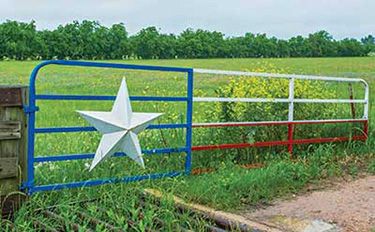 ---
---