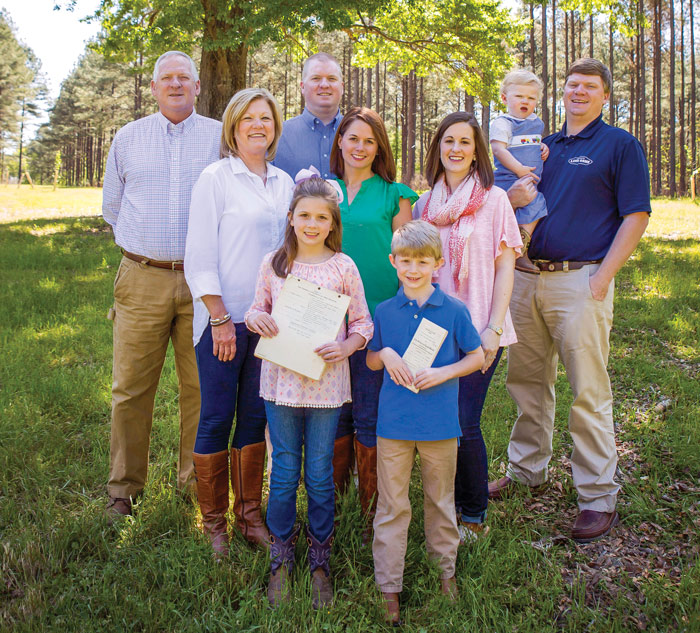 ---
Steve Harris of Mineola, Ala., loves to tell how Alabama Ag Credit has stood rock solid behind his family for nearly a century.
"If the Federal Land Bank, as it used to be called, hadn't loaned Grandpa money, then I wouldn't be who I am today," says Steve, 60, who farms and grows timber on land that his grandfather purchased. "All my fond memories of him and Dad are tied to the land. We chopped cotton, pulled calves, fished and even pulled a few pranks on the land."
His cherished memories involve sons Ashley, an attorney, and Bart, who's vice president and Starkville branch manager with Mississippi Land Bank.
"Growing up, the boys marked trees for selective harvesting and helped with prescribed burns," Steve says. "I just hope I live long enough to see my four grandchildren work on the land."
First Loan Traced to 1920s
Brittle documents and handwritten receipts trace the family's first transaction with the Land Bank to the 1920s. That's when Burl Harris obtained his first loan to buy 120 acres near Mineola.
Grandpa would pay off his note and borrow again," says Steve, who lives with his wife, Kathy, in his boyhood home on the original acreage. "It really grounds me to know how Grandpa struggled to pay a $5 note during the Depression."
"Seriously, there have been tight times, and Farm Credit told us 'Don't worry.' That means a lot."
- Steve Harris
One vivid memory of his farming heritage comes to life when the clock strikes 2.
"Grandpa never owned a tractor," Steve says. "Instead, he worked the land with a mule and plow. Every afternoon at 2 o'clock, Grandma would stop what she was doing and perk a pot of coffee on the stove. Then she'd wrap the pot in a towel and walk to the end of the row. Grandpa would tie up the mule. Then they'd sit together under a pecan tree and drink their coffee."
Carey, Steve's father, served in World War II with the U.S. Navy and graduated from high school after his discharge. Like his father, Carey farmed the land, ran cattle and grew timber. He also took out loans with the Land Bank and grew the farm.
"Dad had tough times, too," Steve says. "I remember one year when he had no hay for the cows, so he turned them out in the woods and hoped they'd find enough to eat to survive."
Never Switched Lenders
Through the good years and the bad, the Harris family never considered switching lenders.
"If it ain't broke, don't fix it," Steve quips. "Seriously, there have been tight times, and Farm Credit told us 'Don't worry.' That means a lot. They've been great partners, and we're lucky to work with lenders who give us slack when we need it."
The strong relationship has enabled Bart, who has worked for Mississippi Land Bank since 2007, to understand a borrower's perspective.
"We're lenders, but we're also dream makers," he explains. "It's still the American dream to own property. We try our best to make dreams come true, so that people today can have the kind of ties to the land that my family has had.
"As lenders, our mission is to protect the association from risk," Bart adds. "But we also must remember that we're dealing with people's livelihood, and that they'll do everything they can to protect the land, just like my family has done since my great-grandfather bought his first piece nearly 100 years ago."
---