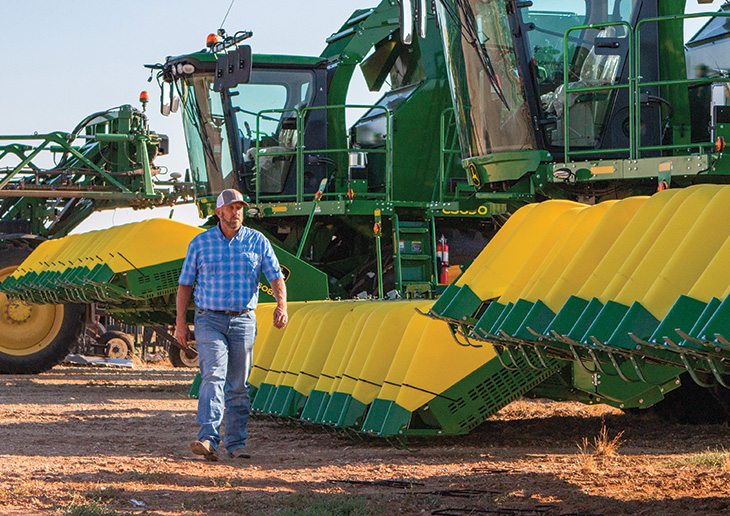 ---
Fall or winter may be the ideal time to replace or acquire farm or ranch equipment — whether it's brand-new or just new to you.
And Farm Credit is the lender that can finance that purchase. Most Farm Credit associations finance trucks, tractors, hay balers, harvesters, irrigation equipment and more.
But before you start shopping, consider the following factors.
New or Used?
When deciding whether to buy new versus used equipment, first determine its main purpose. Consider the demand that will be placed on the item and whether the level of use justifies the higher price of a new piece.
Mike Metzig, AgTexas Farm Credit Services senior vice president in Lubbock, works in the country's largest contiguous cotton patch. Many of his customers are full-time, large-acreage farmers. Whether they buy new or used depends on what the piece is.
"For most large items today, such as tractors, cotton strippers and spray rigs, they are buying used equipment and not paying the premium for 'new,'" Metzig explains. "But for high-wear items that get regular use, such as sand fighters and shredders, they tend to look for new. It's rare for farmers to find a piece of used equipment of this kind that is still in good condition and worth the money."
Allowance for Repairs
Also consider repair costs. One distinct advantage of new equipment is the warranty that can alleviate worry over such costs. Joseph Grier, Legacy Ag Credit branch manager in Canton, Texas, says many of his customers look for used equipment in good condition, and they are prepared for repairs — to a point.
"A large number of my producers are looking for used, early-2000s model tractors because they're equipped with a lot less technology than newer models," Grier says. "They want to do the repairs themselves, saving money and time spent at the dealership."
More Than Trucks and Tractors
Bobby Spinks, Mississippi Land Bank branch manager in Clarksdale, points out that Farm Credit can finance nontraditional equipment that commercial banks often won't.
"We've been a useful option for ag aviators," says Spinks, who often finances airplanes for crop dusting. "We're different from others in the financial marketplace. We know farming, farming conditions, and the ebbs and flows of agriculture."
He points out that his association also finances other nontraditional and large equipment purchases, such as grain facilities, cotton pickers and cotton ginning equipment.
Why Farm Credit?
Farm Credit lenders typically finance new equipment purchases on five- to seven-year notes, while loans for used equipment are generally structured for two to five years. Terms are tailored for an operation's specific needs. Also, a Farm Credit lender will consider a customer's cash flow and production cycles when structuring a loan.
Grier notes that equipment loans are often a young or new borrower's first transaction with Farm Credit. He sees that as a plus for both the borrower and the lender.
"It's a good way for me to learn more about their operation — what they need, how it will be used," he says. "By the time they are more established and ready to buy land or make a bigger purchase, they're already familiar with Farm Credit."
– Staff
---