Come autumn, license plates from northern states are a common sight on Texas highways, as "snowbirds" — typically residents from colder climates — migrate south for the winter.
In recent years, a couple of trucks and horse trailers from Colorado have been making the trip, too. They belong to Doug and Marlene McRae, nationally known rodeo professionals, who have established a winter home — and a horse-training ranch — in the Texas Hill Country.
During the summer, the McRaes host barrel-racing clinics and work extensively with horses at their sprawling Lone Tree Ranch, located 65 miles east of Colorado Springs. In October, the couple — along with their bearded collies, Sterling and Sable, assorted pets and numerous horses — pack up and migrate south for warmer climates. Upon settling in at their Texas-based Lone Tree Ranch, they resume their work schedules until the following May.
"We follow green grass, like cattle," jokes Marlene, a world-champion barrel racer and two-time Olympic gold medal winner.
She and Doug, a champion motocross racer and tie-down roper, started looking for a winter home in the Texas Hill Country, after participating in local rodeos for many years.
"Our rule was 'No snow on the ground for longer than six hours,'" Marlene says.
"Six minutes!" Doug interjects with a grin. "No ice, either!"
Memories of Texas Rodeos Draw Them Back
"Seriously, though, rodeo has always been part of my life," says Marlene, who still competes. "Since the age of 17, I'd always go to Texas for the winter and fall rodeos. We decided we'd like a winter home in the Texas Hill Country, because it was near where we rodeoed."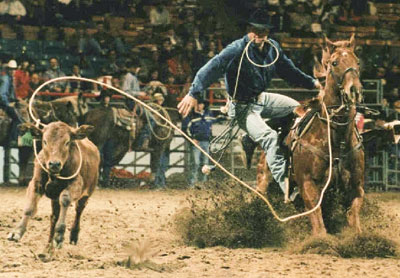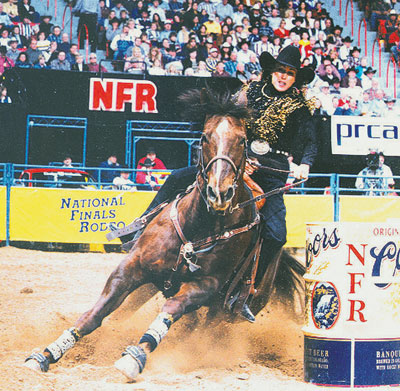 In 2003, Doug retired from calf roping, and was looking for a project. The couple bought property near Blanco, Texas, in 2004. Doug cleared the cedar, fenced the land and built a guest house and two barns. When he finished in four years, he started looking for another project.
Although the couple loved their place in Blanco, they also wanted to be closer to an airport, one thing that tiny Blanco lacked. Then, in 2008, they found an ideal piece of rural property near Kerrville, an hour's drive northwest of San Antonio.
"In Texas, you can't beat Kerrville for location, weather and the great airport they have," says Doug, a licensed pilot, who owns his own plane. "And it's an easy 15-hour road trip to our home in eastern Colorado."
Unfortunately, another buyer had already contracted to buy the property. A year later, though, after the deal fell through, the owners called the McRaes and asked if they were still interested.
A Texas Home Base
In June 2009, the couple bought the rolling 270 acres, which included a huge horse barn, indoor arena, fenced corrals and a farmhouse.
For the second time, Steven Ahrens, vice president at Capital Farm Credit in Kerrville, helped the McRaes close a loan for land in the Hill Country. "He makes it a comfortable experience rather than a struggle," Doug says. "Plus, it's neat that we're part of a cooperative. We've encouraged several friends to switch to Capital Farm Credit and be a part of their program."
"And it's not just a loan," Marlene adds. "Steven's given us great advice on a lot of things, and the staff has been so helpful to us in many ways."
So have Kerrville residents.
"When we moved to this community, we had high hopes of fitting in," Doug says. "But we've been overwhelmed, way beyond our expectations. People have treated us like family! Whenever we're here, we get dinner invitations and offers of help. It's just been great."
Since buying the ranch, the couple has been busy making improvements. "In one year, we have paved, concreted, built, landscaped and upgraded this place," says Doug, seated in his office, which adjoins the barn.
"We've been on a roll!" Marlene adds, smiling. "But it takes a facility of this magnitude to help us do what we do."
Colorado, Texas and Around the World
What they do often sends them across the country and sometimes around the world. Marlene is a sought-after barrel racing teacher, having won countless awards throughout her life. Among those she treasures most are two Olympic gold medals and her World Champion gold buckle.
"For the first time, rodeo was included in the 1988 Olympics at Calgary," Marlene recalls. "Two teams from Canada and America were selected, and I competed in the barrel-racing event, along with two other world champions, Charmayne James and Martha Josey."
In the arena, Marlene topped the Canadian and other American barrel racers. The American rodeo team won the team gold, giving Marlene a second medal. "When we went to receive our gold medals, we stood in a stadium filled with 100,000 people," she says. "It was thrilling to hear them chant, 'USA! USA!' I'll never forget it."
Marlene's tough competitive nature appeared early. At age six, she showed registered Shetland ponies. Three years later, she garnered the State 4-H Champion Horseman and Showman award, a title she held for four years. As a teenager, she competed in the Little Britches Rodeo and won the All Around Cowgirl award.
While at Colorado State University, Marlene pursued barrel racing, breakaway roping and goat tying, and won more awards. She was drafted by the Denver Stars Rodeo team in 1980 and won Most Valuable Player. In 1983, she set an arena record and earned the coveted title of World Champion Barrel Racer.
Competitive Natures Join Forces
Like Marlene, Doug also has achieved top honors in his competitive ventures. As a youngster, he often watched his father, Ralph, calf rope in professional rodeos in the Pacific Northwest. Although he liked the sport, he preferred motocross racing. In the late '70s, the McRae family moved from Oregon to northern California, where Doug started racing professionally, while attending high school and college. In 1983, he rose to be California's No. 1 pro motocross racer in his class. He also won top honors in his class in the U.S. Grand Prix of Motocross.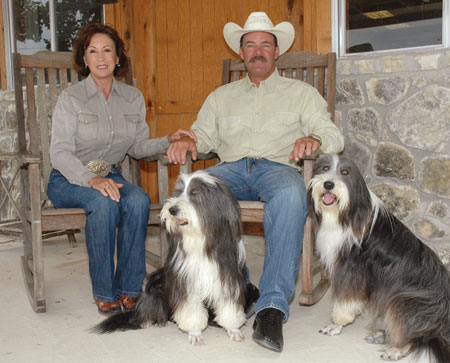 During his free time, Doug worked in his advertising and design studio. In 1985, however, he retired from motocross racing and turned to calf roping. In between rodeos, he started another business that evolved into a lucrative mail-order firm that touted western saddles, tack, clothing and other accessories.
After winning the gold at Calgary, Marlene began several business ventures, too. She produced videos on horsemanship and barrel racing, taught clinics across the country and around the world, and trained and developed horses. She also endorsed selected horse-related products and marketed them through her own mail-order business, World Champion Designs.
In fact, it was World Champion Designs that led Doug and Marlene's relationship to grow from a friendship to a marriage. The couple first met in 1983, when she stabled her horses at Doug's father's barn, while she rodeoed in California. It was an instant friendship.
Through the years, they kept in touch. In 1990, Doug agreed to partner with Marlene to create and market her new retail catalog. After joining forces to promote World Champion Designs, their business partnership strengthened, and so did their personal relationship. In 1993, Doug and Marlene — formerly Marlene Eddleman — married in San Antonio, between Texas rodeos.
"We've melded so well," she says. "We both have competitive spirits, and we both enjoy business. And we both love horses."
"People ask us, 'When are you going to retire?'" Doug adds. "And I say, 'What else would we do that we love this much?' Marlene says we live in the barn and sleep in the house. I'm pretty sure there's no way we'll ever not be involved with and have horses!"
– Sheryl Smith-Rodgers
For more information about Doug and Marlene McRae and their business ventures, visit www.worldchampiondesigns.com.
---