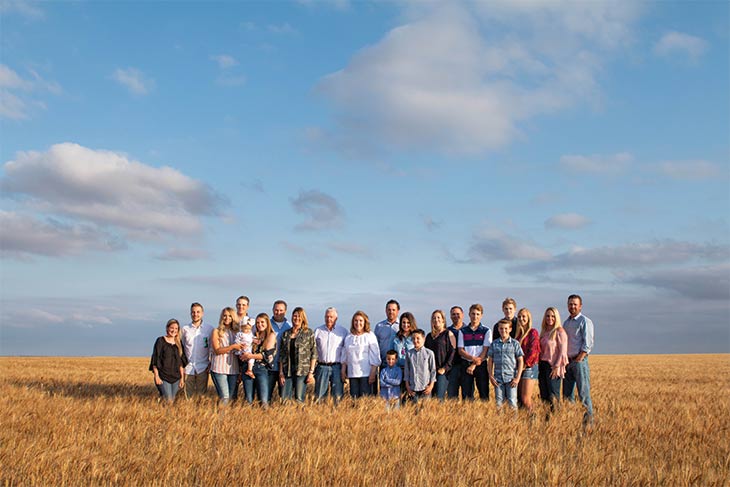 ---
Imagine having 10 kids and trying to eke out a living on a cotton farm in dusty West Texas nearly a century ago. And then getting sick.
That's what happened to tenant cotton farmer John Rowden in 1927. Weakened by tuberculosis, he walked into a bank in Brownfield, Texas, with his wife, Martha, and their 11-year-old son, RJ.
"If there's a legacy, it's called work ethic. You made sure you kept going because you didn't want to disappoint Granddad."
–Wade Rowden
"These two are taking over the farm," John told the banker. "We want to buy it, but I don't know if they'll make it or not. I don't have a clue because I've got to go to the hospital. You can loan them the money or not."
For whatever reason, the banker gave them a loan. A year later, Martha and young RJ, who'd quit sixth grade to keep the farm going, returned to the bank.
"Oh, you're here to make a payment on the land," the banker said.
"No, sir, we're not," Martha replied politely. "We're here to pay it off."
Generations later, that powerful anecdote still resonates with RJ Rowden's family, a close-knit circle of descendants who have continued his farming legacy in Terry County, southwest of Lubbock.
"We're farming today because of the grace of God, AgTexas Farm Credit and Granddad. They've all been so very good to us."
–J Rowden
RJ — who died at age 96 in 2013 and was a customer of Farm Credit for more than 60 years — went on to have two children and seven grandchildren.
Today, son Lewayne Rowden and his four sons — J, Wade, Scott and Sean — along with J's son Reese farm independently and as partners. They all maintain offices in a shared building on the Brownfield square, where they've gathered on an April afternoon to talk about their ag businesses, farming heritage and AgTexas Farm Credit connections.
Less Physical Work, More Debt
"I remember Granddad telling that story clear as day," says Wade, who's seated with everyone at a conference table. "The struggles we face today as farmers have changed from his, but they're still just as hard. Back then, Granddad could get an outside job and pay off his note in a month. Nowadays, the amount of dollars it takes to farm is ludicrous."
"I couldn't physically work as hard as Granddad did," J adds. "But then he wouldn't want the debt load that I have. As a boy, he and his family survived on 160 acres. Altogether, our families farm mostly cotton, peanuts, wheat and some small grains on 42,000 to 45,000 acres. Yes, we have a different standard of living today, but that gives you an idea of where agriculture has gone in the last 100 years. That's why you see fewer and fewer staying on the farm."
RJ eventually inherited the original 160 acres. Through the years, he and his wife, Ruth, bought out his siblings' farmland.
In 1946, he signed his first one-year note with Lubbock Production Credit Association, now AgTexas Farm Credit, starting a financing relationship that has lasted 72 years. The $1,600 loan helped to pay for a tractor with a planter and lister plow that cost $2,400. That year, RJ's crops earned only $1,000. Resilient and hard-working, he got an extension on the note, took on extra jobs and repaid the loan.
In his later years, RJ went on to help his son and grandsons get started in farming. None of them, however, had planned to farm. Lewayne joined the U.S. Navy after high school, and his four boys headed to college.
"We all went to school for a little while," Wade says. "And we all had absolutely no intentions of coming back to the farm. But we did, because we missed it."
Launching Four Sons
J started farming in 1991 and Wade in 1994 after RJ co-signed operating loans for them with AgTexas Farm Credit.
"Granddad said, 'These boys will work hard enough to pay off their notes,'" Wade recalls. "He would tell anybody that. If there's a legacy, it's called work ethic. You made sure you kept going because you didn't want to disappoint Granddad."
Sean, Lewayne's youngest son, joined the family farming operation in 2000.
"Granddad co-signed a two-year note with me," he says. "To get started, I used everybody's equipment — Granddad, Dad, J and Wade. That year, I only ginned four bales of cotton on 230 acres. It was a bad year. Thank goodness for the crop insurance we have with AgTexas!"
Scott, the second eldest son, went on to graduate school while working at a cotton gin in Terry County. He earned a master's degree in finance, then worked in Dallas until 2008.
"I'd had enough of corporate life and didn't want to raise a family in Dallas," he explains. "So I went back to the farm and used my 401(k) as collateral for an operating loan with AgTexas." 
Mentoring the Next Generation
Like his grandfather, father and uncles, Reese hoed cotton as a boy alongside his great-grandfather RJ.
"I didn't chop as many acres as they did," he says with a grin. "But I remember Great-Granddad helping me and my brother, Gage, hoe at age 90. He wouldn't let us take a break, either."
In 2015, Reese started his own 800-acre cotton operation, Triple R Farms.
"Dad has co-signed operational loans with me for the past two years at AgTexas," Reese says. "He and PaPa have taught me how to make a crop, like when to plow, fertilize and plant, how much to plant, and how much to fertilize. There are a lot of things that go into making a successful crop."
Today, with cotton prices flat and new row-crop tractors costing as much as $350,000, that kind of mentoring for young farmers is more important than ever.
"When I started farming, I had to learn from my mistakes," J says. "Like the time when I put out 400 pounds of fertilizer because I wanted the biggest yield in Terry County. Back then, fertilizer cost $80 to $100 a ton. Now it's $400 to $500 a ton. If I allowed Reese to make such mistakes, he could never have had a successful start. Mistakes when I got started didn't add up to a million dollars. Margins are so thin now that you have to be big to absorb them."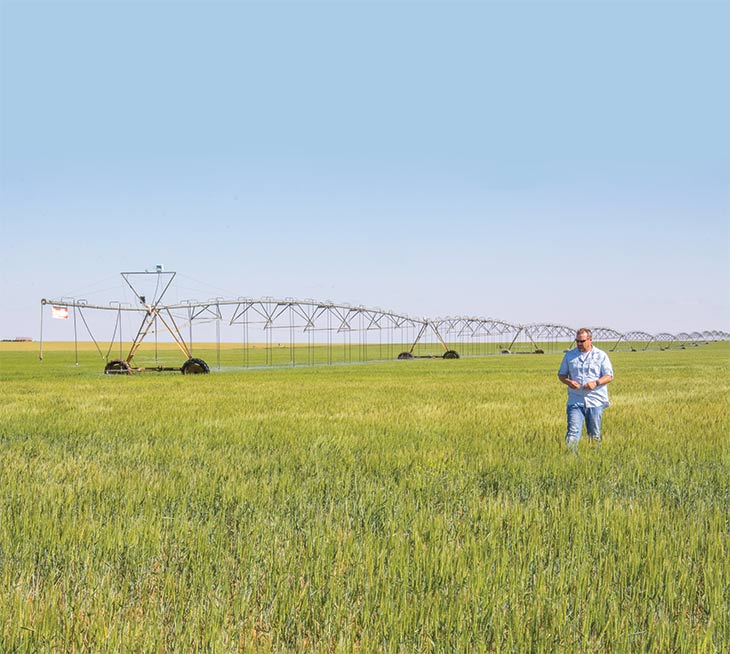 ---
Diversification helps, too. Scott runs 100 head of Angus cattle with a partner. Four years ago, Sean and Wade planted vineyards with the goal of producing their own wine. Sean tends eight grape varieties on 35 acres; Wade and a partner grow 14 varieties on 49 acres.
"You have to raise things that people want, not what they need, in order to make money," Wade says. "Through the years, we've tried to grow everything else out here, so why not grapes?"
"I like the idea of grapes because I can have something from start to finish," Sean adds. "With cotton, you take it to the gin, and you're done. I want to be the middleman and make some money there. I can grow them, harvest them and make wine." 
Family Comes First
People often ask the Rowdens how they are able to successfully farm together and stay intact as a family.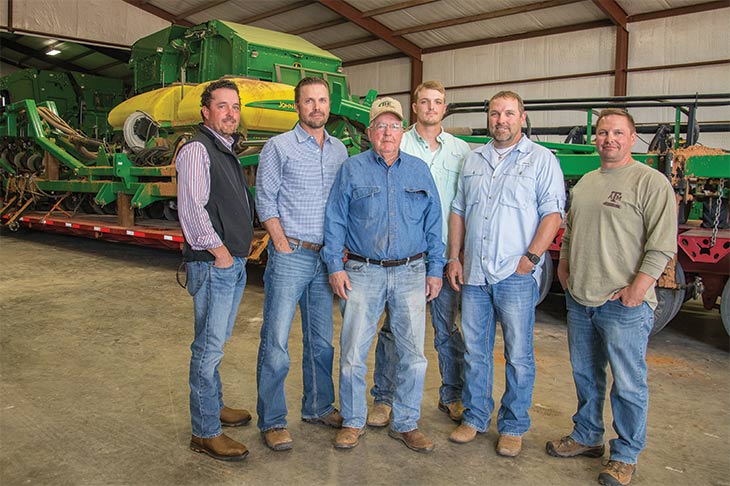 ---
"Trust me, we have our differences and our own way of doing things," J says. "That's why we have separate operations. With our partnerships, we decide together. If we're in agreement on something, we do it. If we're not, we don't. It's just like a good marriage. There has to be compromise in order for it to be a success."
Gary Jones, senior vice president of lending at AgTexas Farm Credit in Brownfield, has worked with the family since the 1990s.
"I remember RJ as being an honest and upright man, and he instilled those values in his family," Gary says. "Family to RJ was important. He left that legacy — business is business, and you may not get along. But you'll always be family."
Bree Nelson, regional vice president with AgTexas' insurance services, serves the Rowdens' crop insurance needs. "Farming is a trust- and relationship-based business," she says. "These guys share a level of trust that's hard-pressed to break."
The brothers care about one another's families and spend time together at the office, on the phone and in the field.
"We come together at harvest time and sometimes at planting," Wade says. "Wherever someone needs something, that's where we go."
"We're farming today because of the grace of God, AgTexas Farm Credit and Granddad," J adds. "They've all been so very good to us."  
---