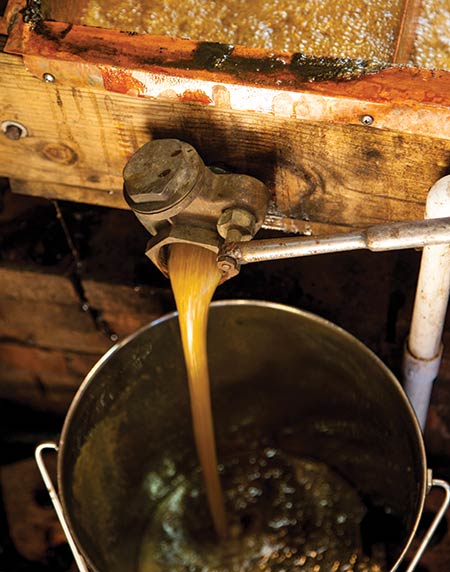 When the days get shorter and the leaves begin to turn, the cool breeze sometimes carries a sweet aroma through Etta, Miss. That's when you're likely to find Terry Norwood standing over a bubbling pan of sweet sorghum syrup in a rustic shed outside his home.
As flames roar under the 12-foot-long pan, Terry peers through the steam and uses a skimmer to manage the continuous flow of the liquid, which enters as sweet green juice extracted from his sorghum cane and exits as an amber liquid with a distinctive caramel flavor.
The cooking starts around Labor Day and ends with the first frost, concentrating about 5,000 gallons of juice down to 500 gallons of syrup. Once bottled under the Rockyford Sorghum Mill label, it doesn't stay around long. Loyal customers wait for the change in seasons so they can buy directly from Terry, a regional manager with the Mississippi Farm Bureau Federation, and his wife, Deb, a junior high school special education teacher, who often sell out before Thanksgiving.
Many customers remember when cooking sorghum was an autumn ritual on Southern farms. These days, the Norwoods are among only a few producers still making the syrup, which folks around here call sorghum molasses.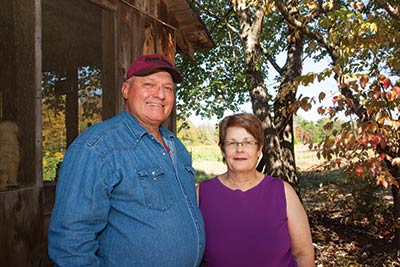 Rekindling the Tradition
Terry likes to pull out photos from a 1943 National Geographic to show what sorghum production was once like: A family would spend all day cutting sorghum stalks by hand, stripping the leaves and crushing the cane in an animal-powered mill before cooking the syrup well into the night.
He remembers watching his relatives cook under a huge black cherry tree when he was a boy.
"No telling how many gallons my granddaddy and great uncle cooked out there on a rocking furnace," he says.
But by the time he was a vocational agriculture teacher in 1980, the labor-intensive practice was in danger of becoming a lost art. He decided to give his students hands-on farming experience growing sorghum near the school's baseball field, and planned to make molasses at a festival as an FFA fundraiser. First, he had to master the tricky cooking process.
Shortly before the fair, a friend showed him the importance of a hot fire and skimming off impurities that can leave a bitter taste. The results were so close to the fine syrup he'd grown up with, he barely noticed that they were still cooking at 1 in the morning.
"Once people have met Terry Norwood, they remember him. He's what rural America is all about." - Joe Hill
He was hooked, and sorghum was once again a Norwood family tradition.
"Deb will tell you that some of the happiest times our family had was when we'd come down to cook sorghum, and the kids would go play, swinging on grapevines, sliding down the bank or riding a bicycle," says Terry, who built a processing building not far from his family's old tree. "My brother and I had some of our best conversations down yonder in that sorghum shed."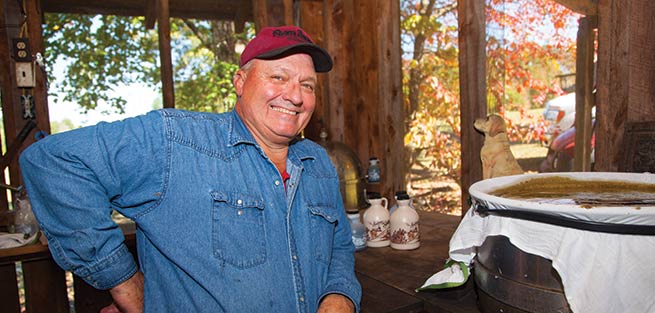 ---
Teaching Old Tools New Tricks
Now in his 33rd year as a sorghum producer, Terry still calls himself a student of the sorghum industry. To many, he's a also mentor.
A director on the board of the National Sweet Sorghum Producers and Processors Association, he frequently talks with beginners about the methods that small and commercial producers use. He has trained at least half a dozen at his farm, where his mix of modern innovations and antique machinery enable him to grow and process sorghum while still working full time.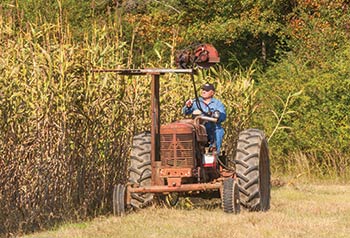 The growing season starts in the spring with about five successive plantings, which extend the harvest. When the sugar in the sorghum is at its peak in the fall, Terry removes the seed heads with an adjustable-height sickle mower mounted high on a tractor. Next he cuts the cane with an antique corn binder and leaves it in the field to dry for a few days. In an hour, he can harvest what used to take him and Deb a week to harvest by hand.
"Corn binders cut the sorghum, bundle it and tie it with a string," he says. "I tell people that if I lose that binder, I'm quittin'. The one time I handle my cane is when I pick the bundle up and run it through the mill."
He spends a couple of hours after work crushing the cane in the cast-iron rollers on his century-old mill, then chills the sweet juice in a vintage milk cooler until he has a day to cook and bottle a batch of syrup. As time allows, he repeats the whole process until the first freeze puts an end to the harvest.
The novelty of his antique equipment has been known to drum up business. Terry says one of their biggest days for sales was when he tested a 1957 John Deere 30 combine he'd just bought.
"I took it out for a spin, and when I looked up, the road was full of folks," Terry says. "Deb came down with a buggyload of bottles and said, 'I've got the crowd together. Now you sell them some sorghum!'"
Spreading the Word
Though they are small producers, the Norwoods' operation has had far-reaching influence. In addition to encouraging others to enter the industry, Terry is a contract seed grower for the Mississippi Agricultural and Forestry Experiment Station, producing foundation seed that is sold to sorghum producers around the world. He maintains separate fields for seed and syrup production, all planted in his favorite variety, M81E.
Last year, a photo of one their fields helped illustrate a Southern Living article about sorghum's popularity among chefs.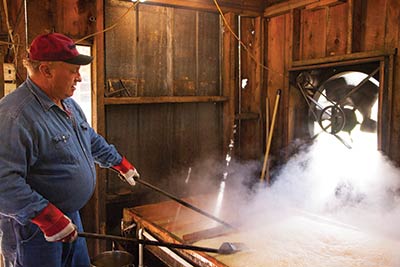 "It sure was pretty, wasn't it?" Terry says of the cane, which can tower at 12 feet. "Deb just lives for Southern Living Magazine. When she found out they were coming here, I thought I was going to have to hold her down."
Their operation has also been featured in Delta Farm Press and the Tupelo Daily Journal, and word is spreading about the quality of their sweet sorghum syrup and Terry's talent at swapping stories.
"When I met my husband, I think our first date lasted eight hours because we kept talking," says Deb, who matches him with energetic joy. "He's a wealth of knowledge."
He's also an active member of Mississippi Land Bank, where he is a second-generation customer.
"Terry's very well-respected, and is chairman of the tellers committee, counting the stockholder votes for the directorship," says Joe Hill, vice president and branch manager of the Senatobia credit office. "He is very supportive of our association, and sends a lot of people to us who he knows that we can help. A satisfied customer is our best advertising."
"Once people have met Terry Norwood, they remember him. He's what rural America is all about."
– Staff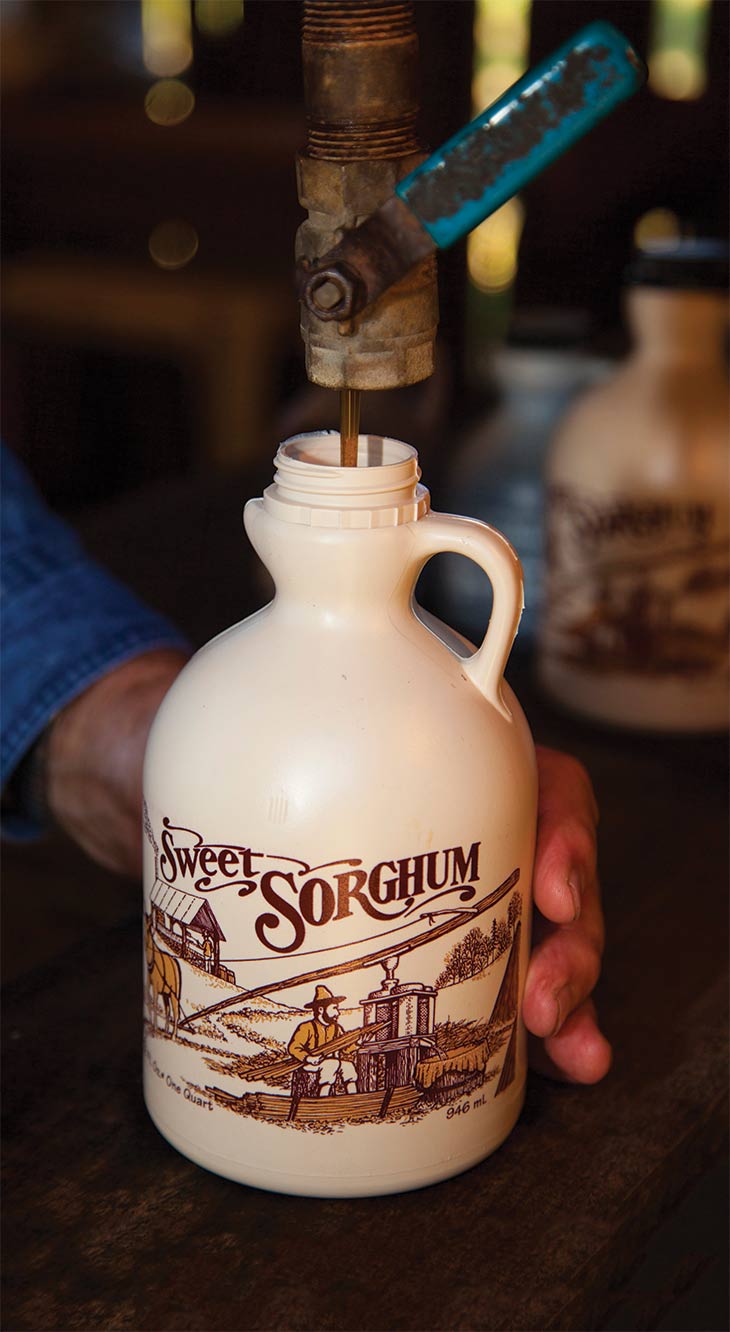 Ways to Enjoy Sweet Sorghum Syrup
If you'd like to rediscover the old-fashioned flavor of sorghum, take the Norwoods' advice and drizzle a little over hot buttered biscuits or cornbread. They also spoon it over oatmeal or onto Deb's blackberry muffins, and their neighbor pours a little onto steaks that are almost finished on the grill.
A photo of their sorghum appeared in the October 2012 issue of Southern Living, alongside recipes for coffee cake, caramel corn, a glaze for beef ribs and more. Find the recipes at www.SouthernLiving.com under "Sweet on Sorghum."
---