"Do you want to be in business next year?"
The consultant's question sent a mini shockwave around the room where the Lester family was gathered. The family had been in the poultry business for almost 60 years, but in 1998, their operations were struggling. They had called in the consultant for advice.
"It was a wake-up call, I can tell you that," says Pal Lester, who together with his brothers Tom and J.B. had continued the broiler operation started by their parents near Gonzales, Texas, in the late 1930s.
"We said, 'Yes, we did.' We were willing to do what we needed to do to stay in business," Pal says.
What was needed, they were told, was change — lots of change.
New Business Strategy, New CEO
At the recommendation of the consultant, they hired a new chief executive officer, Phillip Morris, in July 1998. Morris was known as an astute businessman who welcomed a challenge. Now, ten years later, the company is one of the largest family-owned poultry companies in Texas, and they realize how lucky they are to have him on board.
Back in 1998, however, three generations of Lesters were in the poultry business, each with their own separate businesses. Any attempt to maximize profits on an individual basis was unavoidably cutting into someone else's share.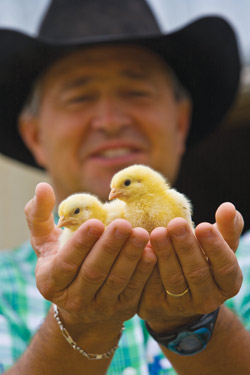 Morris helped the Lester family turn their business around. He oversaw an arduous two-year process to consolidate the separate operations into one integrated business: Holmes Foods.
"With that many family members and that many businesses, you can't imagine how complex it was," Tom Lester says.
Family First
The stress of such a major business restructuring might have been too much for many families, but not for the Lesters. Their strong family ties are the glue that keeps the business strong. Family gatherings happen often, over a homemade supper, at a Little League game or at church on Sundays.
"You just don't see many families working together like this anymore. They are truly a family farm that has survived and prospered in a competitive business," says Tim Knesek, senior vice president in Capital Farm Credit's La Grange office, who has been the family's loan officer for three years.
"When you visit the operations, if it's around lunch time, you don't eat in town. You eat with the family. They make you feel so welcome that after you leave, you have to remind yourself that you're not a Lester," Knesek says.
Growing Up With Chickens
If you are a Lester, one thing is certain: chickens have always been a part of your life.
"We had 13 little houses from the time I can remember," recalls Pal, who was born in the 1940s.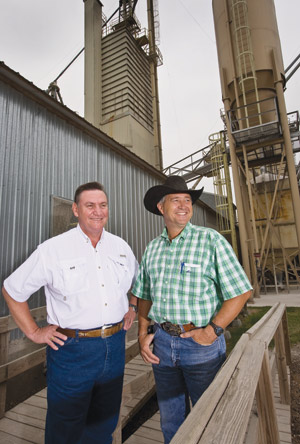 A newspaper clipping from 1952 shows a four-year old Tom standing among chicks in a chicken house. At that time, according to the article, the Lester operation was one of the few that had never lost money on a broiler crop.
Pal's son Ricky, a major owner of Holmes Foods, also remembers growing up with chickens. "I remember it was 1968 when they bought a new GMC truck. We kids really thought they'd gone uptown," Ricky says. "I was about 10. Dad would mix the feed, and I'd drive the truck to put the feed out."
They all fondly talk about Papaw and Mamaw, who started the poultry operation. Papaw died at 62 years of age in 1964, and his wife kept the business going.
"Even when she got really up in years, Mamaw would wake up every night around midnight and go out to check on the chickens," Ricky says.
She passed that commitment to her children and grandchildren. In fact, the school superintendent gave her an award for six of her grandchildren having perfect attendance in school.
Ricky tells that story and laughs, adding, "We wanted to be in school. We knew that if we stayed home, we'd have to work!"
Continuing a Legacy
If they could see the business today, Mamaw and Papaw would surely be proud to see their children, grandchildren and great grandchildren continuing their legacy. Over the years, there have been a lot of changes.
In 1955, they built a feed mill. In the mid-1960s, they switched to automated feeders so they would no longer have to carry 100-pound feed sacks on their hips. In 1971, they purchased their first shares of Holmes Foods. In 1996, they stopped catching all their own chickens every night.
"When Papaw started the business, he was growing a 2.75-pound bird in 18 weeks," Ricky says. By 1968, when Tom and Pam married, they were growing a 3.9-pound bird in 9 weeks.
"Today, we can grow a 4-pound bird in 35 days," Ricky says.
Integration Brings Success
With a consolidated business, the family shares a common goal that they can all work toward. Holmes Foods is a highly successful integrator with a hatchery, feed mill and processing plant. Tom, Pal and Ricky are the principal owners, and Tom Jr. sits on the board of directors.
When Phillip Morris first took over as chief executive officer, the Lesters were growing about 150,000 chickens a week. Now they sometimes process almost that many on a busy Monday. They typically process more than 650,000 a week.
Holmes Foods caters to the fast-food market, growing chickens within a specific size range. "We have to grow them to fit into a narrow size window," Tom explains. "They need to be able to cook in the automated cookers. Bigger pieces won't cook as well."
Most of the growers contracted by Holmes Foods are also Lester family members. In fact, about 85 percent of the chickens are grown by family members, who all own and operate their own houses.
Pal, for example, built a state-of-the-art facility with eight houses near Harwood, Texas. His grandson Derrick, Ricky's son, operates four houses near town and is the fourth generation in the business. All of Pal and Tom's children are in the poultry business. In all, more than a dozen family members have chicken houses and grow broilers for Holmes Foods.
"I don't know of another integrator this size where most of the growing is performed by family members," Knesek says. "It's been an honor to work with them and see their business prosper. This is what Farm Credit is all about."
In addition to growing chickens, many of the Lesters also raise cattle. Tom Sr. operates his cow-calf operation on his ranches in Gonzales and McMullen counties. Ownership of the calf crop is retained, and the cattle are then fed down the road at Graham Land and Cattle Company.
Cows, Chickens and Deer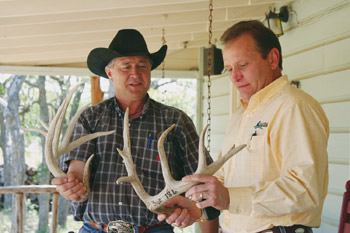 When the Lester family gathers, they not only share great food, often prepared by Tom's wife, Pam, or Pal's wife, Bethel, but they also share a lot of laughs. They are sure to start telling stories about practical jokes, the kids, the cows, the chickens or the neighbors.
And they are also almost certain to talk about two of their favorite subjects — deer and hunting.
Tom has a ranch in South Texas, where he has expanded his cattle operation and uses the land to hunt whitetail deer. His impressive trophy room includes mounts from hunts around the world, as well as deer from his own ranch, including a prize winner that was harvested by his daughter, Sarah.
Pal and Ricky grew their deer interest into another business opportunity. They own Gonzales County Whitetails, a whitetail deer–breeding operation. They offer the high-fenced ranch for commercial hunts, as well.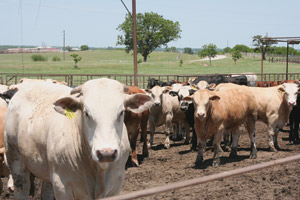 "I'm a scientific deer breeder," Ricky says. "I learned from the chicken business that you don't buy numbers, you buy quality. My initial investment was on four super does. That's the name of the game — the genetics of the female line."
Since that initial investment six years ago, Ricky has bred some impressive bucks. His prize, so far, is Gunrack, who had a 224 Boone and Crockett score and 22 points at one year of age.
Although he is passionate about the progress he has made in the deer-breeding business, he always remembers where to credit his success.
"I know the chickens bought these deer," Ricky says.
"None of this — the land, cattle or the deer — would be possible without the feathers," Pal adds.
-Penny Currie
---