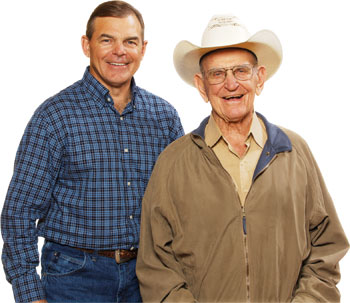 Dressed in jeans and boots, Jack Wallace doesn't look like the typical visitor to the New York Stock Exchange.
However, in May 2009, on a platform overlooking the trading floor, this potato farmer from Edinburg, Texas, found himself in just that place. Amid wild cheering and chaos, he and his father, Jack Sr., rang the bell to open the markets.
Wallace Farms was among five potato growers featured in a recent Lay's Potato Chips marketing campaign designed to highlight the people and communities that produce its line of potato chips. To launch the "Lay's Local" campaign, PepsiCo, the parent company of Frito-Lay, brought each of its new "stars" to the exchange. "I'm not a farmer, I just play one on TV," Jack says with a laugh.
He jokes about his new role, but make no mistake — Jack is still first, and foremost, a farmer. Wallace Farms, located in the Rio Grande Valley, has grown potatoes for Lay's Potato Chips since 1964, making it one of Frito-Lay's oldest contractors.
Tremendous Relationship Leads to Tremendous Opportunity
The Wallaces were first approached with the idea about the marketing campaign at a Frito-Lay growers meeting in 2009. Jack was one of a few producers who "auditioned" for the commercial by visiting with a camera crew about his family's operation.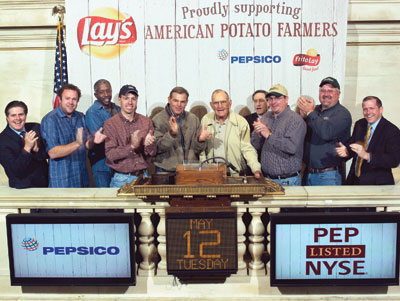 While his wife, Sheila, credits his "Dentyne smile" for landing them the campaign, his reasoning is a little more business-oriented.
"I think the longevity of our contract and relationship was an asset," he admits. "We've had a tremendous relationship over the years, and I think that's what they wanted to bring out in the commercial."
The commercials were shot in Bakersfield, Calif., and according to Jack, were a "major production." A crew of 66 people worked for two days with the father-and-son team to shoot a regional commercial that would focus on their Texas-grown potatoes. Footage also was filmed for the national commercial featuring all five growers arguing that their state produced the best potatoes.
"The production folks asked us lots of questions about farming and why we got into it, trying to get something to use," Jack says. "There was so much repetition."
The final results made the farmers overnight stars. The campaign was the largest that PepsiCo ever activated, and in addition to the commercial, included national print advertising, on-pack messaging and 40,000 in-store displays that were customized for each participating state.
"We've had comments from people we know from all over the country who've seen the commercial," Jack says. "Participating in this was something that you never envision in your wildest dreams. It's been fun, and to do it with my dad was really neat."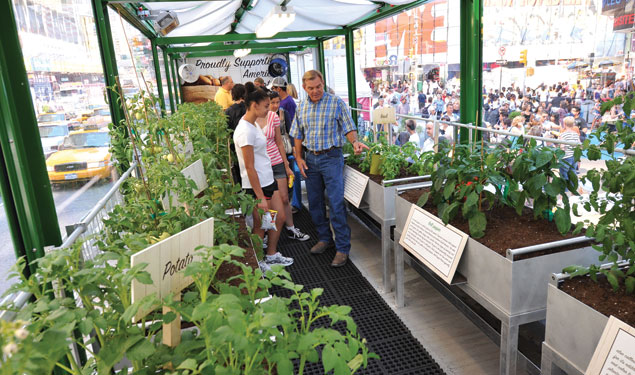 ---
Jack Sr., locally known as "Big Jack," originated the farm's first contract with Lay's by verbal agreement more than 45 years ago during uncertain times in the farming industry. Jack joined his father in the family operation in 1993, and bought the family farm from his parents almost a decade later.
The Life of a Potato Chip
Before a Lay's potato chip reaches grocery-store shelves, it has humble beginnings as a Jack Wallace potato. Each fall, dormant seed potatoes from one of several cold-weather states arrive in bulk by 18-wheeler at Wallace Farms. The potatoes sit in a barn for approximately two weeks to "awaken" before planting from mid- December to mid-January.
The Wallaces use an 8-row planter that enables them to plant 50 to 60 acres per day. With demand-schedules from both Frito-Lay and H-E-B, a chain of Texas grocery stores that the family also grows for, Jack estimates crop yield, factoring in for frost and freezes.
Wallace Farms has grown potatoes for Lay's Chips since 1964.
Harvest begins in March, and potatoes are the first fresh crop of the year harvested in the central United States. Temporary help is brought in for the harvest, and after the potatoes are cleaned, quality tested and documented, they are immediately sent to one of several processing plants in Texas or to a plant in Jonesboro, Ark.
"It's possible for a potato to go from the ground to a Lay's bag in 24 to 36 hours," Jack says. "It really is a locally grown, fresh product."
Due to the cyclical nature of farming, it was important to the Wallaces to have a lender that understood their business. They have been longtime customers of Farm Credit — first with AgCredit of South Texas, and now with Texas AgFinance.
"These guys know farming and agriculture," Jack says. "Each group has been great to work with."
Importance of Consumer Education
Because of the success of the 2009 ad campaign, Jack and the other growers were asked to participate in a new initiative launched this summer — the Lay's Mobile Farm tour.
Designed to educate urban consumers about farming and food production, the 70-by-10-foot greenhouse allowed visitors to interact with the farmers, get up-close views of potato, onion, tomato, basil and bell pepper plants, and see other interactive exhibits. The tour began in New York City's Times Square, with Jack and two other growers in attendance, and traveled on to five other major cities. At the conclusion of each event, all of the greenhouse plants were donated to local community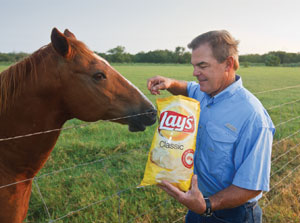 "The Mobile Farm was a way to bring the farm to the city to educate those consumers about where their potatoes come from," said Jack, who also attended the tour stop in Dallas.
Consumer education has always been important to the Wallaces. For three years, the family has invited local school kids to visit their farm to learn the story behind one of their favorite snack foods.
Each child is given a plastic grocery bag and turned loose in the potato field to collect potatoes to take home. Once finished, the kids get to sample potato chips fresh from the fryer in the farm's testing lab.
"Their favorite part, by far, is the gleaning," says Sheila, referring to the children having access to the small potatoes left over from the harvest. "It's like an Easter egg hunt."
Jack says he enjoys seeing the kids' excitement. At the same time, he hopes that hosting visitors to the farm will help to dispel the negative image that he feels potatoes and potato chips have.
"Potato chips are potatoes, salt, a little bit of oil, and that's it," he states.
Jack also hopes that the family business won't stop with him. Even though it may not land them on television, he says he would definitely encourage any of his six children to go into farming.
"It's been a part of my life for 50 years, and it's a great occupation."
– Staff
The Best Potatoes Come From…
Larry Ditto
Although they may argue in the campaign's national commercial that their state raises the best potatoes, the five growers featured all have one thing in common — they've each grown potatoes for Lay's Potato Chips for decades.
Like the Wallaces, each of the following farmers also starred in their own regional commercials, as well as the national ad:
Brian Kirschenmann of Bakersfield, Calif., a fifth-generation potato farmer whose potatoes have gone into Lay's Potato Chips since 1974
Darrell McCrum from Mars Hill, Maine, a fifth-generation potato farmer who has grown potatoes for Lay's for 24 years
Steve Singleton of Singleton Farms in Hastings, Fla., who has grown potatoes for Lay's since 1982
Brian Walther and Gary Walther of Walther Farms in Three Rivers, Mich., brothers and third-generation potato farmers, whose family has grown potatoes for Lay's since 1975
View all the "Lay's Local" commercials.
---