As a maintenance supervisor for General Motors for many years, John Wydner was constantly reminding employees to wear their safety harnesses when they had to climb ladders or scaffolding.
Ironically, though, he didn't always apply the same safety rules when he was hunting — at least not until after a fateful hunt in 2000.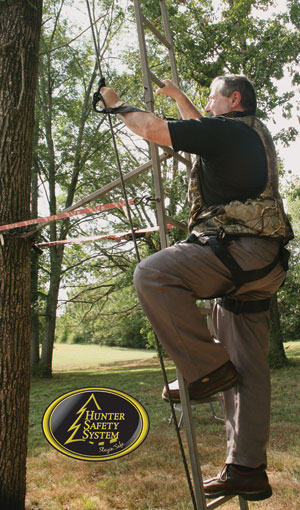 A Narrow Escape
On that cool autumn morning in north-central Alabama, the sun was breaking daylight when Wydner spotted a magnificent white-tailed buck. From his perch in a tree stand, 23 feet above the ground, he had a clear view. Wydner took the shot, and the deer fell.
Thrilled, he turned to make his descent. As he did, the tree stand crumbled, and Wydner — who was not wearing a safety harness — started to go down with it. Fortunately, he caught the climber as the platform fell to the ground, thus saving himself from a potentially tragic crash.
"I would have fallen onto a 2- to 3-foot-diameter rock. That was enough to break every bone in your body," he says.
Burning and bleeding, he slid the rest of the way down the tree. "When you slide, the bark just rips off your skin," he explains. "My arms were burning like fire."
Using his walkie-talkie, he called his brother, Jerry, who was hunting about a mile away. As he waited for Jerry to come to his rescue, he thanked the Lord he was alive. Little did he realize, though, how the accident would eventually impact his life, and possibly the lives of others, as well.
Along with the rescue came questions. "Jerry asked me, 'Were you wearing your harness?'" Wydner says. "I turned around and asked him, 'Did you wear your harness this morning?' He said, 'No, but I'm not the one who got hurt.'"
The pair realized then that the accident could have happened to either of them.
Building a Better Harness
There was discussion around the campfire that night about how to design a simple, easy-to-don safety harness. While numerous makes and models were available on the market, none of them was really user-friendly. They were too heavy and had too many straps to easily wear climbing up to the tree stand, and were too complicated to pull on in the dark, according to Wydner. For instance, "I wasn't wearing my harness that day because it was too clumsy to put on before daylight that morning," he reports.
"We decided we had to do something to make it easy to put a harness on, so we would actually wear it," Wydner says.
By the time he arrived home from the hunting trip, he already had a design in mind. He soon found a sewing factory to execute his design. After several modifications and prototypes, the design was patented under the name Hunter Safety System (HSS, Inc.), a company formed in 2001 in Danville, Ala., by the Wydner brothers and lifelong friend and hunting buddy Jim Barta.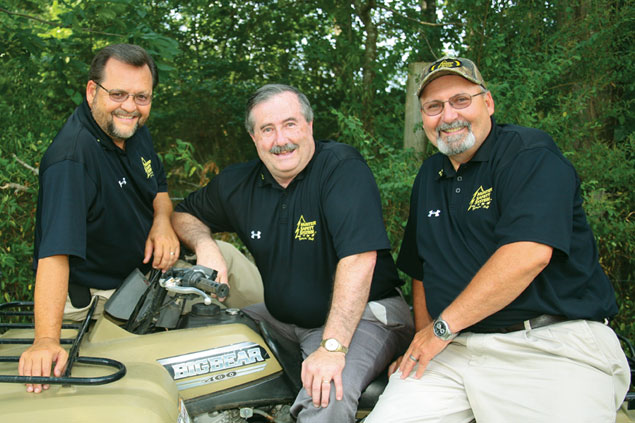 ---
Realizing they weren't the only hunters needing a better safety harness, they sent samples to Cabela's in 2001, and the famous outdoors store soon placed an order. From there, the business took off. Bass Pro Shops, Gander Mountain, Dick's Sporting Goods and other national chains eventually placed orders. So did privately owned outfitters throughout the United States and Canada.
A Growing Business
The company quickly became a full-time business for the three co-owners, who've hunted together since they were kids, when they would down pheasants and rabbits with slingshots and homemade bows and arrows. John Wydner serves as president, while Jerry Wydner handles business matters and insurance, and Barta oversees marketing.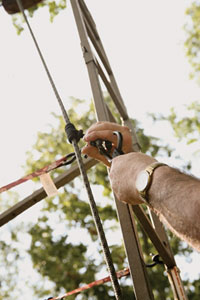 Since Hunter Safety System was formed a decade ago, it has expanded every year, growing its staff to 15 and adding a variety of hunter-safety accessories, such as tree straps, as well as clothing and other items. The owners are continually refining their safety harness, and now offer eight different models. Wydner describes the latest model as "techie-looking" and ultra-lightweight. "I'll even wear it into the coffee shop and not feel out of place," he comments.
Much of the field testing for their products takes place on the rural property that the company purchased two years ago with financing from Alabama Farm Credit. Currently, four tree stands and lifelines are set up on the 150-acre property near Danville, where the company is researching the weathering ability of the products.
A Mission to Save Lives
Wydner estimates that at least 80 percent of hunters do not wear safety harnesses 100 percent of the time when hunting from tree stands. But if other states follow Alabama's and Mississippi's lead and require hunters to use safety equipment when hunting on public property, that number could change.
The safety harness is currently Hunter Safety System's top-selling product, and the tree-stand lifeline is a close second. When used together, the products allow hunters to follow Wydner's No. 1 piece of advice: Stay connected to the tree from the time you leave the ground until you get back down. Based on customer response, the company knows the two products are accomplishing its goal, according to Barta. "We have received well over 100 letters from hunters who have fallen from their tree stands and taken the time to write us to say, 'On behalf of my family and myself, thank you for saving my life!'" he reports.
For Wydner, testimonials from hunters are especially gratifying. After all, Hunter Safety System is more than a career for him.
"When I fell from that tree, I was given a mission to help save others, and the good Lord wouldn't let me rest until I had finished the job," he says.
– Staff
---