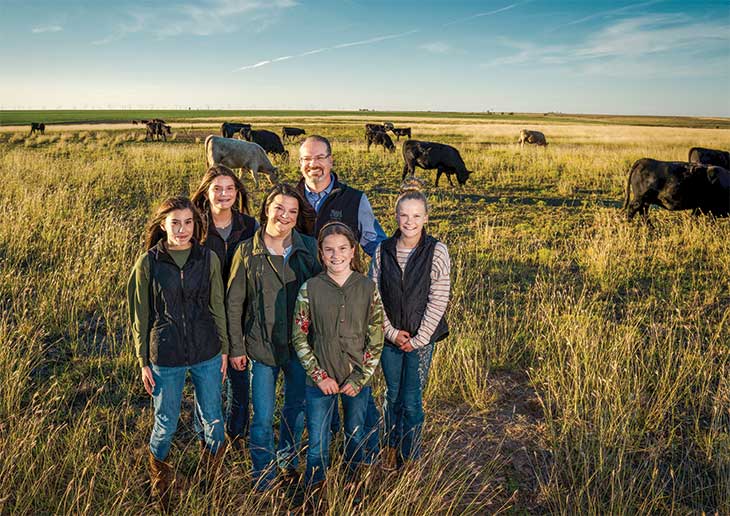 ---
Court dockets and legal cases fill up attorney Franklin McDonough's calendar. But when time permits, he can be found at his family ranch south of Pampa in the Texas Panhandle, tending to his cattle operation and introducing his children to the ranching way of life.
New to ranching himself, McDonough and his wife, Kelly, an English professor with the Clarendon College system, bought 160 acres of ranchland three years ago largely to benefit their four daughters — Karennah, 15; Savannah, 13; Jennah, 12; and Emmah, 10. Last year, the couple purchased another 25 acres in rural Gray County, where they recently built a home and barn.
"For Plains Land Bank, it was more than 'You need money. Here's a loan.' It was 'How can we make your dream a reality?' "
– Franklin McDonough
"In my opinion, there's no better way than agriculture to teach kids a well-rounded life," says McDonough, who has served as district attorney for the 31st Judicial District Court since 2013. "They learn responsibility, humility, conservation, business, business ethics and how to care for something other than themselves. Ag also teaches them about themselves and how to overcome fears."
McDonough, who grew up as a city kid in Plainview, had wanted to get his hands in dirt since childhood visits to his aunt and uncle's farm in Briscoe County. But he didn't have the know-how or family to help him get started. Instead, he found the help he needed at Plains Land Bank in Pampa.
"When you don't grow up in ag, it takes someone like them to give you that foundation to live out your dream," McDonough says. "Getting started in ag requires a big chunk of money, and not all of us have that. Plains Land Bank provided the money to get going. They also provided a framework. First they said, 'Let's look for land.' Then they told me, 'Let's get it ready for production.' Next, it was, 'Now that it's producing, let's build a house.'
"For Plains Land Bank, it was more than 'You need money. Here's a loan,'" he adds. "It was 'How can we make your dream a reality?'"
Building the Ranch
After buying the quarter section of land, McDonough, his daughters and some friends tore down old fences and built new ones.

"We set every T-post and stretched the wire ourselves," he recalls. "We must have put up at least a mile of barbed-wire fencing."
Once the monthlong project was completed, McDonough dove into the cattle business, buying 10 bred Angus cows. His long-term goal is to run a commercial beef and small registered Hereford operation.
"I now have 74 head that include registered Hereford, Angus, Charolais and Red Angus," he says. "I'm a student in this. I really got interested when I learned about embryo transfer and genetics. I talk to anyone I can — other producers, breeders and Extension agents."
He plans to buy his first Hereford bull next year. He's also hoping some of his daughters will take an interest in the business, and show the family's steers and heifers. Whether they do or not, though, they're experiencing a way of life that McDonough believes they'll cherish someday.
"Sure, it's not exciting to step into cow manure," McDonough says. "But it's extra special to see a newborn calf on the ground. And that's something they'll never forget."
---