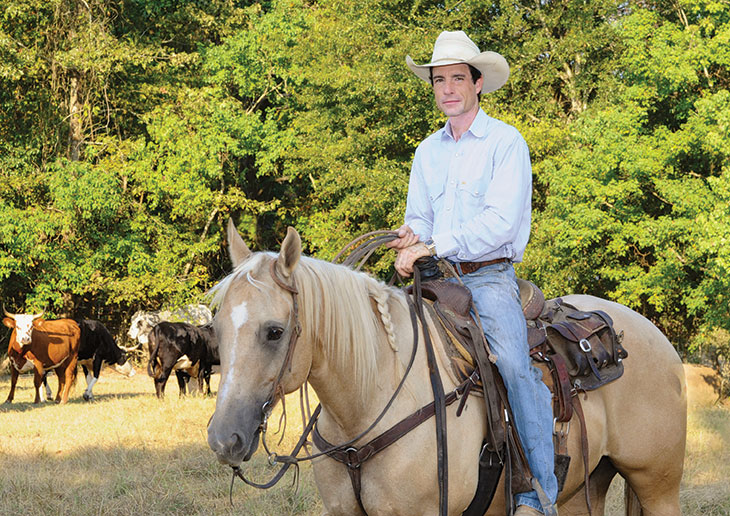 ---
Lifelong team roper Jody Higgins of Monroe, Louisiana, had always wanted to back into the box at the Bob Feist Invitational in Reno, Nevada.
The legendary event is the largest one-day open roping competition in the country. It draws 100 of the best teams from across North America.
In June, Higgins — a Louisiana Land Bank customer — not only competed, he rode out with a $100,000 payout.
Partnered with Mark Smith, he won the top-level amateur roping event at the 2019 Wrangler National Patriot, held in conjunction with "the Feist."
Cancer Sidelines Roping Career
But Higgins' path to Reno wasn't a straight shot.
For one thing, he had his day job as a special education teacher, plus his extra jobs baling hay and tending his cattle.
And then there was his bout with cancer.
Diagnosed with throat cancer in 2012, Higgins underwent extensive radiation treatments. The radiation caused his shoulder muscles to deteriorate.
Initially he couldn't even swing a rope. It was a blow to someone who'd competed against the highest level of amateur and professional ropers.
Higgins wasn't a quitter. But until he was healed, he would need something to occupy his time.
The answer was a hay baling business.
Baling Hay Helps Him Heal
With an equipment loan from Louisiana Land Bank, Higgins purchased the latest equipment and quickly grew his hay business. He now bales hay for one of Louisiana's largest cattle operations.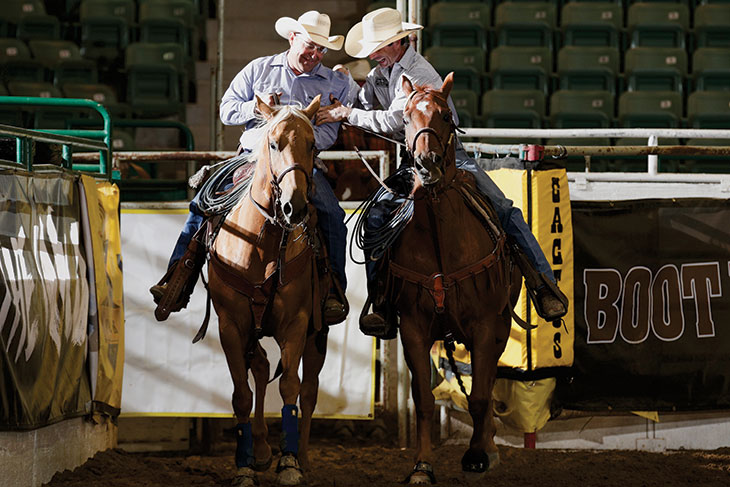 "I tell people I rehabbed myself through my hay operation," he says. "It was good therapy for me because not only did it keep my mind occupied, but the manual labor strengthened my body."
Higgins was introduced to Louisiana Land Bank several years ago by board member and fellow cattleman Cullen Kovac. From his first loan with the lending co-op, he was impressed with the customer service.
"Cullen hooked me up with an awesome loan officer in J. Byram," Jody says. "J. has always been on the spot every time I've needed him."
Land Bank Makes Financing Easy
Higgins says he has an invaluable partner in Louisiana Land Bank.
"I probably wouldn't even have cattle if it weren't for the Land Bank," he says. "They make it so easy."
After his cancer diagnosis, it was about four years before Higgins could swing a rope with ease — longer before he could compete again.
Although he could no longer compete in the open roping contest at the Feist, he still wanted to rope in Reno. To get there, he would have to enter the Wrangler National Patriot, which gives equally matched amateurs a chance at six-figure payouts.
He and Smith — father of world champion header Clay Smith — turned a time of 30.44 seconds to nail the second call-back position at the 2019 event. After making a smooth run of 9.33 in the short round, they watched as the final team went just out of the average.
"We're just cowboys," Jody said in an interview at the event. "Our goal was to catch."
They not only accomplished their goal but were fast enough to win life-changing money. Not too bad for a cowboy with a day job in town.
– Katrina Huffstutler
---