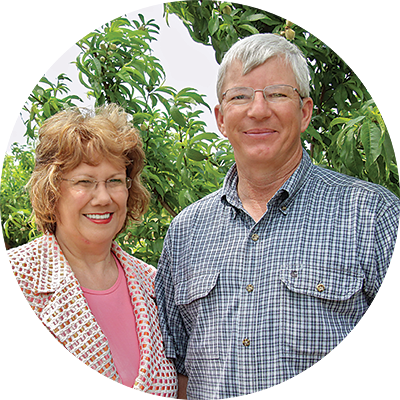 One summer day when he was a boy, Ed Lester's dad handed him a cigar box and sent him out to sell purple hull peas under the sheltering limbs of their big live oak. It was the beginning of a northwest Louisiana institution.
Forty-four years later on the same spot, banners wave in the breeze along the green-and-white striped tent of the summer farm stand at Ed Lester Farms. The quintessential Southern peas are still a staple, but now they're joined by about 60 varieties of fruits and vegetables in neatly stacked baskets, boxes and bins. Out front, a gleaming '52 Chevy pickup or vintage tractor might offer a load of melons or sweet corn for customers, who travel across Louisiana, East Texas and Arkansas to stock up on farm-fresh produce.
Ed and Lisa Lester know that summer vacations get planned around this stop, so they create a festive atmosphere to make it worth the trip. Every year they lay down wooden walkways, line the paths with flowers and caladiums, and set up their tent. By opening day in late May, loudspeakers or live bands are playing zydeco, New Orleans jazz and other music, serenading customers while they decide what to buy by the bushel, the basket, the peck or the pound.
"We're like the fair that shows up in town," says Ed.
Visiting Ed Lester Farms
Ed Lester Farms is on U.S. 84 in Coushatta, La., 40 miles south of Shreveport. The farm stand is open 8 a.m. to 5 p.m. Monday through Saturday, generally from late May to the end of July. To learn more, visit EdLesterFarms.com, find the farm on Facebook or call (800) 256-3276.
Fresh For the Farm
But the festive atmosphere isn't the only thing that's special about this stand. It turns out this bounty of produce is grown within a few hundred yards.
"When they first see us, most people think farmers bring the produce in to a central location," Ed says. "We're producing this right here. It's hours if not minutes old when they find it."
Glance behind the striped tent at the farm stand, and you'll see Cabin Point Plantation. Ed's family has called this farm home since 1849, and the hand-hewn logs of the plantation's original cabin are still tucked inside the walls of his mother's house, just across the Red River bridge from Coushatta. It's the river that is responsible for the farm's silky alluvial soil, which can grow almost anything, Ed says, but is ideal for growing cotton.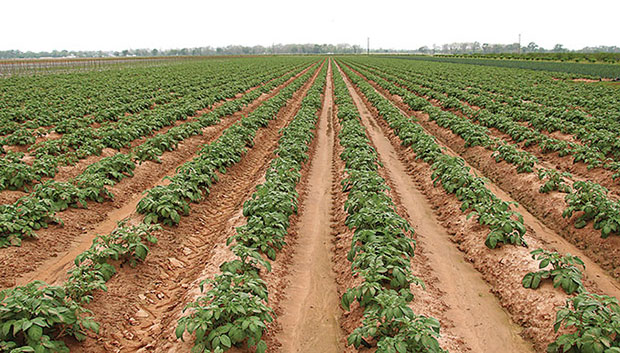 ---
Diversifying Makes Sense
Since the beginning, cotton has been the foundation of the operation. It's something the Lesters grow no matter what, even as the number of other growers fluctuates with commodity prices. The rainfall pattern and hot temperatures in this spot are just too perfect not to.
Besides, there are ways to ride out the highs and lows in prices, the Lesters say. For them, diversifying with produce was the solution. They now plant 650 acres in cotton, 150 acres in vegetables and 15 acres in peaches.
"The growing seasons and my equipment work well with vegetables and cotton," Ed says. "The produce retail season is late May until the first of August. When we're done with that, we'll rest up for a month or two before the cotton harvest starts."
Diversity is also the watchword of the produce operation. The farm stand's customers expect a variety of choices and a lengthy shopping season, so the Lesters start all of their vegetables from seed in greenhouses. Out in the field, every row might be a different variety or a different growth stage, and once it's mature, it's all harvested by hand.
Smart Management
"It's about management and labor with this many crops. We're growing small amounts of a lot of different things, which is what it takes to draw customers and make the retail business work," Ed says. "We know people are coming for peas, tomatoes, sweet corn, peaches and squash, and if we can sell them some radishes, lettuce and figs, they go home with a big sack. Everybody's happy."
The Lesters have three full-time employees, and about a dozen more workers join the staff in the summer. Lisa manages the office and helps coordinate the retail operation, where half of the seasonal workers run the cash registers, carry purchases for customers and make sure the shelves are constantly stocked. Ed manages the farm and harvests with the rest of the staff.
It would be easier to harvest everything at once and send it to a wholesaler, he admits, but that has never interested him. Their system provides a constant stream of produce over a few months of on-farm retail sales.
"And it's fun," he says. "We're glad to see our customers, and they're glad to see us. It's nice to be in agriculture and produce a crop that you actually get to hand to the consumer. Most of us don't get to do that."
"Personal service is really important to us. That's the way we like to be treated, and that's how we treat our customers, too." - Lisa Lester
At Your Service
Customer service is a top priority for the Lesters, and it starts before the consumer arrives at the stand.s
"Before we even open in May, people start calling to ask what we have," Ed says. "That's when you take a deep breath and start the list."
To help get the word out, they and their sons, college students Thomas and Jay, go online. Facebook helps them connect with customers and quickly announce what's available, and the farm's website provides basics such as hours, directions and recipes. The interaction is an opportunity to educate consumers about food and agriculture, so their website offers information on freezing fruits and vegetables, how cotton is harvested and the history of the plantation.
A Long Relationship with Farm Credit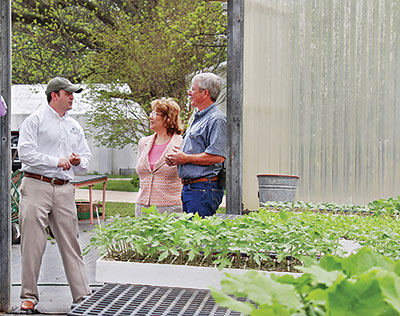 Service is also a reason the Lesters do business with Southern AgCredit. Ed's father first became a customer of the association's predecessor in the 1970s, and Ed and Lisa have continued the tradition.
"We feel that at Southern AgCredit, we're dealing with friends and family," says Lisa, who sometimes drops by their lending office in Shreveport just to visit or have lunch with the staff. "Personal service is really important to us. That's the way we like to be treated, and that's how we treat our customers, too."
The Shreveport office has a long history of providing financing to farmers and ranchers in northwest Louisiana, says Justin Morris, vice president and branch manager.
"We're predominantly production lenders. We understand it," Morris says. "And we are privileged to associate with members like the Lesters. They're good, hard-working people."
He says that on some summer days, it's hard to get down the highway to Coushatta because of all the traffic at Ed Lester Farms. Customers must know that nothing tastes like a tomato that's ripe from the field, he says, or maybe they're coming for a "jalapeño grab" — when they can get a big handful of peppers for free with a purchase.
"You only get one try," Ed says of the grab. "You should see how much time people spend trying to figure out how to get the most they can hold."
Purple Hull Peas a Big Draw
Of course, the purple hull peas that started it all are the big draw. For some, a year isn't complete without four bushels of peas — some to eat now, some to freeze for later.
"When people come here, they want the plain purple hull peas like their grandmother had, or pink-eyes, we call them," says Lisa.
"You can get in arguments with people," says Ed, explaining that the peas vary slightly by cultivar. "If a pea doesn't have a pink eye, it's not a purple hull, some will say. Another might taste exactly the same, but it's not what people want."
You'll get no arguments from the Lesters. You'll just get more peas and produce than you can haul home in one load.
-Staff
Yellow Squash Casserole
2 cups cooked yellow squash
10 green onions, chopped fine
2 to 4 tablespoons butter
1 cup mayonnaise
2 eggs, beaten
8 ounces extra sharp Cheddar cheese, grated
1 teaspoon salt
1 teaspoon pepper
¼ teaspoon Accent
½ cup cracker crumbs
Preheat oven to 375 degrees. To prepare squash, slice, boil and drain before measuring.
Sauté green onions in butter.
In a bowl, mix mayonnaise, eggs and cheese. Add cooked squash and green onions. Add salt, pepper and Accent, and mix well.
Pour into 8-by-8-inch baking dish and top with cracker crumbs. Bake 30 minutes.
– Lisa Almond Lester
Peach Pie
1 9-inch pie crust, baked and cooled
Filling
½ pint whipping cream
1 cup powdered sugar, divided
6 ounces cream cheese
2 to 3 fresh peaches, sliced
Glaze
1 cup sugar
2 tablespoons cornstarch
¼ teaspoon cinnamon
1 cup mashed peaches
1 cup water
Whip cream with ½ cup powdered sugar. In a separate bowl, beat remaining sugar with cream cheese. Combine cream mixture and cheese mixture, and spread across bottom and sides of cool pie crust. Refrigerate for 2 hours.
Make glaze by mixing sugar, cornstarch and cinnamon. Add water and peaches. Boil mixture until clear. Cool completely.
Arrange peach slices on chilled pie filling, then top with glaze.
— Lisa Almond Lester

---
---