Ben Morgan knows as much about handling cattle as one would expect of a young man who has been around them his entire life — and that's a lot. His family has raised cattle on 600 acres in Mississippi's Oktibbeha County for five generations.
But running a cattle business is much different, he says, than simply running cattle.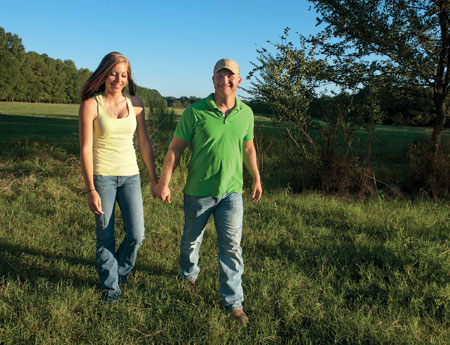 He has been learning that lesson the hard way — hands-on and headfirst — since taking over the family cattle business, following his father's death two years ago to cancer.
Morgan was studying political science at Mississippi State University at the time, with plans to pursue a law degree. "I had always wanted to farm cattle one day, but there's just not a lot of reward in it financially," he says. "My dad's passing moved things up faster for me, due to the land lying idle."
His father, Dennis, sold his entire herd of 375 natural grass-fed cattle prior to his death. "We just decided it was a good time to get out for a while," the son explains. Several months later, though, Morgan, 28, and his wife, Cydney, 21, decided it was time to pursue his long-term goal.
"After his dad passed on and the herd was sold, the land lay idle until Ben took over the family farm recently," says Jeremy Brock, assistant vice president in Mississippi Land Bank's Houston branch office. "Ben wanted to get started in the cattle business and really had a leg up on most people in the business because, while still considered young, he had all the necessary equipment and plenty of land to get started."
Starting Out Ahead of the Game
Morgan recognizes that he is more fortunate than beginning farmers who have to purchase their first tracts and all their equipment to get started. But, while he says he knows how to work with cattle, he is the first to admit he still is learning, when it comes to the business aspects of farming, such as marketing, controlling operating expenses and keeping a clear perspective on the bottom line.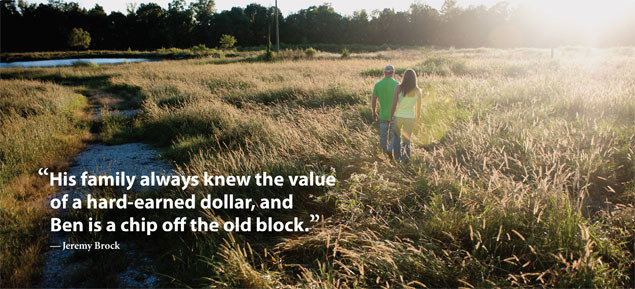 ---
"People ask me questions about cattle, like I'm an expert, but I don't know the business side of it," says Morgan, who showed cattle as a member of his high school FFA chapter.
Wisely, he has turned to others more experienced to mentor him through these start-up years.
"Our veterinarian lives down the road, and she has helped me a lot on business questions, not just medical issues," Morgan says. Not only does she help keep him abreast of the latest herd-health breakthroughs and counsel on feed and mineral choices, she has provided insight based on years of experience running her own herd.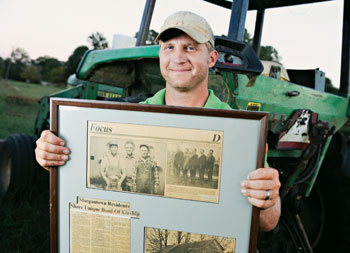 His mother, Suzanne, while no longer involved in the cattle business, still lives on the farm and is always available to offer guidance and support. For financing questions, however, he turned to the agricultural lending experts that his dad and his grandfather, Terrell Morgan, trusted — Farm Credit.
"Ben came to see us here as his first stop, while considering continuing the family cattle business," recalls Brock. "Through a couple of visits, he decided cattle farming is what he wanted to do on his family land, and he currently is running 40 head and doing well."
"I talked to the Federal Land Bank, and later heard about FHA loans, but I wanted to stay with the Land Bank," says Ben, who is one of thousands of young and beginning farmers benefiting from Farm Credit's commitment to finance the next generation.
Creating Their Own Legacy
As the fifth generation of Morgans responsible for this land — and the last Morgans in the county still raising cattle — Ben and Cydney are proud to have this opportunity to carry on a family tradition. Eventually, they hope to stock the farm to the point of maximum operating efficiency. But for now, they simply want to establish their business and build up their herd.
"Right now, it's still a start-up operation, and we are just trying to find ways to make a living," says Morgan, who cuts and sells hay and is considering leasing land to other producers for additional income. Until the farm can support the couple full time, he continues to work in the construction industry, as well.
"My goals aren't to make a pile of money — just to raise good cattle and be the best cattle farmers we can be," he says.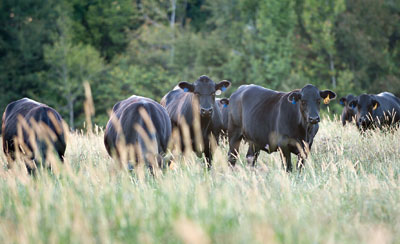 ---
Their Farm Credit lenders are confident in the young couple's prospects of becoming full-time farmers, and are proud to have been a part of their business from the beginning.
"Ben had no doubt about where he needed to come for guidance and straight talk in making this decision to continue the family cattle business. He had often tagged along with his grandfather and father as they visited the Land Bank office over the years, and he knew what Farm Credit had done for his family farm," says Brock.
"His family always knew the value of a hard-earned dollar, and Ben is a chip off the old block," Brock adds.
– Sue Durio
---