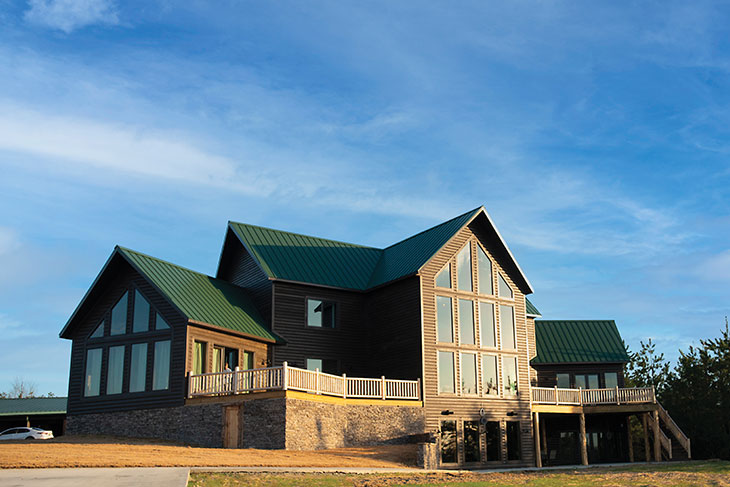 ---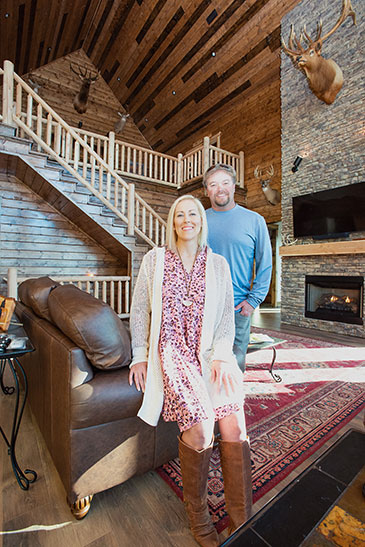 Ask Tim Horton about his job, and his answer will depend on the day. On Monday it could be world-class angler. Next week, hunting guide. The following, TV celebrity. Now he can add hotelier to his résumé.
Horton and his wife, Kim, opened Willow Oak Lodge last winter with financing from Alabama Farm Credit. The Hortons' dream — to provide great hunting and fishing with great lodging.
This isn't your typical hunting camp. The 9,000-square-foot lodge, nestled deep in the woods of northwestern Alabama, offers mountain views, luxurious guest suites and cabins and gourmet meals. Forty-foot ceilings soar over the cedar-lined lobby and lounge area. And guests can enjoy the pool, fully equipped gym and all the amenities expected at a high-end resort.
Choosing Farm Credit was easy
The lodge isn't the Hortons' first project with Alabama Farm Credit. They became customers in 2019 when the lending cooperative financed high fencing on 600 acres of Willow Oak land.
Kim says they weren't familiar with Alabama Farm Credit when they started shopping for a lender. But once they were introduced by co-op board member David Daily, their choice was easy.
"The people at Alabama Farm Credit are absolutely wonderful. They provide great customer service, beyond anything we expected," Kim says. "And the loan process was as painless as possible."
Financing the dream
The Hortons had been hosting hunters and guiding hunts for a while at Willow Oak. But their dream was much bigger. They wanted to create a true hunter's retreat with free-range and trophy preserve hunts.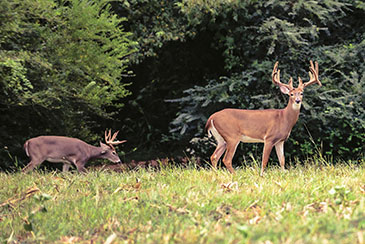 Fencing the 600 acres was the first step. The Hortons aimed to introduce trophy deer into their genetics program and also create a more diverse habitat for the Eastern wild turkey. Plus, the Hortons remodeled one of the existing cabins on the property with a loan from Alabama Farm Credit.
But that wasn't all. The co-op financed an enlargement of the lake at Willow Oak. Now guests can fish for small-mouth and largemouth bass on the 20-acre lake too.
"We were impressed with Tim's business model and plan, and knew it was something we wanted to be a part of," says loan officer John Christopher Batts. In fact, Alabama Farm Credit is one of Tim's sponsors.

Fishing started it all
While Tim's an avid hunter, fishing is his first love. His dream as a kid was to fish professionally, and he made it come true. In 2000, Tim earned Rookie of the Year, as well as Angler of the Year in the Bassmaster series.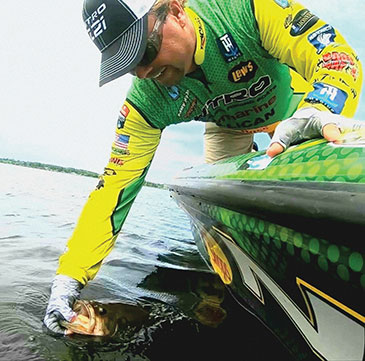 This success led to him starring in his own TV show — Timmy Horton Outdoors. In its ninth year, the show features Tim fishing on public bodies of water all across the U.S., and teaching viewers how to catch more fish. Timmy Horton Outdoors features 13-20 new episodes each season. The show airs on the Pursuit Channel.
Tim's success also led to another job — designer and manufacturer of bass lures. His best sellers are the Azuma and Klone lines, sold under his Profound Outdoors label at Bass Pro Shops and other retailers across the country.
Preserving nature a must
The outdoors has always been important to Tim — not just to his work, but to his life. That's why land and wildlife management is a focus of his work, and a factor in the Hortons' business decisions.
One example is how they manage the preserve's deer herd. They keep it at about 100 head to ensure good herd health and sustainable timberland.
Also, conservation is practiced at Willow Oak's lake. Fed by a natural spring, the lake supplies the habitat to produce trophy bass. Tim keeps it that way by nurturing the lake's ecosystem.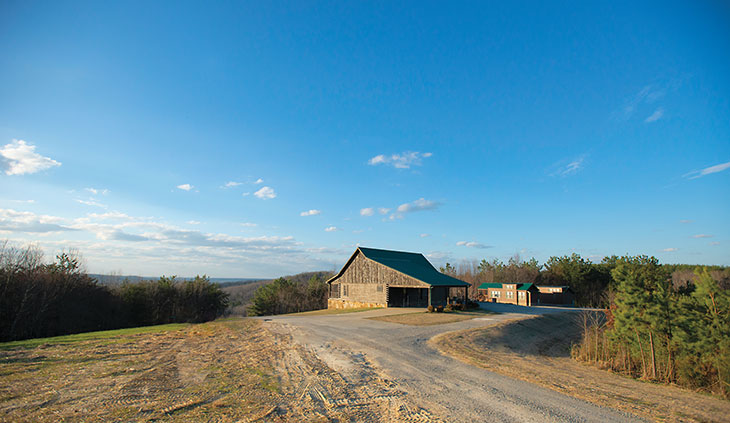 ---
Focusing on family
The Hortons' dreams and businesses are based on family. Tim's the driving force behind their businesses, and Kim keeps things running smoothly. He stars in Timmy Horton Outdoors, and she produces it. Tim designs the Profound lures, and Kim manages operations at the warehouse. And together they manage the lodge and guide hunts throughout the year.
The Hortons do take time off every October to host "Fishing for Kids." The couple, with friends and family, treats 25-30 children with disabilities to a day of fishing. It's a 22-year tradition that ranks high on their to-do list.
"Alabama Farm Credit helped our dream come true," Tim says. "These are our people. They get it. They understand the outdoors and family."
For more information, go to visitwillowoak.com.
– Staff
---