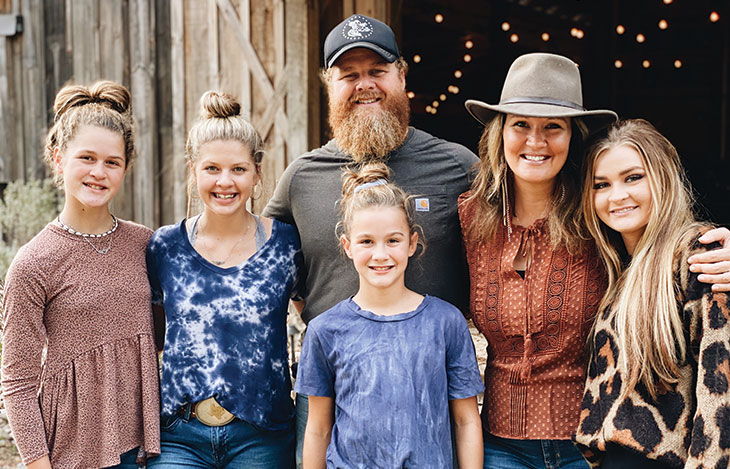 ---
On St. Patrick's Day, 2020, Jason and Lynsey Kramer's phones wouldn't stop ringing.
"Grocery stores were running out of food — especially meat, because they were shutting down packing plants," Lynsey says. "People were really scared."
But there was plenty of meat in the freezer and on the hoof at Yonder Way Farm, the small Texas farm they financed with Capital Farm Credit. After all, they and their four daughters produce enough grass-fed beef and pastured pork, chicken and eggs every year to feed about 500 families.
Meeting an urgent need
The Kramers have always believed small farms can make a big difference. And for them, the COVID-19 pandemic was proof.
Ordinarily they did business five days a week — two at their farm store and three through deliveries. When sales tripled that spring, their store stayed open every day for months.
"We'd have 80-100 cars in line to get in," Jason says. "We have a great network of farms all around us, so every day we had bread, fresh vegetables and raw dairy coming in. We were rocking and rolling."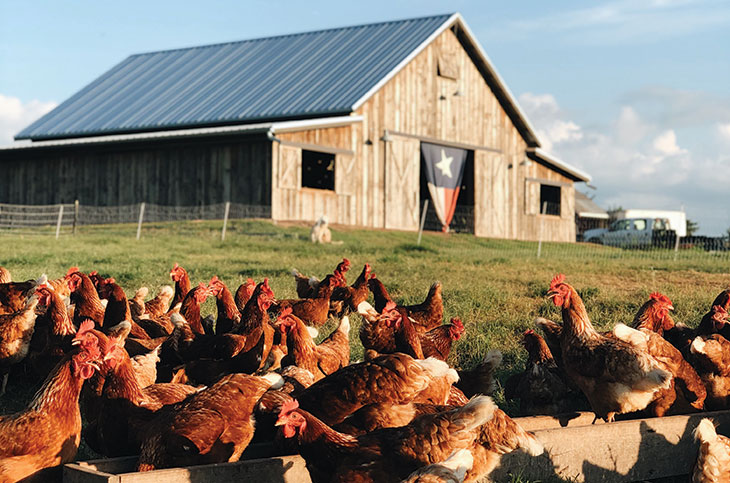 ---
And they didn't miss a beat when restaurants and a culinary school they supply closed.
"Last year was hard for a lot of farms that just do wholesale and had nowhere to go with product," Jason says. "Our wholesale suffered but our retail grew. People just needed food."
Discovering health and fulfillment
The Kramers haven't always been farmers. In the mid-2000s, Jason was a Houston firefighter and Lynsey was a stay-at-home mom with a photography business.
They started buying produce and meat directly from farmers, improving their health and developing a love of fresh, local food.
So when relatives moved to a farm in Brenham in 2005 and asked them to manage it, they jumped at the chance. They put in a garden and bought some chickens. Next came a few pigs and cattle. And Yonder Way Farm was born.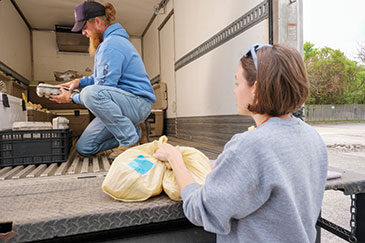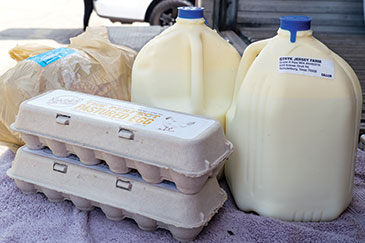 It was so satisfying, they made farming a full-time family business. They developed loyal customers. They even delivered.
"We wanted to distribute our food directly from our hands to the hands of our customers," Lynsey says. "We wanted to source as many local foods as possible. And we really wanted to be in control of the whole process from the beginning to the end and create a community through food."
De-modernizing the farm
In 2012, the Kramers put down roots on their own farm. They found everything they wanted in Fayetteville — nearly 40 acres, a charming 1906 farmhouse, an 1800s barn and even a store.
The place is like an old farmstead again. Pasture-raised chickens fertilize the fields, so there's no need for chemicals. And heritage-breed hogs rotate through the pastures.
"We've kind of de-modernized it," Jason says. "We put the animals in the environment they would naturally be in. They can be active and move around.
"There's going to be a slower growth process. But an active, healthy animal is a good thing to eat. The meat is firm and has visible muscles."
For their grass-fed, grass-finished beef, they lease 4,000 acres, also free of chemical fertilizers and herbicides.
Financing with the right fit
The purchase led the Kramers to Capital Farm Credit. Jason appreciated its agricultural focus and flexible loan options.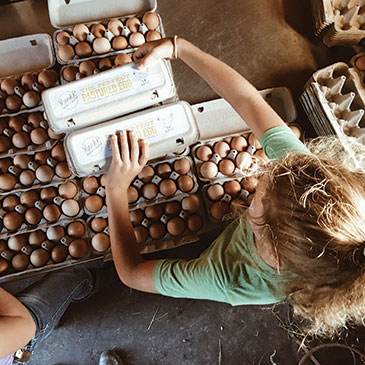 "More than anything, it's nice having those co-op dividend checks," he says. "It's like I have fewer payments a year because they give me money back. Rolling that into some other project is beneficial in farming."
Tim Knesek, Capital's Houston market president, says the rural way of life attracts families more than ever.
"The COVID-19 pandemic certainly has increased the desire for city dwellers and others to reconnect with rural America," he says. "Yonder Way Farm has been visionary in positioning the business to provide wholesome foods and experiences people are looking for."
And there's room for more, the Kramers say.
"There's no way a farm like ours can feed the masses," Lynsey says. "But if there were more small farms like us, I feel that would benefit people. Honestly, it's hard to keep up with the demand for our meat and eggs."
Finding ways to connect
The Kramers share the joy of local, seasonal food through a supper club, though they suspended meals during the pandemic. They also post recipes, photos and family stories online and on social media.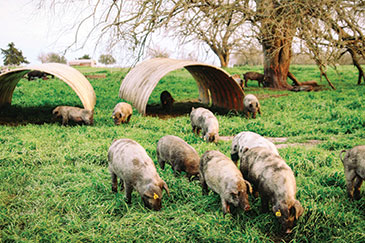 "Marketing for us is just sharing our daily journey," says Lynsey, who has over 80,000 Instagram followers. "I had no idea we would grow far beyond our customers on social media. People are so interested in what we do."
And after growing sales at least 70% since before the pandemic, they moved their store to the historic Fayetteville town square.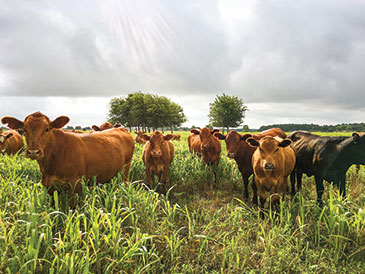 Launching a family legacy
But the most rewarding part is doing everything as a family — from tending animals to scheduling orders and serving customers.
"Our girls have definitely become independent, resilient and business savvy through being a part of what we do," Lynsey says.
The Kramers say it's hard work that never feels like a job.
"We were steered this way through the health benefits, but it transcended that," Jason says. "We're provided for and life isn't just about existing, it's full of adventure."
— Staff
Keep up with the Kramers at yonderwayfarm.com and on Instagram @fivechicksandafarmer.
---