Looking back at Texas (Tenth) Farm Credit District history, two dates stand out:
On May 22, 1917, the first Federal Land Bank loan in the district was made to W.S. and Mary Smith of Grayson County, Texas, by the Van Alstyne National Farm Loan Association — which today is

Lone Star Ag Credit

.

On Feb. 20, 1934, the district's first Production Credit Association (PCA) loan was made to Alfred and Callie Schwiening of Sonora, Texas.
Whether or not these two couples knew that they were pioneers in a new cooperative lending system, they did know that they were getting better financing than they could get elsewhere. Here are the stories of how Farm Credit made a difference in their lives.
W.S. and Mary Smith
Couple Saved $3,000 by Borrowing From Farm Credit
The Federal Land Bank (FLB) of Houston was barely six weeks old when the Smiths refinanced their farm mortgage with a Land Bank loan through their even newer Farm Loan Association.
Although not much is known about the Smiths, it is known that their loan was for $10,000 at an interest rate of 5 percent — the rate established by federal statute.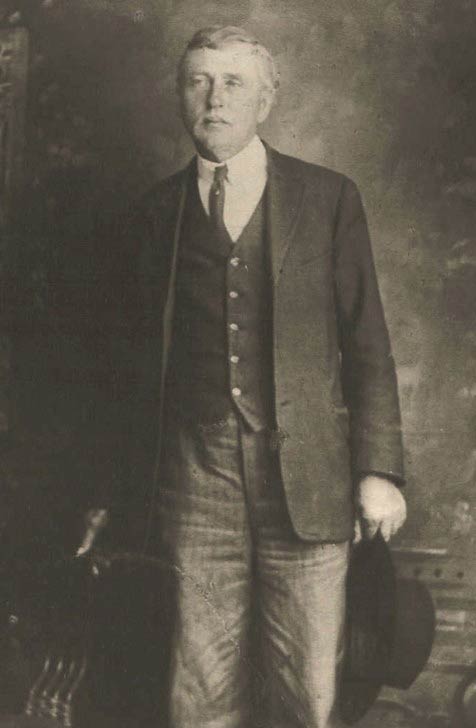 In 1927, FLB of Houston President M.H. Gossett commented on this rate and touted the benefits of Farm Credit, using Smith as an example. "Looking back over our accomplishments in the past 10 years, it is only natural to see what has really been done by this cooperative for the farmers and ranchers of Texas," said Gossett. "The low interest rate we offered the first borrower, W.S. Smith, was strictly an innovation in this country, at least 3 percent less than the borrower could obtain the money elsewhere.
"Mr. Smith had been paying 8 percent interest," Gossett continued. "In his 10 years with Farm Credit, he made a savings of $3,000 on his loan." After W.S. Smith passed away in 1926, Mary Smith continued to hold the loan, and in November of 1942 posed for a photograph with Frank J. Wible, who closed the 100,000th Federal Land Bank loan in Texas. The photo and story appeared in the Land Bank Exchange, a publication of the FLB of Houston, in celebration of its 25th anniversary.
Alfred and Callie Schwiening
PCA Loan Helps Family Keep Ranch for Future Generations
As rancher Darla McKissack looks through the glass doors off her kitchen, what she sees is not just a view of her ranch but a view into her past. While she watches her sheep gathering to drink water, and below that beholds a beautiful field stretching across the horizon, she sees what her parents and grandparents worked so hard to keep for future generations.
But what McKissack also sees is a view of history in the making — her grandparents, ranchers Alfred and Callie Schwiening, took out the first PCA loan in Texas in 1934. A year earlier, the Farm Credit Act of 1933 had been passed to help struggling Depression-era farmers by organizing PCAs to deliver short- and intermediate-term farm and ranch loans.
Interviewed by Production Credit News in 1943, Alfred spoke of how the PCA had helped his farm.
"We feel more secure and more able to face hard times than ever in the past," said Alfred. "We well remember the trying times of 10 years ago when it looked as though all of us were doomed to fail for lack of proper financing. By being able to get money through the Production Credit Association, our business was saved."
The Schwienings' History
Alfred and Callie married in 1910 and began ranching on the Sutton County, Texas, property that Callie inherited from her father, George Allison, along with his 1906 home. They raised purebred Aberdeen-Angus cattle and Rambouillet sheep; fenced off 150 acres for a deer park; and reared "seven fine children," according to the Production Credit News article.
When the grandparents passed on in 1977, they left the property divided amongst their children, and Kathleen, McKissack's mother, got the section known as 10-Mile Place. Alfred and Callie also donated property on the Llano River to the county so that the community would have a place for recreation — Camp Allison County Park, which remained open to the public until about six years ago.
The Schwiening children went on to produce 15 grandchildren, four of whom still ranch on the property today. In 2010, McKissack inherited her mother's and grandmother's home and 10-Mile Place, where she raises black Angus cattle, Rambouillet sheep and Spanish goats.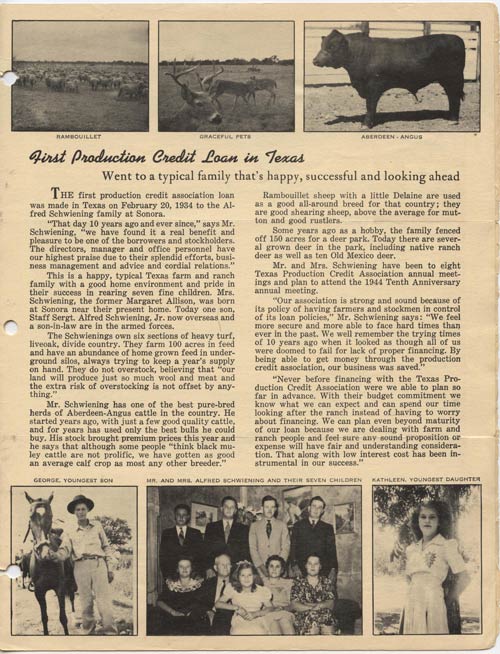 It's Still All About Relationships
In the Production Credit News article, Alfred spoke of the good relationship he and his family had from the beginning with the PCA.
"That day [nearly] 10 years ago and ever since, we have found it a real benefit and pleasure to be one of the borrowers and stockholders," said Alfred. "The directors, manager and office personnel have our highest praise due to their splendid efforts, business management and advice, and cordial relations."
Coming full circle to today, McKissack notes her own ties to Capital Farm Credit, where she and her husband are customers.
"I did not know that my grandparents were the first PCA borrowers," says McKissack. "And while I was receiving that news from Becky Allison in Capital's Sonora office, my husband and her husband were having breakfast together!"
A Family Legacy
McKissack says she is still going through all the memorabilia in her historic home — and is always finding reminders of her parents, grandparents and great grandparents, including old photographs and treasured handwritten cookbooks.
Continuing a tradition that goes back to Alfred's time, the family — which now includes 21 great-grandchildren — holds reunions each year during the second weekend in June. The gatherings are always held where, back in the day, Alfred poured concrete for a dancing area just across the road from Camp Allison — where the family had great food and music which they paid for, says McKissack, by "passing the hat."
Surely Alfred and Callie are smiling down on the latest generation, realizing that this legacy would not have come to fruition without that first PCA loan.
– Staff
---