Gently, quietly, Rick Harp reaches through the tall wire fence and offers his outstretched hand to a soft-brown yearling buck. The elegant creature bats a pair of long black eyelashes, gingerly steps forward and sniffs the open palm.
"No. 902 used to untie my tennis shoes every time I went in the pen," Harp says, nodding toward another curious yearling. "Our deer are calm. That's how we want them, so we can go in and check for fire ants and handle them when we need to."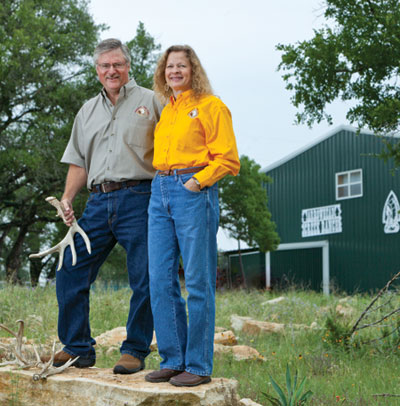 These whitetails on Rick and Starlet Harp's Arrowhead Creek Ranch may be friendly, but they are not pets. Potentially valuable breeder bucks, they are the offspring of some of the finest white-tailed bucks in the country and a part of the couple's scientific deer-breeding operation
"This will be our first year we should have two-year-olds going over 200 B&C," Harp says, beaming. "And it's possible that we will have our first 200 B&C yearling," he adds, referring to the Boone and Crockett (B&C) antler scoring system.
In the deer-breeding world, a buck's market value usually tracks its antler size. Using the Boone and Crockett system, which measures antler mass, points, spread and other factors for wild deer, a score of 200 B&C is admirable for a two-year-old buck. For a yearling, it's not just impressive; it usually indicates an outstanding buck in the making.
If Harp is thrilled at the prospect of producing genetically superior white-tailed deer, his excitement is understandable. It was only two-and-a-half years ago that he and his wife, Starlet, decided to devote themselves full time to the deer-breeding business.
Learning the Business
At the time, he had already been raising deer since 1998, first on a ranch they owned in Menard County in west-central Texas, and later at their home in Burnet. Because, he says, hunters "shot anything with antlers, come hunting season," he had high-fenced the Menard County property, built a set of breeding pens, bought several genetically strong whitetails and released a few species of exotics onto the ranch to propagate.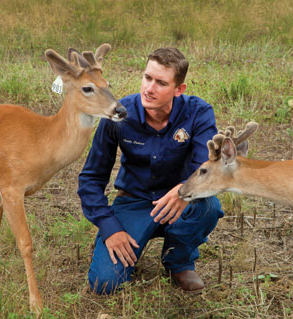 "Starlet said I spent more time at the Menard ranch than at home in Burnet," says Harp, who also owned and leased a light industrial complex in Round Rock, Texas. "So we sold the ranch and built a set of small but well-designed breeding pens on our place in Burnet."
In 2005, after much thought and prayer, the couple decided to follow his passion of ranching full time and raising high-quality white-tailed deer. The Texas Parks and Wildlife Department had just passed a regulation preventing the transportation of deer across state lines, as a disease-control measure. "I knew that artificial insemination (A.I.) was a wise practice to incorporate into our breeding program, if we wanted the heavier-mass antlers the northern deer produce," he says.
The couple started looking for another ranch, and in late 2007, with financing from Texas Land Bank, they purchased the 200-acre Arrowhead Creek Ranch in Coryell County in central Texas. "The Harps had an impressive business plan and a well-thought-out strategy for taking their deer-breeding business to the next level when they came to us," says their loan officer, Steve Ostrom, executive vice president of Texas Land Bank's Waco branch. "What they have done since buying this place, they have done right."
Their plan was to sell the deer that had "the lower genetics" and start investing in "higher genetics," Harp explains. Now, just two-and-a-half years later, they are using some of the best deer genetics in the United States. In fact, they have three bucks and three does that are the sons and daughters of Rolex, a buck that holds a record of 427 B&C.
But when it comes to their long-term success in the business, the mild-mannered couple believes that safe and proper deer handling is almost as important as genetics.
"These are wild animals. You need to keep them calm so they don't break their necks," Harp explains.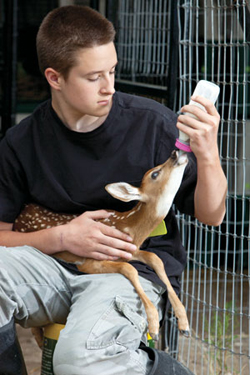 Designing a Stress-Free Environment
Incorporating the best ideas he could find at other deer-breeding operations, he designed the state-of-the-art pens and deer-handling facilities for Arrowhead Creek Ranch. "Working deer in a safe and well-designed system to minimize stress was our main objective," he says.
At the center of the operation is a small barn with indoor handling facilities. Here, deer can be unloaded into the building, sorted into small stalls and moved through to the squeeze chute for treatment, without seeing a human. This is accomplished with the use of a rolling push wall and a system of sliding pen dividers, like pocket doors, that allow the handler to remain out of the deer's view. In addition, infrared lighting is used because deer cannot see certain colors under this light.
"These holding stalls are a dream," says Harp. "In Burnet, I had to dart the deer before I could work with them."
Outside, 16 three-quarter-acre breeding pastures, or pens, connect to a central alleyway lined with privacy screens to keep the deer calm. In addition, there are a number of grow-out pens ranging from 2 to 5 acres in size. Most of the pens are visible from an upstairs observatory and large conference room.
"It's about as stress-free as it gets," comments Travis Sansom, the wildlife biologist who joined the Arrowhead Creek Ranch team last year as ranch manager.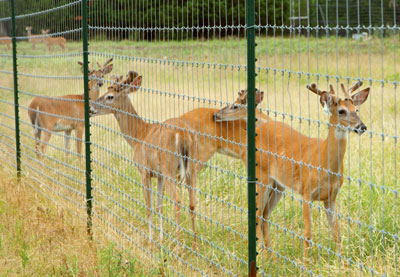 High Conception Rate
"When I started, I wrestled a lot of deer, and that's not safe. They don't have a high conception rate when they are stressed," Harp adds.
If the proof is in the numbers, the low-stress environment must be working: The does at Arrowhead Creek Ranch have an 80 percent conception rate, which is considered very good for deer, according to Sansom.
As soon as the new fawns are born, they, too, are given the best possible chance at success. At 48 hours of age, they start receiving four bottle-feedings of pure goat's milk a day, a routine that lasts until they are weaned at 100 to 110 days. It's an intensive program that is handled primarily by Starlet, with assistance by the couple's 14-year-old son, Austin, whom she home schools.
The extra effort is paying off for the Harps. They are already selling bred does, fawns and breeder bucks, and hope to start selling straws of semen from their own bucks this year. With more capacity than they need for their present herd of 65 deer, they also rent out their handling facilities to other breeders, who don't have a setup for A.I. work. In addition, for extra income, they offer year-round hunts for axis and fallow deer, trophy whitetails and various African and Indian species. At some point, they might offer nature tourism, as well.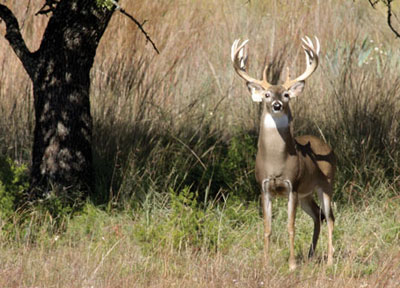 "It's a neat business. Every fall, the new antlers come along and it's like Christmas — you never know what you're going to get," Harp comments.
He's hoping that this fall they'll get some yearling 200 B&C antlers. Regardless, he and Starlet are content to be living the dream of running their own ranch.
"This was a diamond in the rough, and we're just chiseling away," Harp says of the ranch, which was overgrown with brush and cedar trees just three years ago. "I'm pleased to be able to do what I'm passionate about — to enjoy the outdoors and to be home every day."
– Staff
---