Few things excite Bobby Cox like a lousy field of cotton.
"See how small that cotton is?" he exclaims, as he hops out of his pickup to investigate a stunted stand of cotton near Brownfield, Texas, on the sprawling High Plains. "This would be a great grape site!"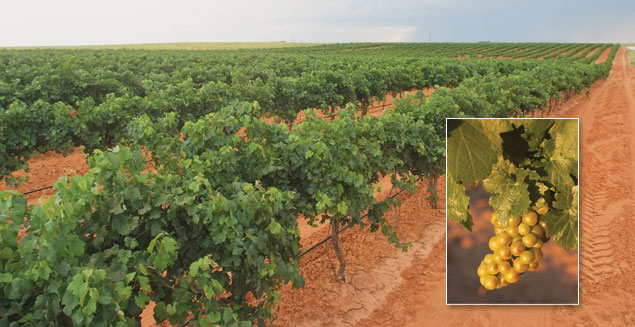 ---
It turns out the low-vigor soil that is forcing the cotton plants to struggle through the season is excellent for winegrapes.
Cox, once a pioneer grape grower and winemaker on the High Plains, is now a leading consultant for winegrape producers. He's also an engine behind the growth of a booming Texas wine industry that is producing wines capable of standing tall beside vintages from California, Europe, Australia and South America.
Versatility, quality and a loyal following have fueled the Texas wine industry. The number of wineries in the Lone Star state has tripled since 2000, and today the state's 181 wineries are clamoring for Texas-grown grapes to keep up with skyrocketing demand.
More than 1 million tourists per year visit Texas wineries, mostly the high-traffic wineries in the central Hill Country and the Dallas-Fort Worth area. But the winegrape pipeline that feeds many of those wineries starts near Lubbock, the heart of the sprawling High Plains viticultural area.
Approximately 1,100 acres of winegrapes — nearly one-third of Texas' 3,500-acre winegrape crop — are produced on the flat plains around Lubbock. Still, the state's wine industry could use plenty more.
Right Elevation, Climatic Conditions
At an elevation of 3,300 to 3,700 feet, the High Plains is one of the highest grape-growing regions in the world. Although the landscape is generally pan-flat, its steady tilt to the north gives the region as much elevation difference as the famous Stag's Leap district that put California Cabernets on the global map. That creates great opportunities to grow a broad array of varieties.
Weather extremes on the High Plains can be tough on grapevines. Fluctuating winter temperatures and harsh spring freezes can kill buds. Hailstorms can strip vines. Near-constant wind shortens internodes and can interfere with pollination and fruit set. And torrential rains during hurricane season can send sugar levels plummeting.
But weather doesn't scare Cox. While he recognizes the challenges, he also sees the warm days that pump up the production of sugars and acids, followed by the cool nights that lock flavors into the grapes. He sees conditions that might well be right for varietals from Italy and Spain, countries that share certain geographic characteristics with Texas.
Innovative Growers
Pioneering the winegrape industry on the High Plains takes a special kind of grower, a farmer who balances skill and creativity.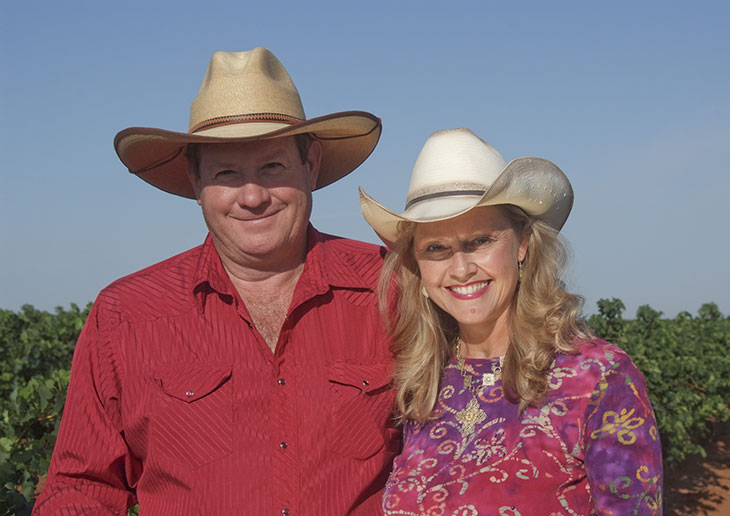 Capital Farm Credit customers Neal and Janice Newsom have always had an eye for alternative crops on their farm near Plains, Texas. In addition to growing the West Texas classics of cotton and peanuts, they have experimented with watermelons, pumpkins, black-eyed peas and soybeans. But it was five acres of winegrapes that the couple and Neal's parents planted in 1986 that really captured their imagination.
In fact, four years ago, the Newsoms ended up renting out their 2,400 acres of row-crop land to other farmers so they could focus on their winegrapes, which now cover 95 acres.
"I realized that most years I was taking the income from the vineyard and propping the row crops up with it," says Neal.
Shifting crops required a big shift in thinking. "Winegrapes, in a lot of ways, are the opposite of regular agriculture," he explains. "In conventional crops, if you're too small, you get pushed out. In the vineyard, it's the reverse. To do a good job, you've got to start small."
With 11 children, a family orchestra and 2,100 acres of organic cotton, peanuts and other row crops, Cliff and Betty Bingham aren't known for doing things on a small scale. Six years ago, these AgTexas Farm Credit Services (FCS) customers started experimenting with winegrapes. Since then, the couple and several of their children have steadily expanded their vineyards outside of Meadow, Texas.
More Water-Efficient
Winegrapes offer up to 10 times the profitability per acre of conventional cotton, says Cliff. But just as important, their winegrapes require 16 to 20 inches of water per acre, roughly half of which comes from irrigation. That's about equivalent to the amount of irrigation water required by cotton or peanuts, and it can be delivered by highly efficient drip irrigation systems, rather than by center pivots. Moreover, grapes use their water year-round, Bingham adds, so following a wet winter, grapes can require half as much irrigation as row crops.
"We're running out of water here on the High Plains, and only the high-value crops will merit the water," Cliff explains. "I'm not necessarily going to make more per dollar invested, but in the long term, that's what I want to pass on to my children."
An hour's drive north of Lubbock, Freddy Bell and his brother, Rodney, planted one of the region's northernmost vineyards in 1983. Growing grapes on their farm near Plainview, Texas, allowed them to diversify their farming operation and fill in odd-shaped plots. Today they own 37 acres of winegrapes and manage 60 more, and their Bell Brothers Vineyards has a strong reputation as a grower of high-quality grapes.
But grapes are a tiny part of a landscape dominated by cotton, and in years past, a herbicide from nearby corn and milo fields drifted into their vineyards and damaged vines.
"We had to start an education program on that," says Freddy, who is a longtime Panhandle-Plains Land Bank customer. "Your neighbors are just not aware many times that you have a crop that's susceptible early in the spring, before anything else is planted."
Attracting New Farmers
It's not only traditional cotton farmers who are growing grapes, however; the industry is also drawing in some new farmers, like physician Mark Bogar.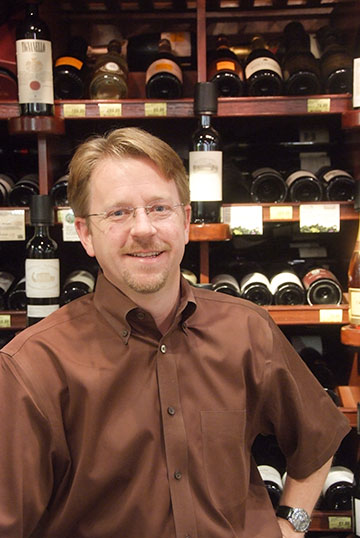 When Bogar started making wine as a hobbyist more than a decade ago, he read voraciously about the Texas wine industry and became involved with the Texas Wine and Grape Growers Association. Last year, with the help of AgTexas FCS, his family purchased a 162-acre farm near Brownfield with the Coxes to create Bogar Cox Vineyard. The farm has 35 acres in vineyards already, and the Bogars and Coxes intend to plant grapes on the remaining land.
Although Bogar and his family moved to Austin in 2009, a medical rotation in Lubbock and the lure of the vineyard bring him back to Lubbock every month. Someday, he plans to build his own winery — a dream that first took root in the vineyard.
"Getting back to the dirt is a real draw for me," he says. "The fact that wine all starts at ground zero, with the dirt and the vineyard, it seemed like the most logical place to start."
Planting a vineyard requires a significant investment, notes Gary Jones, regional vice president of lending services at AgTexas FCS, which is headquartered in Lubbock. AgTexas, Capital Farm Credit and Panhandle-Plains Land Bank have all been instrumental in financing the burgeoning High Plains winegrape industry.
"Some of our really good farmers, our progressive farmers, are looking for another way to diversify, and this is a natural fit," Jones says. "From a financial standpoint, diversified operations benefit not only our lending institution but our members also, because their investment isn't tied up in one crop."
Boosted by the Law
Indicators suggest continued expansion of the Texas grape and wine industry. Currently, Texas wineries typically sell all the wine they can produce, and Texas growers, abetted by the state's 75-percent Texas content law, can't meet the demand for their grapes.
The law resulted from Ballot Proposition 11, passed in 2003, which allowed Texas wineries, including wineries in dry counties (counties that generally prohibit retail alcohol sales), to sell wine directly to consumers. The same ballot proposition required that bottles bearing the label "Texas wine" in dry counties contain at least 75 percent Texas-grown grapes.
However, the law allows the Commissioner of Agriculture to temporarily change the alcohol limit if the annual harvest report from Texas Tech University indicates a weak grape harvest. That happened this fall, prompting the Commissioner to change the requirement from 75 percent to 50 percent for the 2009 vintage.
The changing variance highlights a challenge facing Texas wineries. As the Lone Star state's wine industry continues its meteoric rise, winemakers are scrambling to source Texas grapes.
"The industry is growing exponentially," Bogar says. "The quality is growing exponentially. You've got expert farmers who are unbelievable stewards of the land. You've got all that in Texas. We're seeing it all unfold before our eyes."
– Steve Werblow
New Texas Varietals Lead to New-Style Wines
One of the first things the pioneers of the High Plains wine renaissance have learned is that the mainstays of California's premium lineup — Cabernet Sauvignon and Chardonnay — don't always fare well in the region.
That discovery may have been unnerving at first, but it has opened up a world of opportunities for creating a uniquely Texas style.
"Texas is a pride state," says soil scientist and AgTexas FCS customer Vijay Reddy, whose Brownfield, Texas, vineyard is one of the top varietal testing grounds in the state. "We don't want to be California. We want to show off our own wines."
Born on a grain and vegetable farm in Andhra Pradesh, India, Reddy came to the United States in 1971 to pursue graduate degrees in soil science and ultimately set up a soil testing lab. Inspired by Neal Newsom, a client of his soil analysis services, he planted Cabernet Sauvignon grapes amid his peanuts and cotton. Then he started experimenting with varieties from all over the world, focusing his scientist's eye on finding varieties that could thrive on the High Plains.
Today, Reddy's 105-acre vineyard is home to 21 different varieties of winegrapes, and he and his wife, Subada, are adding 10 to 15 acres per year. With Tempranillo and Grenache from Spain, Aglianico and Montepulciano from Italy, Roussanne and Cinsault from France, and many, many other grapes, Reddy is combing the world's databases for climate information on other growing regions and putting their flagship varieties to work in Texas.
Those varietals — as well as American hybrids such as Blanc du Bois, Norton and Favorite, which can all withstand the Pierce's disease that plagues growing regions in central and south Texas — are quickly becoming the taste of the Lone Star state. While most of these varieties are unfamiliar to many wine lovers, Texas' tourism-focused wine industry is introducing them to consumers. As a result, in the future, visitors who go into a winery asking for Chardonnay may come out carrying a case of Vermentino or Orange Muscat.
– Steve Werblow
450 Years of Grape-Growing
Although the Texas wine industry took root nearly 450 years ago, it has grown dramatically in the past decade, due to the collaborative efforts of growers, industry and lawmakers. Here's a brief history:
In the 1660s, Franciscan priests planted winegrape varieties near El Paso, Texas, alongside dozens of native grape varieties.
19th century European immigrants planted vineyards with grapevines they brought from their homelands.
Texas grape breeder T.V. Munson provided rootstock that helped European vineyards recover from devastation wreaked by the phylloxera root louse in the late 1800s.
Prohibition and the establishment of dry counties throughout Texas after Repeal nearly extinguished the state's wine industry.
In 2001, the Texas Wine Marketing Assistance Program was established with a $500,000 appropriation from the state.
Ballot Proposition 11 passed in 2003, allowing wineries to sell Texas wine directly to consumers, even in dry counties. Afterward, new wineries popped up at a furious pace, especially in dry counties, and grape production flourished.
The Texas Wine Industry Development Fund, approved by the Texas Legislature in 2005, earmarked more than $4 million for research, education and marketing.
By 2007, the wine industry had an economic impact of $1.35 billion statewide. The Texas Hill Country was ranked as the nation's second-fastest-growing wine tourism destination by an Orbitz study.
To help increase local grape supply, in 2009, the Texas Department of Agriculture's Wine Grape Investment Pilot Program awarded 10 growers each with $25,000 in cost-share funds to help them plant at least 5 acres each of new grapevines.
In 2009, Texas had 181 wineries and 280 grape growers and was the fifth-largest wine-producing state in the nation.
Getting Started in Grapes
Growing winegrapes is not for the weak of heart, nor is it for a producer with shallow pockets. On top of the cost of land and drilling a well, vineyard establishment costs can range from $5,000 to $10,000 per acre or even more, depending on the variety of grape and the area of the state, according to Gary Jones, regional vice president of AgTexas Farm Credit Services.
Investments in trellises, drip irrigation systems and nursery stock, plus pruning and tying work can take their toll on growers. And because grapes don't begin setting a full crop for several years — again, depending on a wide range of factors from variety to weather to how the vines are managed from the start — it can be years before growers start to see a return on their investment.
"You're looking at three to four years before you have any production to speak of," says Freddy Bell, who's been growing grapes near Plainview since 1983. "So you're looking at five to six years before you have any substantive income."
Still, with good winegrapes fetching $950 to $2,000 per ton on yields that can range from three to 12 tons per acre, vineyards may be an attractive investment.
According to Jones, winegrapes can be an excellent crop for farming diversification or for long-term investment. To anyone planning to start a vineyard, he recommends thoroughly researching the details of winegrape production and penciling out a budget before visiting a lender.
"I look for a plan that says, 'here's what I intend to do,'" says Jones. "I look to see whether the loan applicant remembered to include T posts, wire, concrete posts, drip systems, the cost of buying the grapes, rootstocks, whether he's buying from a reputable supplier. That shows that he's spent time doing his homework on it, and I don't have to ask those questions."
– Steve Werblow
For more information on how to start a vineyard, go to www.gotexanwine.org. This Texas Department of Agriculture site features a detailed guide to starting a vineyard.
---