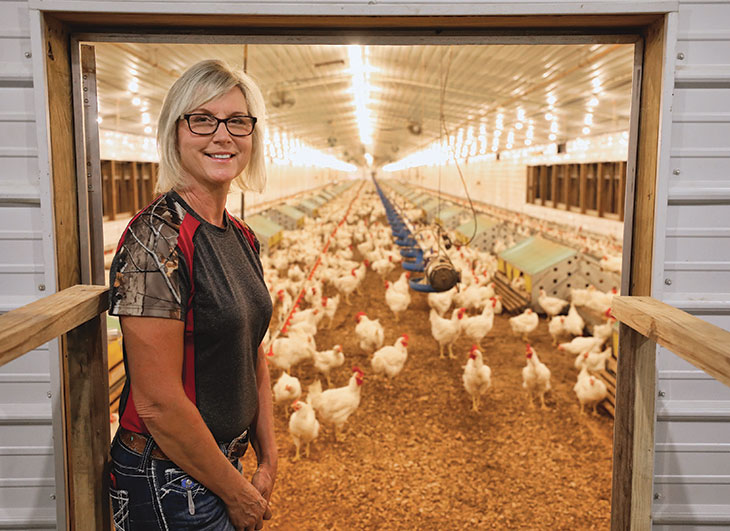 ---
Like a proud parent, Carla Witcher loves watching her girls and boys — all 52,832 of them.
Witcher raises breeder hens and roosters in four houses financed by Legacy Ag Credit in Northeast Texas. The hens produce fertilized eggs for broiler hatcheries.
"When the hens aren't laying eggs, they like to dig and play and fluff their feathers and chase each other," Witcher says. "They're just fun to watch."
Poultry farm replaces sales job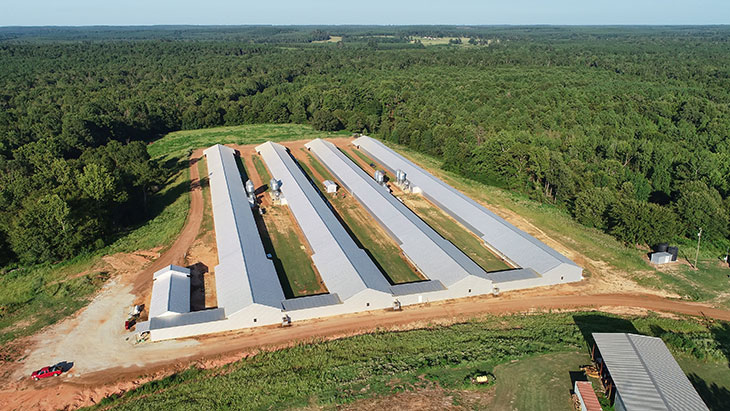 Witcher has been watching over her flock since 2018, when she left an automobile sales career to produce hatching eggs for Pilgrim's Pride.
The opportunity appealed to her because her parents had raised broiler chickens. She was still maintaining their farm east of Mount Pleasant, Texas — but the broiler houses were empty and outdated. To raise breeder hens, she would have to build new houses.


Farm Credit finances four houses
For financing, Witcher contacted Marc McGahee, vice president of lending with Legacy Ag Credit in Sulphur Springs. The lending co-op made her a loan guaranteed by the Farm Service Agency — common for beginning farmers.
"Marc, my loan officer, did all the legwork and took care of my loan, while I was taking care of my parents and selling cars," she says.
The loan financed four 600-foot-long houses and equipment. That included a state-of-the-art community nesting system — one of six in the United States. Before purchasing, Witcher visited the manufacturer in Israel and saw the system on Israeli poultry farms.
Community nests yield cleaner eggs
In traditional layer houses, the hens lay their eggs in small, individual nesting boxes on slats. The eggs roll onto a conveyor that takes them to the egg gathering station.
"Marc, my loan officer, did all the legwork and took care of my loan, while I was taking care of my parents and selling cars."
– Carla Witcher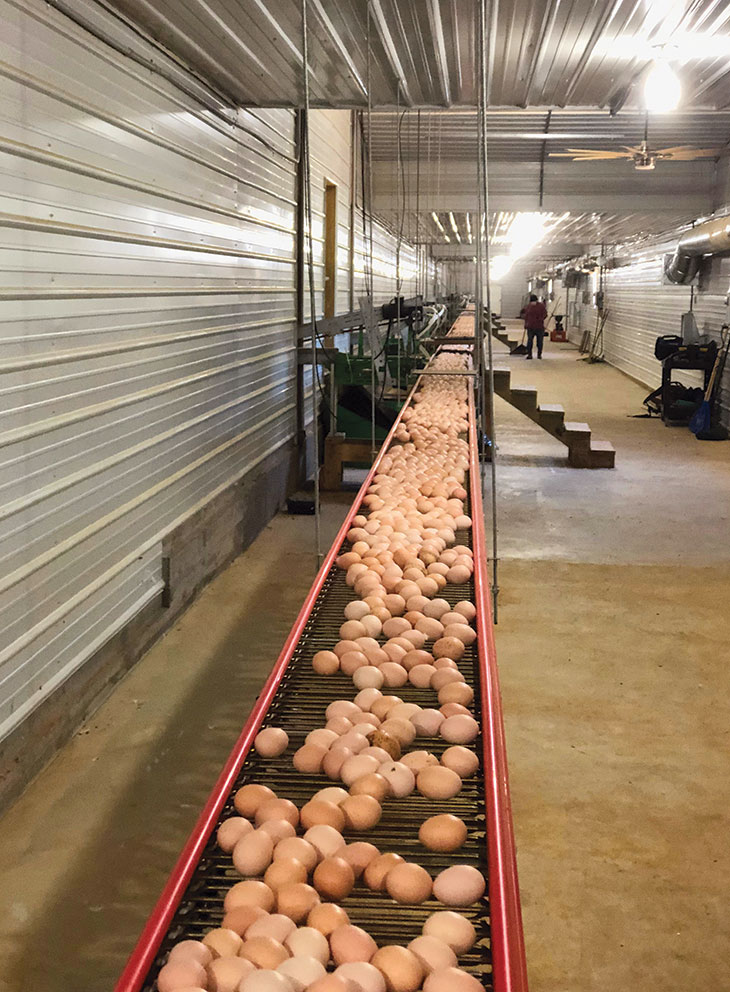 With a community nesting system, the hens lay their eggs in huge boxes resembling tiny houses on stilts. Each box is divided into four chambers that slope to the center. It offers the darkness the hens like, as well as space to move around.
Steady airflow keeps the litter dryer than in traditional boxes. This means the eggs roll out quicker and cleaner.
Breeder hens take work
When the young hens arrive at the farm at 26 weeks of age, they must learn where they can lay their eggs and where they can't.
"Once a hen lays an egg in one spot, she will lay there every time," Witcher says. "So, when they're new, we walk through the houses very aggressively to discourage them from laying eggs on the barn floor. We have to train them where to lay their eggs."
Herding hens is not for anyone who dislikes exercise.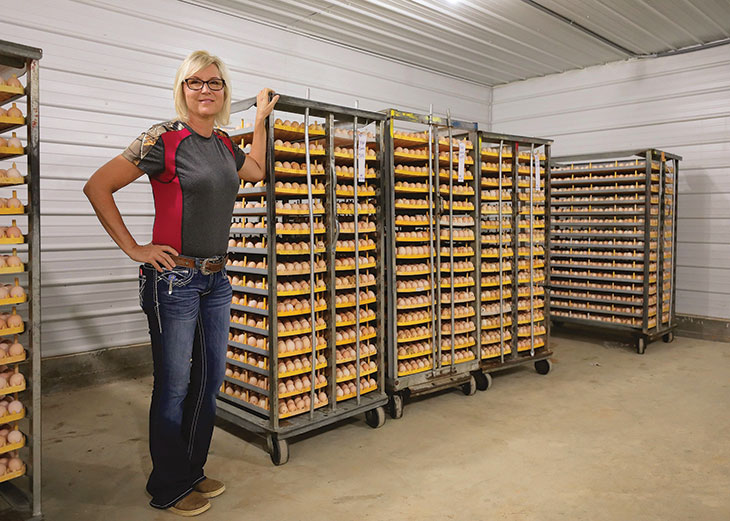 "One day Carla showed me her Fitbit, and it said she'd walked 7.3 miles that day," says McGahee. "She's a hard worker. She's in the barns and pays attention to detail."
Even after the hens are trained, she and her employees walk through the houses four times a day to pick up stray eggs. They also check feeders, water lines, lights and ventilation systems.
850,000 eggs collected monthly
Witcher's poultry houses each hold 11,000 to 12,000 hens. A hen lays one egg a day for five days, then skips a day. That adds up to nearly 8.5 million eggs over 10 months.
To ensure the eggs are fertilized, Witcher places 1,458 roosters in each house.
Proper egg handling is also critical. The conveyor takes the eggs to the cooler room, where they're cooled to 68 degrees. A robotic picker lifts them off the conveyor and sets them in trays for shipment.
Eggs head to hatcheries
From Witcher's farm, the eggs go to a hatchery. The fluffy yellow chicks that emerge are sent to broiler farms.
"We have to train them where to lay their eggs."
– Carla Witcher
She's now raising her third batch of hens, which she'll keep for 10 months. Between batches, she and her six employees will spend a month cleaning the houses and equipment. They might even take a few days off work.
After all, raising breeder hens is an intensive job.
"I literally harvest a crop of eggs every day for 10 months," Witcher says. "The hens don't stop. They lay them on Christmas Day and Mother's Day."
– Staff
---