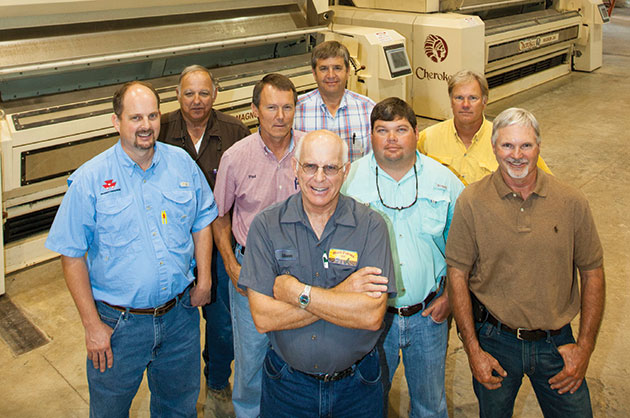 ---
With cotton prices at six-year lows, producers around Macon, Miss., could complain about the market or quit growing cotton altogether. Instead, they continue to rally around Bogue Chitto Gin, a multimillion-dollar complex financed by Mississippi Land Bank in 2012.
A generation ago, farmers might not have found a lender willing to back such a huge project, especially one with an ambitious deadline. But Farm Credit staff didn't hesitate when growers decided early that spring that they wanted to build the new gin before their next harvest.
"As soon as we heard about their idea, we were in!" recalls Bart Harris, Land Bank vice president and branch manager in Starkville, Miss. "We were excited to be a part of what we saw as a worthy agribusiness operation."
71 Percent Growth in Four Years
Indeed, the new gin, which was completed in October 2012 and has 25 farmer-stockholders, continues to report steady growth into its fifth year.
"In 2012, we ginned 35,000 bales," says general manager Aaron Litwiller. "The next year, we went up to 36,000 bales, and then 55,000 in 2014. We ended 2015 with 60,000 bales and hope to do even more this coming season.
"As a side note, 70 percent of the cotton we ginned in 2012 came from stockholders," he adds. "Every year since, it's shifted. This year, we're predicting 50-50, which is a huge vote of confidence. That figure tells us that we're doing something right."
Built to Meet Local Need
Initially, the concept of a new gin sprang from local growers' desire to cut costs. In 2011, the closest cotton gin some 50 miles away couldn't keep up with the area's production. So six producers proposed building their own, which would save them time and transportation costs.
Before long, more cotton farmers had stepped forward to invest in the project. For his share of stock, one agreed to provide land for the gin and seed warehouse. With the Mississippi Land Bank on board, plans came together for the Bogue Chitto Gin, named after a local river.
As gin manager since January 2014, Litwiller reports to an executive board of seven directors.
"Because they're cotton producers themselves, board members are always searching for new technology that will improve what we're doing at the gin," he says. "Every year we spend money to make gin improvements. Recently we updated our computer system so we can better monitor how the cotton flows through the gin and regulate its moisture levels."
New gin saws with narrower configurations also have increased farmers' profits.
"Approximately 15 percent of a cotton seed's weight is lint," Litwiller explains. "We're now able to cut the lint off closer to the seed and get our lint weights down to 10 percent."
Safety Comes First
Last fall, gin owners purchased an automatic cotton bagger, which eliminated four staff positions and made working conditions safer.
"We take safety very seriously," Litwiller says. "Two years ago, we hired a safety director, who holds weekly meetings, shows training videos and maintains our drug-testing records. For the last two years, we've won top safety awards from the Southern Cotton Ginners Association. We're extremely thankful for how the Lord has blessed our operation."
As an investor, board member and producer, Jack Huerkamp, who's also a Mississippi Land Bank customer, gives the regional gin a big thumbs up.
"I plant according to what's best for my farm," he says. "Currently, cotton brings more than soybeans at market. So I've bumped up my cotton acreage 30 percent since the gin went online. In fact, our entire county has upped their cotton acreage at least 20 percent. We couldn't have done that without the Bogue Chitto Gin."
– Sheryl Smith-Rodgers
---