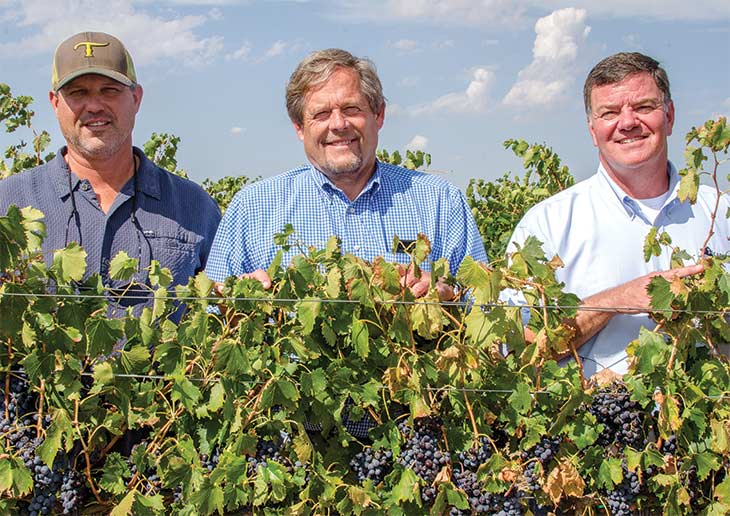 ---
Matt Adams and Jerry Weaver never planned to own one of the largest vineyards in Texas. Instead, the two longtime friends simply wanted to plant something in addition to cotton, corn and peanuts on their farms south of Lubbock on the Texas High Plains.
"Commodity prices for row crops have remained flat over the years," explains Adams. "What's more, we're making better crop varieties with new technologies. But we can't stay ahead of production costs, which have tripled since the 1980s.
"When you look back and see that you're getting the same price for cotton that you did 35 years ago, then something's wrong."
Diversifying into wine grapes just made plain sense to the pair, who have farmed for more than 30 years in Terry County, the official Grape Capital of Texas. Although labor-intensive, wine grapes have high market value, and they've been grown successfully in the area for over a quarter-century.
In 2012, Adams and Weaver started to research the grape industry — and one thing led to another.
Now, five years later, the two seasoned farmers together grow 38 grape varieties on 880 acres near Brownfield.
"We decided that once you get all set up, it's just as easy to plant 400 acres as it is 50 acres," Adams quips.
Do's and Don'ts of Grape Farming
Before launching their joint vineyard venture, Lahey Vineyards — named for the community where the Adams family has farmed for decades — the pair did their homework: They met with local grape growers and then flew to Washington state to learn from northwestern producers about the do's and don'ts of running a vineyard; talked to wineries about which varieties to plant; and networked with others in the industry.
Finally, they developed a plan to turn a large piece of their cropland into vineyards — but not before teaming up with Capital Farm Credit for their financing needs.
"I'd always heard good things about them," Adams says. "We needed someone big to handle this operation, and they weren't scared of an operation of this magnitude."
In 2013, farm crews worked two-and-a-half months to plant the first 400 acres of vines at Lahey Vineyards.
"The whole process took a lot of planning," Weaver says. "We had to prepare the land first. Then we put in drip irrigation tape and drip stations because we wanted the ground to be moist before we planted."
Using GPS-guided tractors, drivers laid out rows for poles, rebar and line posts. They also marked where each of 348,800 vines — 872 plants per acre — would be planted. To speed up that daunting task, workers used a tree-planting implement bought in Washington. Later, they wrapped grow tubes around each vine and installed trellis wires.
In 2014, Adams and Weaver, who had partnered in other businesses previously, planted another 400 acres of grapes. The following year, they added 80 more acres.
Contracts With Over 20 Wineries
"Every acre we grow is under contract with a customer," Adams says. The operation sells grapes to about 22 wineries. Most of these are located in the Texas Hill Country, but some are in the Lubbock area, Fort Stockton, Texas, and even in Oregon.
Generally, new vines require three years of growth and pruning before they will produce a viable harvest. In 2016, a hail storm ruined what would have been Lahey Vineyards' first full crop. Thankfully, their 2017 crop finished well overall, yielding 3 to 5 tons per acre.
"We decided that once you get all set up, it's just as easy to plant 400 acres as it is 50 acres."
– Matt Adams
From the beginning, Greg Lance, senior vice president and branch manager with Capital Farm Credit in Muleshoe, has been impressed with the men's attention to detail, such as the all-weather roads they built throughout the vineyard and their risk-management planning.
"Matt and Jerry are very forward-thinking," Lance says. "Before they started out, they learned about the perils of commercial grape growing and how to mitigate them if they happened."
One such peril is frost and freezes. To help offset this risk, Lahey Vineyards invested in 64 frost fans that cover approximately 10 acres each. If freezing weather occurs, the propane-powered machines will protect the crops by pulling warmer air high above the ground and mixing it with the chilly air at crop level.
"We haven't had to use them yet, but we maintain them about once a month," Weaver says.
For expert guidance, Lahey Vineyards brought agronomist Doug Fairbanks on board as vineyard manager in November 2016.
"I've worked with crops for a long time," Fairbanks says. "Grapes are a different crop, but the same principles apply. You've got to keep a plant healthy in order for it to produce."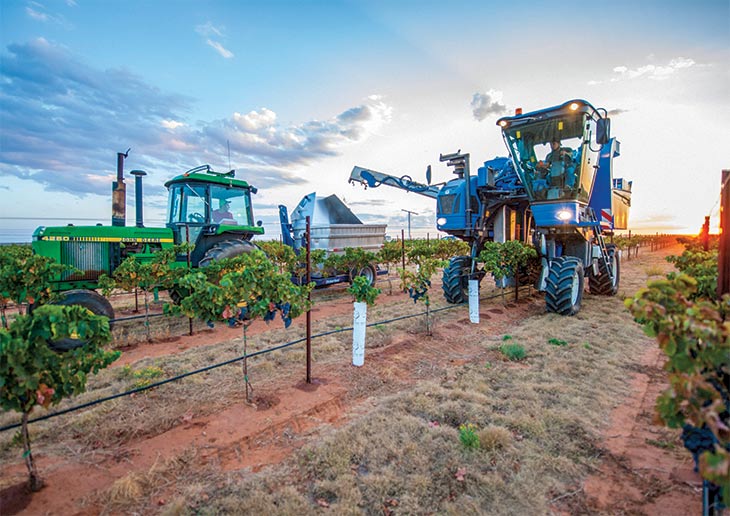 ---
38 Different Varieties
Health requirements, however, vary by variety.
"I like to say I have 39 wives," Fairbanks jokes. "My wife at home and then our 38 grape varieties, which include chardonnay, tempranillo, sauvignon blanc and orange muscat. They're all different, and I have to treat them that way. So I have to know each of them really well in order to be successful. For instance, merlot is shallow-rooted and needs more water than trebbiano, which has a deep root and requires less water."
Harvest times also vary by variety. From July into late September, commercial pickers using mechanical grape harvesters work at night when temperatures are cooler. Within hours, contracted wineries either pick up their grapes, or Lahey Vineyards trucks the fruit to customers. A few acres of grapes are handpicked for clients who produce extra fine wines.
About the same time, other crops need attention, too.
"Sometimes we harvest corn and peanuts during the day, and grapes at night," Weaver says. "We all do what we have to do, and we make sure it gets done. We just don't sleep much.
"Grapes are a new commodity to us. They're up and coming, and I like the challenge."
He pauses, then chuckles.
"But I just wish we'd done it when we were younger!" he says.
For more information, visit www.laheyvineyards.com.
---