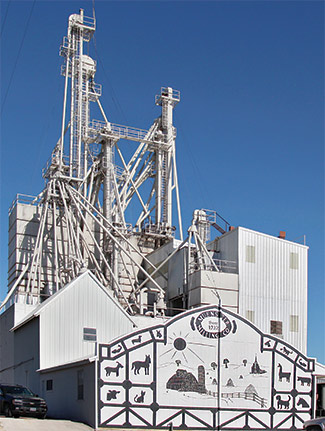 Just south of the Red River and west of Interstate 35, wind turbines and grain elevators stand sentry over North Texas farming communities like Muenster, where the two constants in life are the wind and the flow of grain. The Felderhoff family has made the best of both.
For four generations, the Felderhoffs have operated Muenster Milling Co., known for its complete line of extruded pet food and animal feed. The company has a formula for every stage of life and activity level, made with local grains and without chemical preservatives. If you listen to the radio in Texas, Louisiana and Oklahoma, you might have heard its products endorsed by celebrity pet owners, rodeo cowboys, sports figures and gardening gurus.
Adapting to a changing marketplace, the family produced feed first for dairy cattle, then for show calves and farm animals. They rode the wave of the ratite industry, becoming a premier feed producer for ostriches, emus and rheas in the 1990s. They also produced feed for game fish, llamas, snails and zoo animals.
"We've made feed for nearly every animal you can think of, from escargot to elephants," says Ronnie Felderhoff, who with his wife, Sharon, is the third generation to operate the family business.
To master the product and achieve the best quality, they decided to narrow their focus and go natural. It began with a phone call.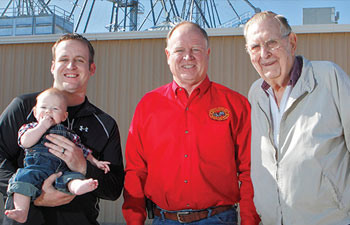 ---
A Natural Decision
Howard Garrett, a Dallas organic gardening author also known as the Dirt Doctor, was exploring diatomaceous earth's potential for natural pest control when he learned that it was used as an anti-caking agent in Muenster Milling's horse feed. He contacted Ronnie to ask if it was possible to add the product to pet food.
For the Felderhoffs, who'd been wanting to expand their pet food line, the call came at the right time. In 1999, they created the Muenster Natural brand and became pioneers in natural dog and cat foods.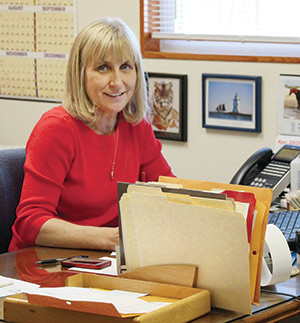 They've gone on to replace chemical preservatives with mixed tocopherols, citric acid and rosemary in almost all 17 lines of Muenster Milling's feeds. Quick turnaround adds to the freshness of the product, which is usually in stores within a few weeks.
Muenster Milling remains unique in having its own elevator and buying its grain directly from farmers within a 15-mile radius, says Mitch Felderhoff, Ronnie's son and Muenster Milling's vice president.
"When you drive up and down Highway 82, much of the milo, wheat, oats, corn or soybeans that you see, we buy," says Mitch. "Four generations of family farms have worked with four generations of Muenster Milling."
The mill's products are sold through independent retailers and a few grocery stores, such as Dallas-area Market Street and Whole Foods Market stores. Though dozens of private-label feeds that it makes for other companies are sold nationwide, the Felderhoffs have turned down offers to sell Muenster Milling brands through national chains. They focus on quality over quantity, they say, and wouldn't want to yield to price pressure from big retailers or use cheaper ingredients.
Old Company, New Technology
Avid industry watchers, Ronnie and Mitch follow research, attend conferences and trade shows, and visit other plants to see new technology at work. Science is behind every formula, which increasingly includes beneficial micro-ingredients such as L-carnitine and yeast cultures. The Felderhoffs formulate the feed themselves, occasionally consulting with animal nutritionists.
---
What has enhanced feed more than anything, Ronnie says, is extrusion. The method involves cooking quickly with steam and pressure, which preserves nutrients and flavor and makes carbohydrates more easily digestible, especially for horses. They've made extruded feed since 1989, the same year Sharon joined the business and computerized their bookkeeping.
The Felderhoffs have also changed the mill's grinding system to improve air flow and built a new grain elevator (see sidebar). Another recent improvement is a robotic system that can package 500 or more bags an hour — twice as fast as the mill can manufacture it.
Up the road from Muenster Milling's warehouse and grain elevator, its mill has operated in the same building for more than 80 years. There, workers load finished feed into bags that begin a 40-foot ride down a Chantland MHS conveyor, where an industrial inkjet printer sprays each with a traceable code as it passes. At the end of the line, a bag barely has time to pause before a massive Fuji robotic arm clutches it, swings it around and places it on a neatly stacked pallet.
Mitch and his siblings can tell you what it was like before the robotic system was added in 2008.
"In high school, that was my workout to get ready for football: climbing 100-foot ladders and taking turns throwing 4,000 or 5,000 bags in a row," he says. "That was one of the motivations for automating. We've got really good employees, and we didn't want to lose them or have injuries."
Employees are like Family
About 24 people work for Muenster Milling, and their tenure is impressive, such as 34 years for mill maintenance man Dickie Moster, 28 years for warehouse manager Brent Hess and 24 years for mill manager Max Koesler.
"I'm proud of the reputation that my grandfather, my dad and Mitch and I have created," Ronnie says. "But I'm most proud of Mitch and Sharon and our people. We've got an exceptional staff. They all care.
"It's a privilege to have them work with me. I don't introduce anybody as an employee, I introduce them as a co-worker. I think of them as family."
Looking Ahead
To help finance the robotic system, the Felderhoffs turned to AgriLand Farm Credit. They'd first become Farm Credit customers in 1994 when they bought land where they have a cattle operation, and it was AgriLand that offered the best rate when they wanted to upgrade their mill.
"They've installed some very specialized equipment," says David Althof, senior loan officer at AgriLand's Bonham and Gainesville offices. "They have tight quality and inventory controls. That's Ronnie's expertise. He's an excellent manager, and maintains strong production levels."
Because they can package so quickly, the Felderhoffs are considering adding a second shift to produce more feed. They recently introduced a line of freeze-dried meat for pets called Nolan's Chop Haus, named for Mitch's son, and they're developing a low-glycemic grain-free pet food that they hope to release in the fall.
The family is also drawing up plans for a new mill. Rather than bring in investors, they intend to expand in stages, preserve their cash flow and keep the business family-owned, Ronnie says.
Walking outside the headquarters, he points out where they plan to consolidate the mill, warehouse and elevator on one city block, complete with cutting-edge technology.
"That will be for the fourth and fifth generations," he says.
- Staff
Where to Find Muenster Milling Co. Products

Photo by Christine Forrest
---
Muenster Natural and other Muenster Milling products are sold at feed stores, pet stores and other retailers in Texas, Louisiana and Oklahoma. You can buy feed online or find a retailer at MuensterMilling.com.
Nolan's Chop Haus, freeze-dried raw meat for dogs and cats, is sold in North Texas. Find a retailer at NolansChopHaus.com
Force to Be Reckoned With
Wind has been a blessing and a curse for this North Texas town since its earliest days. Founded by German settlers in 1889, by 1893, Muenster had already lost its church to storms — twice.
But its people rebuilt, and Muenster grew to a town of 1,500 with a hospital, two meat processors, two feed mills, a popular Germanfest and one of the continent's few glockenspiels, a clock tower that plays German music every hour, animated by twirling figures.
People even found a way to harness the power of the wind, and turbines north of Muenster generate electricity for nearby Denton.
But now and then, the wind's force remains uncontrollable.
One June night in 1998, a storm blew down the house Ronnie and Sharon Felderhoff were building. Thirteen years later, almost to the hour, 125-mph straight-line winds crushed the bins at Muenster Milling's grain elevator. It would be a year and half before the business was fully functional.
Ronnie credits Nationwide Insurance and his neighboring grain elevators for their responsiveness.
"You couldn't ask for better competition," he says. "Tony's Seed & Feed, right across the street, let us store grain. Martindale Feed Mill over in Valley View made trucks available for storage, and Bluebonnet Feeds helped us with ingredient purchasing. I give them as much credit as I give Nationwide. It was rather humbling."
If there is a silver lining to the 2011 storm, it's that Muenster Milling could modernize as it rebuilt. At the new 310,000-bushel elevator, the Felderhoffs installed self-cleaning tanks, a new aeration system and a covered loading area.
Ronnie says his lender let the company decide how to put the insurance funds to the best use.
"I've got to put a feather in AgriLand's cap. They were very good to work with," he says. "They could have taken the insurance money for the elevator to pay down the notes on the robotics over at the mill, but they let the money come to us. We put it right back into the company, plus some.
"Muenster Milling has an elevator that's going to last generations."
---