On a freezing-cold night last spring, Jet Wilmeth nervously held a thermometer out his pickup window as he slowly drove back and forth across his 100-acre Diamante Doble Vineyards on the West Texas plains. Around him, thick smoke billowed from hay bales he'd set afire along the vineyard's perimeter.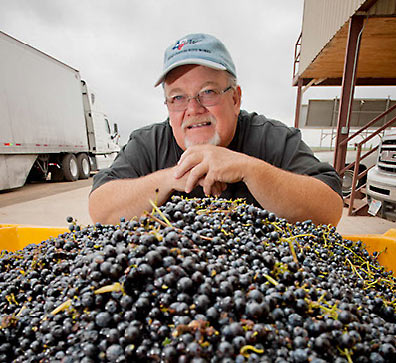 Above, silhouetted against the hazy midnight sky, two helicopters hovered back and forth, pushing air down onto long rows of budding grapevines.
Wilmeth's eyes watered badly, and he could barely breathe. But that didn't matter if these last-ditch warming efforts would save his 2014 wine-grape crop from a late-April freeze.
"I was desperate," recalls Wilmeth, a customer of AgTexas Farm Credit Services since 1976. "I knew I couldn't handle another zero year."
Eight hours later, he and the two pilots, exhausted from their sleepless night, high-fived. Thanks to Wilmeth's ingenuity and the pilots' flying expertise, the vines had been blanketed with enough warm air to stave off freezing temperatures.
"In 2013, we had four late freezes, so I lost all my grapes," Wilmeth explains. "It's hard to overcome the weather, but I had to do something last spring when I knew we were in for a late freeze. I thought if we could find some warm zones of air and push them down while pushing out the cold air, maybe we could save the crop. It worked, and I have the fruit to prove it!"
Working on the Family Farm
Jeter "Jet" Wilmeth has always exhibited a zest for farming. At age 6, he was already steering a tractor and plowing 40 acres on his father's farm near Tokio, a tiny dot on the map west of Brownfield, Texas.
"I was full of energy, and Dad had to direct me in a positive, productive way," he says, grinning.
Three years later, when his father had health issues, the 9-year-old drove the family's truck and trailer to Brownfield to pick up seed.
"Mom and I ran the farm while he recovered," he says. "We planted and irrigated the fields. When Dad got out of the hospital, he was amazed that he had crops."
After graduating from high school, Wilmeth enrolled in college and married. But the marriage didn't last, and he returned to his father's farm.
"I was so disenchanted with life," Wilmeth says. "Farming was the only solid thing I could hold onto. Sure, working the farm was hard on my parents and me, but it also pulled us through. Plus, I had a 'knack' for tractor driving."
Taking over the farm with his brother Ty when their dad retired, Wilmeth continued to grow cotton, wheat and milo, just as his father had, and in 1981 he married Gay Lynn, who works as a school nurse. He also grew peanuts and produce, such as watermelons, chiles, jalapenos, cucumbers, pumpkins, mustard greens, black-eyed peas, soybeans and corn.
Whenever he required operating loans, he always turned to AgTexas Farm Credit, just as he did when he purchased additional land.
"I appreciate that AgTexas is a cooperative," he says. "It's doing business with yourself. I've got a great track record with AgTexas, and Vice President Gary Jones. He's gone to bat for me many times."
Choosing Grapes
In the early 1990s, Wilmeth began to notice that a nearby farmer was successfully growing grapes. Curious, he learned that the High Plains south of Lubbock offered what wine grapes require: high elevation, sandy loam soil and cool nighttime temperatures.
Little did he know then that the area eventually would become a major grape supplier to the growing Texas wine industry.
When his father passed in 1995, Wilmeth took a hard look at his bottom line.
"Out here on the High Plains, we're brickmakers and water sellers," he says. "If you can't make dirt clods, then you won't last long as a farmer. Bigger clods mean you can keep your land from blowing away. The wind here is relentless, too, which can kill tender seedlings.
"Water is the most valuable resource on earth," he continues. "It sustains life. We sell water too cheap through what we produce. What I had been growing were high water-use crops. Grapes, on the other hand, require less water. Plus, they bring more at market. Lots more."
14 Grape Varieties
For five years, Wilmeth studied grape production, attended grape and wine educational conferences and met with winemakers across the state.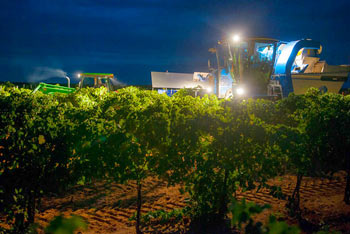 "Grapes are a big investment, so I wanted to make sure I knew what I was doing," he says.
Finally, in 2000, he planted his first 5 acres of cabernet sauvignon grapes, followed the next year by 5 acres each of merlot and gewürztraminer. In 2003, he handpicked and sold his first grape harvest to a Lubbock winery. Since then, a mechanical grape picker has streamlined harvest operations at Diamante Doble.
Along the way, Wilmeth phased out his vegetable crops.
"I was harvesting watermelons during the day and grapes at night, which was killing me," he says. "The vegetables also used too much water."
Nearly every year, Wilmeth has expanded his Diamante Doble Vineyards — named after his parents' "Double Diamond" cattle brand — and planted more grape varieties. Most recently, he planted 2.8 acres each of Alicante Bouschet, primitivo and Mourvèdre, for a total of 14 varieties.
"It's good to diversify, because in some years some varieties produce better than others. As I've put in more varieties, I've gotten involved with more wineries, too," he adds.
Among Wilmeth's Texas grape buyers are Becker Vineyards, Stonewall; Messina Hof Winery, Bryan; Fredericksburg Winery, Fredericksburg; Flat Creek Estate, Marble Falls; Los Pinos Ranch Vineyards, Pittsburg; Lost Oak Winery, Burleson; Blue Ostrich Winery and Vineyard, Saint Jo; Llano Estacado Winery, Lubbock; and Wedding Oak Winery, San Saba.
A Legacy to Pass Down
From monitoring buried irrigation lines to savoring a sweet Muscat Canelli grape fresh off the vine, Wilmeth has intertwining passions for both his grapes and his family — his wife, Gay Lynn, and their children, Becky, 30, April, 28, and Colby, 25.
"I've become a part of the long heritage of grape growers, and I'll pass that legacy down to my children," he says. "I do have a passion for farming, grapes and helping the industry make better wines. But without my wife, family and friends and all their help, I couldn't do what I love — farm."
- Sheryl Smith-Rodgers
GRAPE VARIETIES FROM DIAMANTE DOBLE VINEYARDS
Alicante Bouschet
Cabernet sauvignon
Dolcetto
Gewurztraminer
Malbec
Merlot
Montepulciano
Mourvedre
Muscat Canelli
Orange muscat
Primitivo
Riesling
Viognier
Zinfandel
---