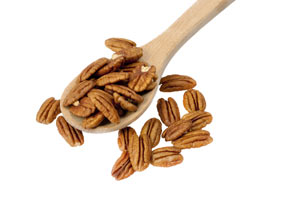 Whether you call it a PEE-can or a puh-CAHN, the pecan is a wonderful nut.
We in the South do love our pecans, and on holidays we look forward to favorites such as pecan pie and candied yams topped with the sweetened nut. But today the pecan is in demand nationwide and abroad for its nutritional value, most notably in China. And, it is being used not just in sugary holiday treats but also in such savory foods as salads and nut-encrusted fish.
"The future is looking very good for the pecan industry," says Texas Farm Credit customer DeWayne McCasland, general manager of the Pecan Producers Inc. co-op and board member of the Texas Pecan Growers Association and the National Pecan Shellers Association. "Both consumption and demand are increasing because of research showing the health benefits of nuts, which makes health- conscious consumers feel comfortable using pecans in their diets."
Pecans are loaded with nutritious goodness. Recent research about this tree nut has shown that among many benefits, it is rich in antioxidants, contains many vitamins and minerals, and is an excellent source of fiber. More good news about eating pecans is that they may help prevent heart disease, lower cholesterol and raise levels of vitamin E. They are also packed with phytochemicals — a group of plant micronutrients, many of which have disease-preventive properties.
Native to North America, the pecan tree is said have been first cultivated by Native Americans, some of whose diets included the tree's life-sustaining nut. Indeed, the name pecan was derived from the Algonquin word "pacane," which was used to describe "all nuts that require a stone to crack."
Roasted or raw, pecans can be added to hearty soups and stews, and are a particularly good complement to squash. Add them to your morning oatmeal, mix them into chicken salad or chop them fine to make a breading for fish. McCasland even adds them to his gravy, saying that it makes for tasty "lumps"! Or simply eat them raw, he says, about ¾ cup two hours before a meal — consumption can increase your metabolic rate and enhance satiety, so you will not be as hungry at mealtime.
- Staff
Pecan-Crusted Salmon
The nutty coating and cool sauce make this recipe extraordinary.
2 salmon fillets (6 ounces each)
2 tablespoons mayonnaise
1/2 cup finely chopped pecans
1/3 cup seasoned breadcrumbs
2 tablespoons grated Parmesan cheese
1 tablespoon minced fresh parsley
1 tablespoon butter, melted
Cucumber Sauce:
1/2 cup chopped, seeded and peeled cucumber
1/2 cup plain yogurt
1/2 teaspoon snipped fresh dill
1/8 teaspoon garlic powder
Place salmon skin side down in a greased 11-by-7 inch baking dish. Spread the mayonnaise over each fillet. In small bowl, combine pecans, breadcrumbs, Parmesan cheese, parsley and butter; spoon over salmon. Bake at 425 degrees F for 10-15 minutes or until fish flakes easily with a fork. Meanwhile, in a small bowl, combine the cucumber sauce ingredients to serve with the fish.
Nutritional Content
There are 196 calories in a 1-ounce (approximately 20 halves) serving of pecans, which contains more than 19 vitamins and minerals, significantly:
Fiber, 2.7 g
Protein, 2.6 g
Vitamin A, 16 IU
Potassium, 116 mg
Phosphorus, 79 mg
Magnesium, 34 mg
Calcium, 20 mg
Pecans are also a good source of oleic acid, thiamin, folate and zinc. For a complete list of nutrients, check out the USDA's National Nutrient Database at http://ndb.nal.usda.gov/ndb.
Health Benefits of Pecans
90 percent of the fats in pecans are unsaturated (about 60 percent monounsaturated and 30 percent polyunsaturated). Nuts are recommended by the American Heart Association as a desirable source of heart-healthy unsaturated fat.
No sodium or cholesterol
A serving of pecans provides about 25 percent more oleic acid than a tablespoon of olive oil.
Valuable plant protein source
Excellent source of gamma tocopherol, an important type of vitamin E
Contain concentrated amounts of natural plant sterols, touted for their cholesterol-lowering ability
Contain a variety of phytochemicals, which promote heart health, help you retain healthy vision and can reduce some cancer risk
---