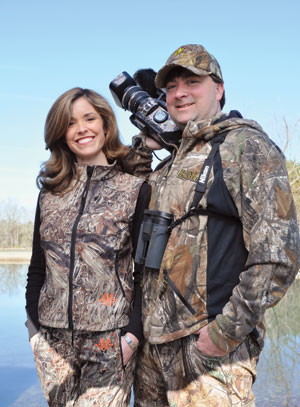 When Travis and Leigh Creekbaum arrived with their RV in South Carolina for their first "Campbell Outdoor Challenge" hunt, they had their assignment — and their strategy.
The Birmingham, Ala., couple was competing against 11 other professional teams to film the best hunt. "It's not just a show about hunting," Leigh explains. "Not only are we judged on the harvest, but we're also judged on the quality of our video and how we perform throughout the whole hunt. It's a reality-type hunting show."
Their first challenge was a wild hog hunt, and the Creekbaums — known in the competition as The Chase — were relative rookies. Although Travis had hunted hogs before, Leigh had not.
They arrived in South Carolina and drew their location. Everyone had a plan of attack. "Ours was to sleep in, eat a good breakfast and do a couple of interviews," Travis says. "The other teams headed out really early that morning. I was afraid that if we went bumbling in the dark, we would run the hogs out permanently. My strategy was to try and get set up the first afternoon, when I was fairly sure we could get all of our gear in, and while we knew the hogs were not there."
Patience Pays Off
As it turned out, their strategy was a winner.
The first afternoon the couple set up 25 feet off the ground to wait in surprisingly frigid weather. Nothing showed until the final minutes before dusk. With mere seconds of daylight left to close the deal, a group of piglets, followed by a herd of mature hogs, made their way into view. "Finally one of them moved, giving us a small window of opportunity, and Travis took the shot," Leigh says.
They decided to wait until the next morning to track the animal. "We didn't want to spread our scent around and potentially ruin the area for the rest of the week. We found it, 60 yards from where Travis made the shot. It weighed better than 120 pounds," Leigh recalls.
The Creekbaums took first place and won $2,500. But for them, it's about more than winning; it's about living the dream. Video hunting provides them with the opportunity to spend time together, enjoying the skill of hunting and their love of the outdoors.
Eyes on the Prize
The couple, who are Alabama Ag Credit customers, first started filming their hunts after Leigh developed an interest in hunting. With his focus on hunting and her eye for nature, they have an advantage when it comes to filming the hunt.
"I love watching the foxes and birds and seeing the sunrise that we often miss during the week," Leigh says.
"A lot of men get into hunting and forget why they like to be out there," Travis notes. "Leigh watches everything: every cardinal, every dove. I was so focused on what I was hunting that I lost sight of the prize. But together, the picture is much larger."
The couple was discovered by the "Campbell Outdoor Challenge," after attending hunting expos. The program management wanted a husband-and-wife show and gave the Creekbaums the opportunity to get started.
"John Campbell has really made a sport of filming hunts," Leigh says. "Hunting on teams as part of a competition adds just one more challenge to archery hunting."
The show also is a good reminder for the portfolio manager and financial advisor of the importance of having a plan. "It was our first year filming for the show, and we've learned so much from the experience. You can accomplish anything, if you have a strategy to get there," Travis says.
From a Suit to Camo
He explains that his profession has provided the means for him to do what he loves to do. "Every Friday I take off the tie and put on the boots," Travis says. "I hate a tie, but I understand the profession requires the image. Work with integrity and passion and you will be blessed with the reward," he says.
"I always tell my clients 'don't retire, rewire,'" he says. "So many of them get to 55 or 60 and wish they would have done something different. My premise on rewire is to always have a dream. It may be to own your own hardware store, teach, or — in our case — to have a hunting show."
– Chellie Phillips
Their Perfect Place
Financial consultants Leigh and Travis Creekbaum were looking for an outdoor getaway when they found a perfect place on a dirt road in Coosa County, Ala., in 2004.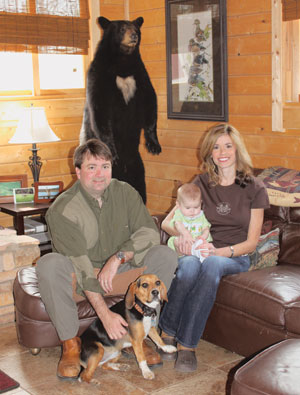 "We started with the land," Leigh says. "It was 120 acres. We would drive down and spend the weekend in a tent. But I got tired of sleeping on the ground. Our friends couldn't believe I'd camp out with Travis the whole weekend."
Next came a 1,000-square-foot cabin, which Travis built largely by himself. "This is such great country, and we've made a lot of friends here," he says. "We loved it so much that we wanted to be able to bring other people here." To accommodate visitors, they worked with a builder to expand the cabin to about 2,000 square feet.
The Right Lender Makes the Difference
Leigh and Travis have continued adding to their outdoor getaway with the help of their lender, Alabama Ag Credit. Coming from the financial industry, the couple recognizes the strength of their lender.
"Working with Alabama Ag Credit was easy," Travis says. "In fact, we did three loans in one year with them. We know they are a solid institution, because they have weathered the banking crisis, and we still get our patronage each year."
Along with the financial strength of the cooperative, Alabama Ag Credit's hometown feel made the process even better, according to the Creekbaums, who are quick to praise the staff of the Selma office.
"Our loan officer was a perfectionist. He made the process so easy and even drove out here to meet us to close. Now we send our friends and people we know to them," Travis reports. "They had the type of loan we needed and they customized it for what we wanted. We've built up a lot of equity here and have been able to add property into the same note."
From Wall Street to the Dirt Street
Travis finds his weekend getaway is the perfect place to forget the high-stress financial world. "A tractor can be very therapeutic. Your attention is drawn from the stresses of the real world to the task at hand," he explains.
Not only is the Creekbaums' piece of paradise a place where they come to recharge, it's been a place of healing, as well. In fact, this is where they often came to take their minds off the death of their first child. "This land and the friends we have made here helped me get through a really dark time," Leigh explains.
The couple has since been blessed with the birth of their son, Gray, and they hope to raise him to share their passion for the outdoors. "We hope the land gives him what the mall and video games can't. Birmingham has great schools that will give him the education he needs to get ahead, but on the weekends, this place will let him see what real hard work can reward," Travis says.
"Working with Alabama Ag Credit was easy. … We know they are a solid institution, because they have weathered the banking crisis, and we still get our patronage each year."
– Travis Creekbaum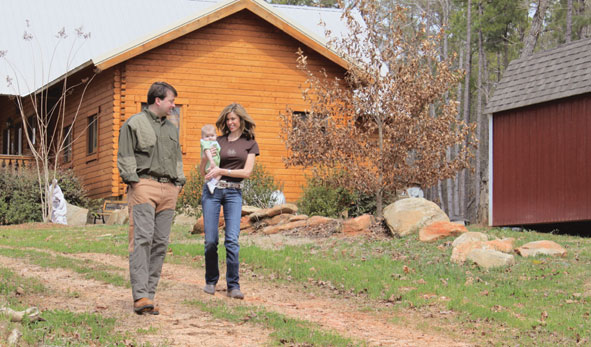 ---
Value of an Outdoor Education
Both Leigh and Travis have embraced the values that come from working outside, and wouldn't trade them for anything. Leigh grew up playing outside and has always loved the outdoors. Travis learned early on that he would rather be fishing than going to the mall with other kids.
"The house where I grew up in Dothan, Ala., had a pond," Travis says. "I would go fish for hours. My mom called it the best babysitter ever."
His dad is a financial advisor and taught him how to save. His allowance money eventually went to the purchase of his first boat. Later, his uncle got him hooked on hunting.
"My Uncle Jim was a great storyteller or maybe a great exaggerator; either way, he really fueled my interest in the outdoors. My best friend's dad had hunting property north of Dothan. That is where most of my hunting was done during my formative years. I don't remember ever seeing anything, but I still spent years trying," Travis says.
Fortunately, Leigh shares Travis' love of nature.
"Leigh's always loved fishing," Travis says. "So we mounted her first big brim. I figured if her stuff was mounted and on the wall, then I didn't have to worry about mine staying."
More surprising was Leigh's affinity for hunting. "You probably have heard Jeff Foxworthy say that you invite your wife to go hunting with you and hope she hates it," Travis jokes, "but Leigh loved it from the beginning. The wildlife management is what hooked her."
In fact, the first thing Leigh harvested was a doe, because she understood that they had too many. Now, with more than 700 acres, the Creekbaums spend a significant amount of time on wildlife and land management.
"When we started LT Plantation, we saw about 16 deer in one whole season. Now we see about 16 a day. There's been a lot of sweat equity in this land," Travis says.
– Chellie Phillips
---