Just east of Duck Creek in Franklin Parish, Louisiana, husband and wife Kody Beavers and Melanie Netterville are busy planting corn, soybeans, cotton and a future together in agriculture.
Armed with graduate educations, these 27-year-olds could be pursuing full-time agribusiness careers. Instead, they've chosen to join the next generation of farmers.
"I knew from a very young age that farming was a very big passion of mine," says Beavers, who earned both his agricultural business degree and his MBA at Louisiana Tech University. "I was fortunate to start working on a farm at 14 years old, and the love for it just grew from there."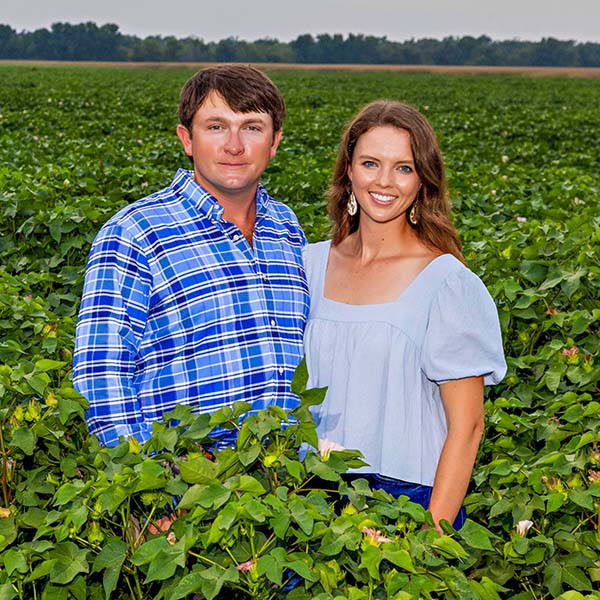 Netterville is equally passionate about agriculture. Reared on a farm in neighboring Tensas Parish, she, too, knew early on that agriculture was her calling. She earned her bachelor's degree in agribusiness from Louisiana State University and decided she wanted to be close to the land. Really close. So, in 2020 she started a master's degree in agronomy.
"I love being outdoors, and I wanted to get right into the heart of understanding how plants and water and soil and sun all work together," she says.
But loving agriculture is one thing; building a full-time farming operation is another — especially for Beavers, who grew up around relatives' family farms, but not on a farm.
Partnering with a veteran farmer
For this young couple, the solution lies in a partnership with longtime friend and farmer Jack Dailey. Together, they farm on Dailey's Boeuf Prairie Farm near Extension, Louisiana. Both as a mentor and a business partner, Dailey has stood by their side.
Beavers previously worked as Dailey's farm manager, an excellent proving ground for young prospective farmers. Now that they work together, Dailey can help the couple overcome one of the biggest challenges any new farmer faces: equipment costs.
"These machines are incredibly expensive," Dailey says, while walking through the farm's machine shed. "Combines, tractors, sprayers. It's a huge hurdle."
Trying new technology
While Dailey provides experience, Beavers and Netterville contribute technology skills and perspective on new practices.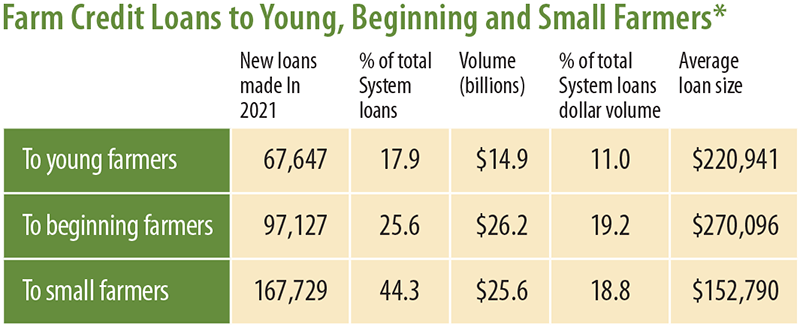 "You get a young person involved in your operation, and the energy level goes up. And the technology we need on the farm is so natural to them," Dailey says. "It's been a great opportunity for our farm, and it's been a lot of fun."
The operation has doubled in size in the past year to about 3,000 acres. That includes land in both Franklin and Tensas parishes, of which about 800 acres was acquired from Netterville's family. In addition to row crops, the couple keeps about 150 head of Angus cattle in partnership with Beavers' father, Michael Beavers.
Growing with Farm Credit support
Farm Credit has a long history of supporting young and beginning farmers like Beavers and Netterville. In fact, Farm Credit lenders significantly increased support for young, beginning and small (YBS) farmers and ranchers in 2021.
From equipment and production loans to a home mortgage, Louisiana Land Bank and Winnsboro Branch Manager Jonathan Wright have delivered that local support to Beavers and Netterville.
"I describe them both as good, hard-working people who take care of the details. They're people you want to do business with," Wright says.
Stepping up as farm leaders
"When people hear that we are young farmers, the response we get is 'wow, that's amazing,'" says Netterville. "There is a need for young farmers, and it's more than just doing the farming. We also must get involved in leadership roles and try to make sure farming is a sustainable industry in the long term."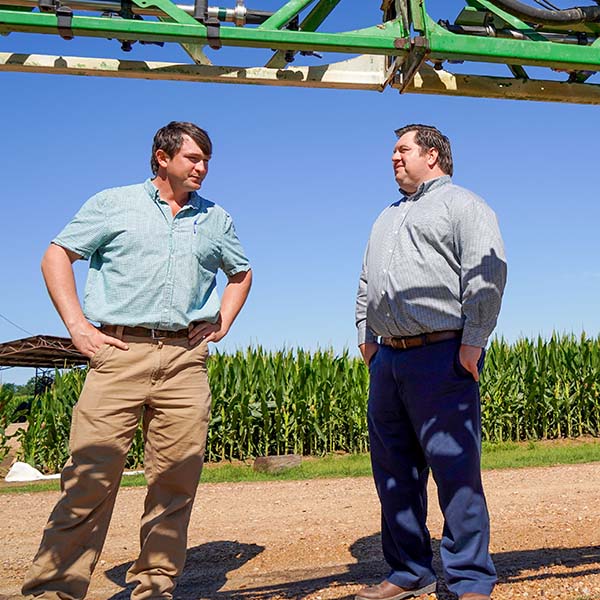 In 2019, Beavers won the Louisiana Farm Bureau's Young Farmers and Ranchers Discussion Meet, a statewide leadership debate contest for young producers. That leadership theme pops up whenever he talks about agriculture.
"If you don't tell your story, someone else will do it for you, and it may not be the true story," Beavers says. "There's a lot of other interests out there that can dictate our lives for us if we don't step up and speak for ourselves. It's so important for young farmers to step up, continue the rural legacy and be leaders themselves."
"Kody is a natural leader," says Dailey, who serves on the Farm Credit Bank of Texas board of directors. "He and Melanie are interested in everything agriculture, because that's their calling."
Improving soil health
With Beavers' business training and practical farm experience and Netterville's agronomy skills, they also play a leadership role by sharing their farming practices with fellow farmers.
Earlier this year, the couple hosted a soil conservation tour for ag producers to check out cover-crop approaches.
"The field looks kind of funny at first because it's covered with knee-high cover crops. But after we knock it down and plant, we get the most beautiful cotton," says Netterville.
Instead of tilling the soil, they drag the top of the row and plant the seed directly into the ground.
"We're using cover crops to replenish nutrients that are removed by the crops, meaning the soil is richer. With the cover, it's less likely to erode, and by leaving the dead cover in place, it retains moisture better," says Netterville, who aims to become a licensed crop consultant after she receives her master's degree.
The sandy soil in this part of northeastern Louisiana doesn't hold water for long. So, while Beavers is grateful for the drenching rains that fell the past two days, he also is looking ahead.
"Likely the next 10 days are going to be dry," he says, glancing at an impossibly blue sky swept clear by a welcome cold front. "I love waking up every morning and being happy to go to work. People sometimes say I need a hobby, and I tell them I don't like to do anything but work here. You could say farming is my hobby."
— Staff
---