Purple hulls and black-eyes. Creams and crowders. Peas galore! And beans, too — pinto, lima and butter.
If you've bought farm-fresh peas or beans within a 500-mile radius of Canton, Texas, you've probably purchased legumes from Sides Pea Farm, the state's largest producer of fresh market peas. During growing season, trucks rush fresh-shelled peas and beans from the farm's processing facility six days a week to grocers, distributors, farmers markets and roadside stands across Texas, Louisiana, Oklahoma and Arkansas.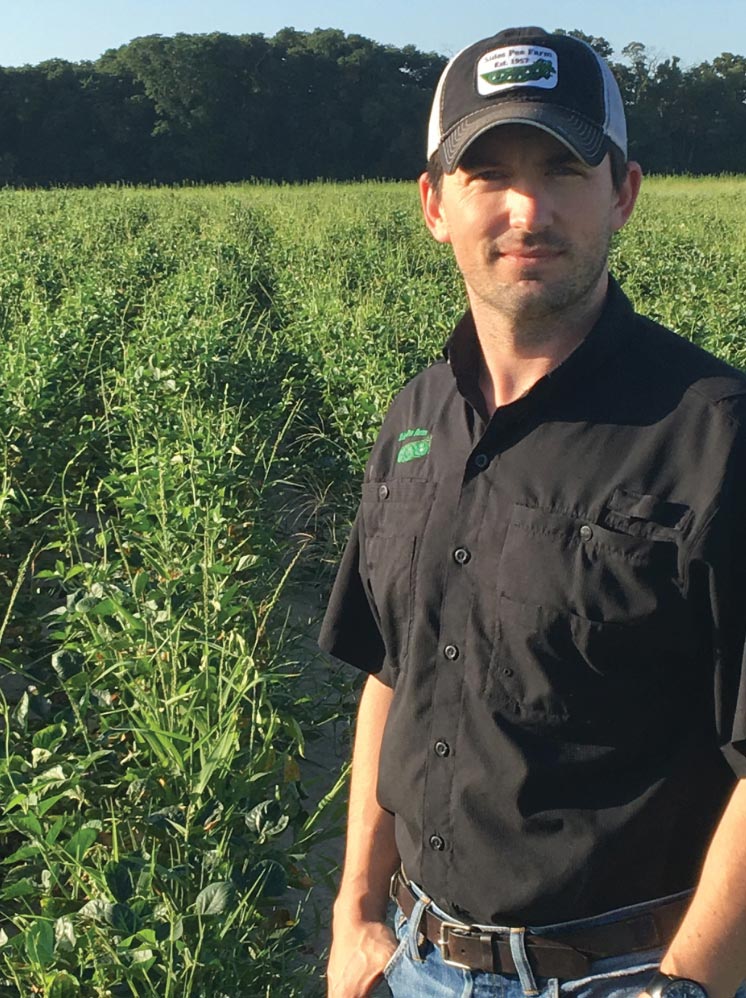 The farm also serves the fresh-frozen market, including the Dallas Independent School District's successful farm-to-school program, and recently added an 8,000-bushel commercial freezer, financed by Legacy Ag Credit, specifically to serve this growing market.
From June 1 to Aug. 15, you can buy directly from the Sides Pea Farm store, located next to the processing facility on the same 70 acres where Winford and Virginia Sides started farming in 1957. The couple opted to grow peas and beans as their niche. Winford did the farming, and Virginia did the selling, especially at the Dallas Farmers Market, where she ran a stand for more than 40 years.
Now 83, Virginia still loves selling peas and helping folks decide what to buy and how to cook it. Other than Sides-grown peas and beans, her store offers seasonal produce from other local farmers, plus jellies and hot sauce made from her mother's recipes.
Virginia comes by farming naturally, having grown up as one of 14 children on an East Texas farm.
"I even did some plowing the day Winford and I got married," she laughs. "I can't imagine being anything but a farmer."
Farming Trumps Law School
Being a farmer, by definition, has its ups and downs. The low point for the Sides family came in 2008 when Winford's health started to decline and fire destroyed the operation.
"We had to either rebuild or cut back," Virginia says, "so I asked my grandson Brandon if he could help out."
"As farm-to-school programs grow, there will be more understanding about healthy food and more expectation of eating fresh local produce."
– Brandon Sides
At the time, Brandon was attending law school in San Francisco, but he returned to the farm and never looked back. Three years later, Winford passed away.
"I always remembered working around peas with my grandparents," 35-year-old Brandon says. "I'm glad I came back. I can't imagine being stuck behind a desk doing paperwork, and a lot of my old college buddies wish they could do the same."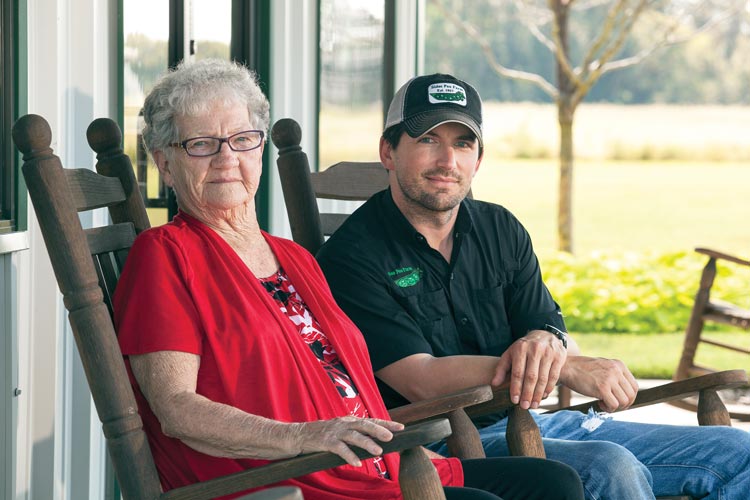 ---
Virginia recalls that Winford was about the best pea grower there was.
"He could look at a field and tell you exactly what it would produce," she says. "I'm thankful for what he did, and I'm so proud of Brandon for carrying it on."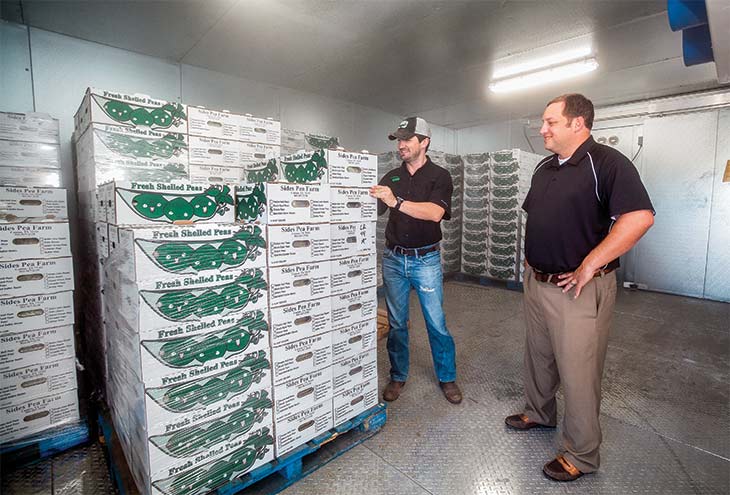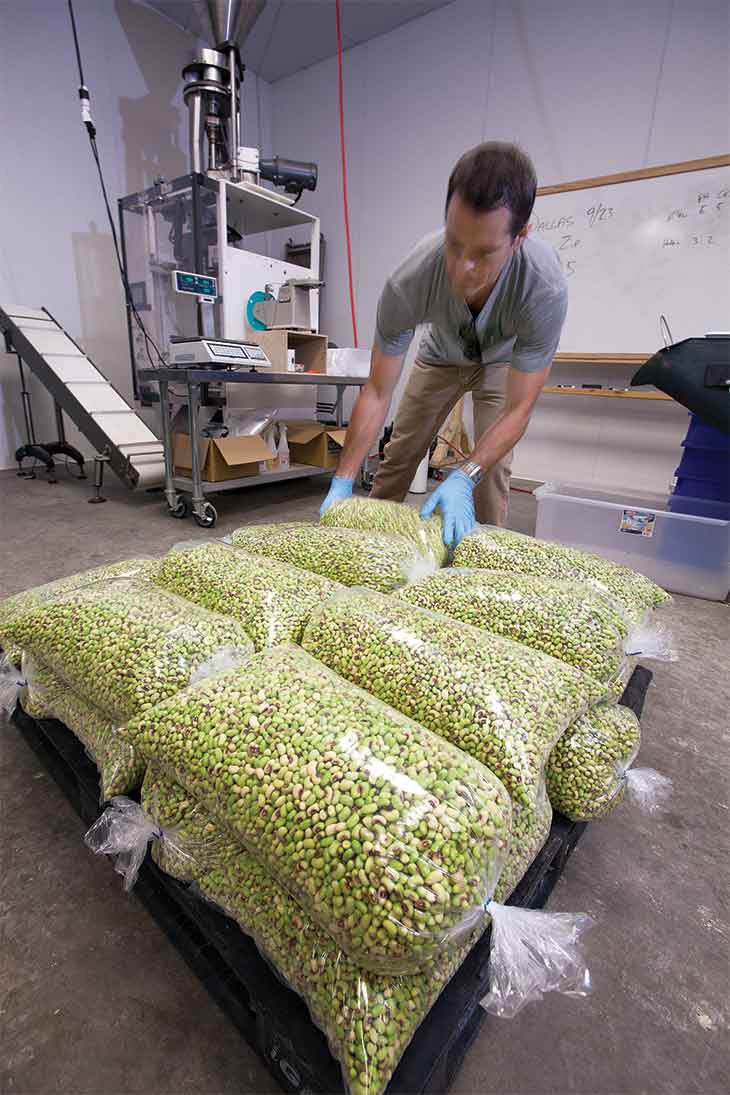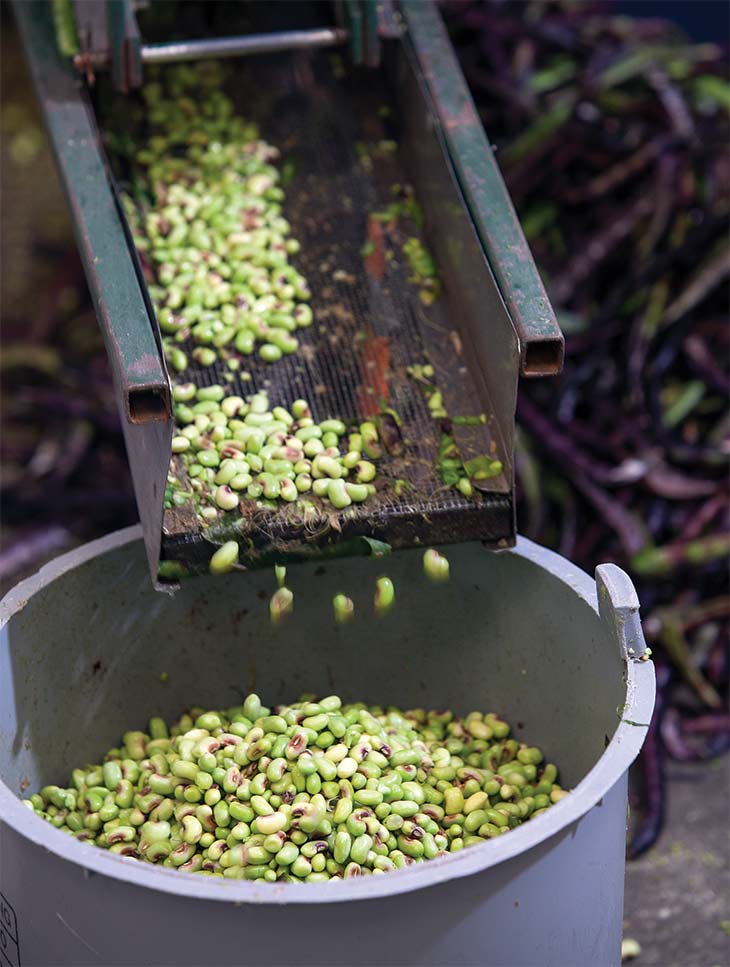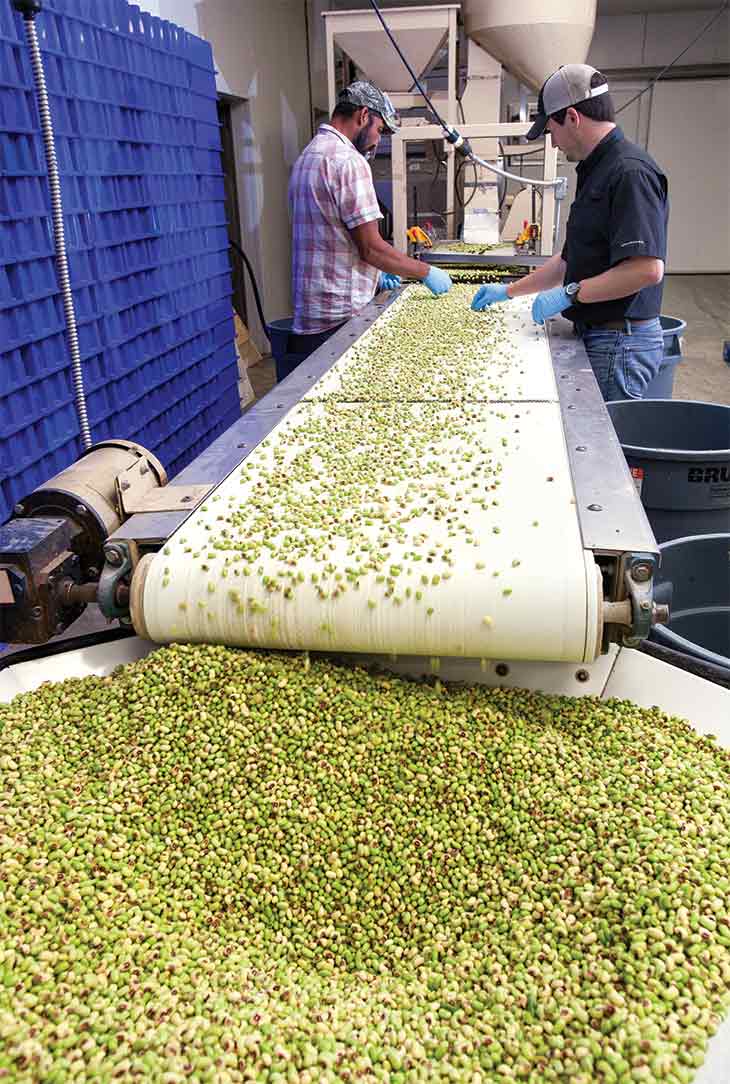 Indeed, Brandon Sides must have inherited his grandfather's "pea genes," because under his direction, the operation has grown exponentially. This year the farm will ship approximately 1 million pounds of peas and beans to fresh and fresh-frozen markets. That much pea power requires close to 2,000 acres of production between South and East Texas. Typically both areas produce two to three crops per year.
Picked by hand
Beans are harvested mechanically, but peas must be picked by hand to meet uniformity standards, Brandon explains. The harvested legumes head to the Canton facility, where they go through pea shellers that strip fresh peas and beans from the hulls. The produce then travels on a conveyor belt for sorting and culling.
The manual sorting line handles 100 bushels an hour. A high-tech optical sorter added this year sorts up to 4,000 pounds an hour using color recognition technology to remove discolored product.
During peak season, May through August, the production facility operates 12 hours a day, seven days a week.
Old-Fashioned Peas for a New Generation
People who love peas, really love their peas, according to Virginia, who reports that every year the farm welcomes repeat customers who drive for hours to buy big bags of fresh peas. Although traditional Southern field peas remain a niche product, Brandon believes that America's expanding fresh food movement promises to introduce old-fashioned peas to a new generation.
In 2011, the Sides farm began supplying fresh-frozen peas and beans to the Farm to School Program of the Dallas school district. The program aims to increase the amount of fresh food served in public schools, as well as educate students about healthy eating and food production.
Last year, the district ordered 40,000 pounds of fresh-frozen peas and beans from the Sides farm. By the end of 2016, Brandon expects that number will have doubled. The farm ships another 5,000 pounds of fresh produce 25 miles away to the Rains school district.
For Virginia and Brandon, their work with schools is important. When they meet with students in school cafeterias to talk peas and explain what happens from field to plate, they experience the fruit of their labor.
"I'm glad I came back. I can't imagine being stuck behind a desk doing paperwork, and a lot of my old college buddies wish they could do the same."
– Brandon Sides
Kids like Peas
"I really enjoy sitting with the kids. They're real sweet, and they really like our peas," Virginia says enthusiastically.
Adds Brandon: "Things are coming back to where they were when my grandparents started farming. Back then, people were used to eating fresh local produce. As farm-to-school programs grow, there will be more understanding about healthy food and more expectation of eating fresh local produce."
Innovative thinking — and plenty of hard work — has allowed Sides Pea Farm to prosper for almost six decades, says Dustin McClendon, Canton branch manager of Legacy Ag Credit.
"The Sides family has been a stable force in our community for a long time," he says. "They are innovative and can adapt to changes in the marketplace. That's why we all respect them so much."
— Randy Mallory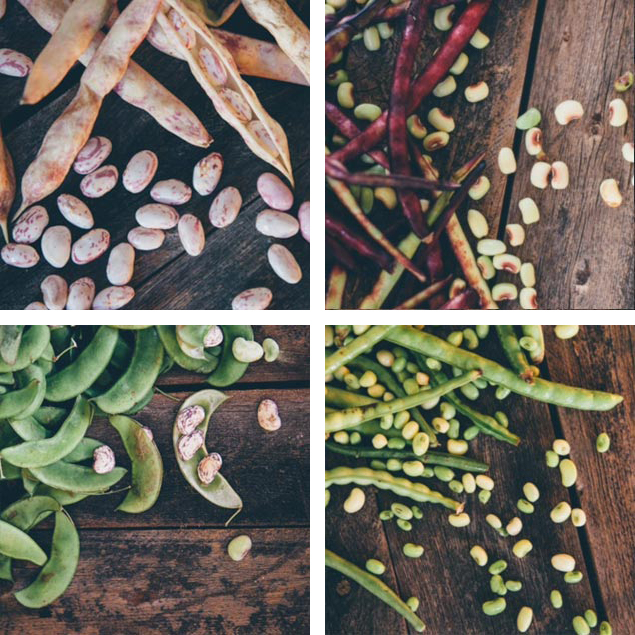 A Bean and Pea Primer
Pinto beans and cornbread. Black-eyed peas, especially for good luck on New Year's Day. These have long been staples of the Southern diet. But there's a wide range of varieties offering subtle differences in taste and look.
Sides Pea Farm grows nine varieties of beans and Southern peas. Beans include their top seller, pinto, as well as green lima and speckled butter beans. All are sold fresh or fresh-frozen, offering a taste and texture customers prefer over dried beans. Peas include three top-sellers — purple hull, lady cream and black-eyed peas — plus zipper cream, brown crowder and butter peas. Customers living east of Interstate 35 tend to prefer purple hulls, and those west of I-35 go for black-eyes, notes Virginia Sides.
Packed With Protein
Beans and peas, along with lentils, are legumes, which offer versatility and nutrition that's low in fat and high in protein and fiber. Native to Central and South America, beans made their way north through trade and migration by indigenous peoples.
Southern peas are native to West Africa and probably reached the South during the slave trade era. Drought-resistant and easy to grow, these pea varieties became known variously as field peas, cowpeas or Southern peas. They were popular as food for people and animals, as well as an excellent cover crop, adding nitrogen to the soil.
Pea classification is based mostly on color, size and spacing in the pod. Black-eyes have a "black eye" on the seed. Purple hulls have, well, purple hulls. The almost colorless varieties are called creams. Crowders have seeds so close together that they "crowd" each other. Small-sized peas are lady peas. And zipper peas are so easy to shell, it's as if they come equipped with a zipper.
For Mrs. Virginia's basic bean and pea recipe and more, go to www.sidespeafarm.com/recipes-1.
– Randy Mallory
---