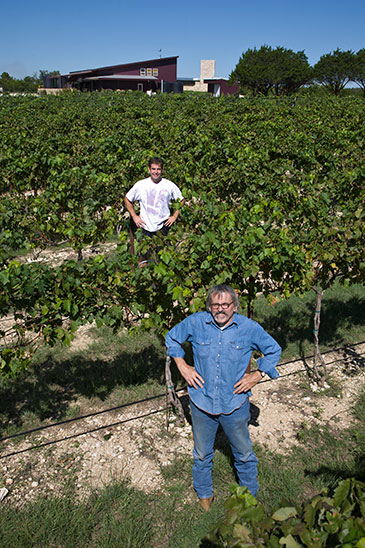 When it comes to setting the standard for green wineries in Texas, Red Caboose Winery is right on track. In fact, this is one caboose that is way out front.
The Meridian, Texas, winery is the only one in the state that uses 100 percent geothermal heating and cooling and collects all its rainwater. The winery design meets LEED (Leadership in Energy and Environmental Design) green building criteria and is one of the few wineries in the country designed to meet or exceed the U.S. Green Building Council standards. When photovoltaic cells are installed in the next few weeks, the winery also will be "net zero," which means it will have a net energy consumption of zero over a typical year.
Concepts of environmental sustainability are new to many in the wine industry, but they are very familiar to Red Caboose owner Gary McKibben. An architect by trade, he has designed sustainable buildings for years and built his first geothermal unit in 1976, while living in California.
"Every business, every home needs to start using these types of systems," Gary says. "With the typical air exchange units, you are blowing money away, but with geothermal systems, you are storing the energy in the ground, where you can go back and get it when you need it. There is a constant exchange of energy. It just makes sense."
Other winery owners apparently agree with him. Since opening Red Caboose, McKibben has been contracted to design seven other wineries in Texas that also use sustainable practices.
He hopes that even more wineries in Texas will adopt higher environmental standards, especially since Texas currently boasts the fastest-growing wine region in the country.
"When I started, there were 48 bonded wineries in Texas. Now there are more than 150," Gary says.
Native Grapes Thrive in Texas
Gary had planned to start a winery in San Luis Obispo, Calif., many years ago, but he turned his interest toward a career in architecture instead. The desire was revived, however, after he bought property in Bosque County, Texas. He lived and worked in Dallas and was looking for a place to get out of the city once in a while.
"I started looking in Kerrville, and slowly worked my way north," Gary says. The search ended when he saw the place in Meridian and went to Capital Farm Credit for financing.
One day, as he was looking around the place, Gary noticed native grapevines covering a huge oak tree. That discovery led him to research native grapes in Texas. What he found surprised him.
"There are 35 native varieties of grapes that grow in North America, and Texas is the only state where more than one variety grows," Gary says. "In fact, 17 of those varieties grow in Texas. That was all the encouragement I needed. If this place could support native grapes, why couldn't we plant a vineyard here?"
Growing a Whole New Business
Gary recruited his younger son, Evan, to come help him start a new business. The pair had no previous experience with growing grapes or making wine, but they decided to try. On Easter Sunday in 2003, in the pouring rain, they planted a library vineyard with five different varieties of grapes. Those vines are still thriving today.
"We research a lot, and then we just try it," Gary says. "It's been a lot of on-the-job training — and we've had our fair share of luck, too. This year the rainfall has been great. The vines did awesome, and we ended up with picture-perfect fruit."
As it turns out, the land is well suited for grape growing. The vines respond well to the climate and terrain. "Once the vines get in the ground, they like rock. And we have plenty of that," Gary says. He has worked with Capital Farm Credit to finance the land, improvements and the winery equipment.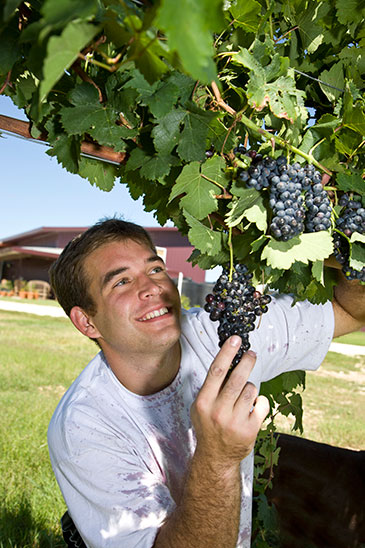 Evan does most of the hands-on work these days, tending to the vineyard and making the wine. He is showing a lot of success doing both. They have planted more vines every year since 2003, and even propagated their own vines this year. The vineyard currently consists of 9.5 acres with 11 different varieties; they expect to double their acreage next year.
Every year, the grape harvest is completed with the help of volunteers, many of whom come from across Texas to participate.
"We print t-shirts and make it a fun event," Gary says. "This year, we picked nine tons by hand — all with volunteer labor."
Award-Winning Wine
Red Caboose Winery started producing wine in 2006. Although still in its infancy, the winery has already won awards. At the 2007 Lone Star International Wine Competition, Red Caboose's 2005 Viognier and 2005 Cabernet Sauvignon won bronze medals. At the same competition in 2008, the 2006 Viognier won another bronze medal, and the 2006 Syrah Merlot won silver.
"These medals are making me work 24 hours a day," jokes Evan.
The McKibbens crushed 50 tons of grapes last year, and bottled 2,000 cases of red wine this year. They plan to release their new merlot around Thanksgiving.
On days that the winery is open to the public, Evan and Gary both enjoy interacting with customers. "I never thought of myself as a salesman," Evan says. "But when I'm in the tasting room, helping people select their wine, I realized that maybe I am. I just needed to love what I was selling."
Right now marketing efforts for the wine, which sells for about $29 per bottle, are limited by the inventory. Most of it is sold from their tasting room. But, as production picks up, Gary hopes to make connections with Dallas-area restaurants to carry the wine.
The Little Caboose That Could
The net-zero standard and early success are not the only factors that make Red Caboose Winery unique. The McKibbens also harvest rainwater and use it to irrigate the vineyard. In a normal rainfall year, collected rainwater can supplement 15 percent of the total irrigation, and the last irrigation before harvest is always rainwater.
And then, of course, there is also the winery's namesake, a red caboose that sits on the property.
"I've been fascinated by trains since I was a little boy," Gary explains. "The train ran right through our farm, and sometimes they would let me jump up on the caboose and ride to the depot."
It was that special memory from his childhood in Iowa that prompted him years later to buy a worn-out, rusted caboose he saw as he was driving down the interstate one day.
"I told the guy I'd buy it for what he was going to get for scrap," Gary recalls. He then had it hauled to his property in Meridian, where he fixed it up and converted it into a small apartment with a kitchen and shower.
One night, lying awake listening to the clang of raindrops hitting the caboose's metal roof, Gary had a flash of inspiration: Why not name the winery after the red caboose?
Evan jumped on the idea. "We had pages of names that we'd been brainstorming already," Evan recalls. "But Red Caboose just seemed right."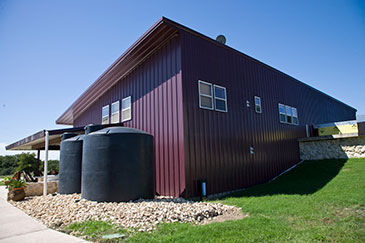 Putting Their Plans in Motion
The McKibbens hosted their first open house in August 2007 at the first-annual grape stomp. More than 200 people attended that year, and more than 300 attended the event this year.
Since their successful opening, Gary and Evan are already expanding. They have built an extension that includes a cellar, a kitchen and an outdoor patio, constructed of rocks from the vineyard. The cellar will function as barrel storage for aging wine and as a dining facility for banquets. They will use the cellar and patio to host special events, such as weddings. Gary's older son, Ryan, is a chef in Dallas, and he comes to cook for special events.
They intend to turn Red Caboose into a destination winery, complete with cabins for overnight accommodations, wireless Internet access and a building for special events. They also are planning to open a second winery in a town nearby.
Judging by their current success, they will likely accomplish all their goals.
"I feel very honored to work with the McKibbens," says Carol Fields, Capital Farm Credit vice president in Clifton. "They are very committed to what they're doing. It's an interesting business, and they work hard to make it happen."
-Pennie Currie
---