Just a few blocks north of the colorful motor inns and curio shops in Tucumcari, N.M., stands one of the largest feta producers in the Southwest.
"I've been waiting for 15 years for business to take off, and now it's happening," says Chuck Krause, plant manager and co-owner of Tucumcari Mountain Cheese. "We're healthier than ever financially, and feta floats our boat today."
Krause, a red-haired fourth-generation cheesemaker from Wisconsin, landed here in 1995, looking to start up a cheese plant, after hearing that dairy farms were expanding nearby in the regions surrounding Clovis and Portales. Discovering a former Coca-Cola bottling plant that would make a perfect cheese plant, he soon wrangled used equipment at auctions, sought a small business loan and began manufacturing cheese.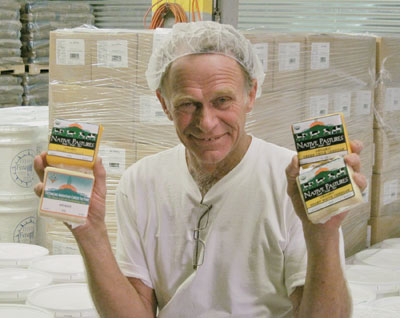 "I didn't have enough capital to build a high-volume plant," says Krause, who lived in a small room in the factory during the first three years. "I was underfinanced, I had no market, and I learned everything the hard way. We're still tiny compared to other cheese plants. We make it all by hand."

---
But the hard work is paying off. Every week, it seems, the company sells more cheese to existing customers than it sold before, and finds new buyers like Restaurant Depot, which is similar to a Home Depot for restaurants. Workers pack feta in five-gallon buckets of brine for food service companies, and wrap smaller packages for retail.
Learning Along the Way
Krause learned cheese-making from his father, who owned a plant near Green Bay, Wis., that produced top-of-the-line cheddar for Kraft. His dad sold out in 1988, and Krause ended up working for the buyer, launching and troubleshooting cheese plants throughout California.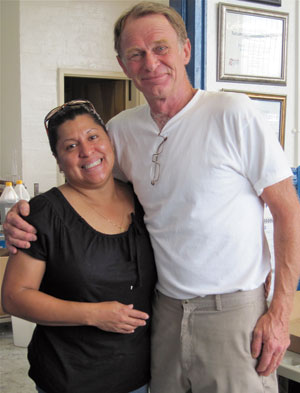 In New Mexico, he started with cheddar. However, cheddar takes a long time to age, and Krause faced stiff competition. Looking for a different niche, he tried feta, which is a fresh cheese that can be made overnight. Krause produced his first batch for a customer who eventually went out of business, but he was determined to make feta work. He sought out a buyer of Greek descent in Houston, Texas, who connected him with restaurants across the nation. These days, clients throughout the Southwest — from Houston to Phoenix to Los Angeles — savor Tucumcari Mountain Cheese. Buyers also come knocking from New York, Boston and Chicago. Most of the company's feta sells under the Ithaki label, but the factory also produces private labels for others.
Krause and his wife, Sylvia, whom he met in California, raise fruit, nuts, chickens and grandchildren on a small farm a few miles from town. But cheese-making is a family affair: Sylvia manages quality control for the plant; her son and daughter work in the plant; and Chuck's son and daughter work in the business in Wisconsin.
"It's a good trade," Krause says. "You work hard, but I've seldom met an unemployed cheesemaker."
Feta Makes the Difference
Tucumcari Mountain Cheese produces about 100,000 pounds of feta per week. By comparison, plants in Wisconsin, the biggest feta-making state, averaged more than a million pounds a week in 2009. Krause dreams of expanding, but he's pleased with current progress. The plant recently shipped its third semi truckload of cheese in a week — a new record.
Tucumcari has proved to be an excellent location, according to Krause. He found an affordable building, a steady supply of quality milk, good highways for transporting milk and cheese, and a good crew. And this town of 6,000 appreciates the jobs the company has created.
"We're taking on more people this year," Krause says, "and we're paying more overtime to experienced workers. How can you call it artisan cheese if your employees have no experience?"
His 25 employees report to work by 4 a.m. When milk trucks arrive from the farm, workers pump the milk into tall holding tanks. After being pasteurized, the milk is piped into open stainless steel vats, where rennet, enzymes, salt and other ingredients are added. When the time's right, workers load the feta into steel boxes lined with cheesecloth, drain it, and cut and package the final product. All the while, the plant is a noisy, wet beehive of activity — wet because it takes a lot of water to keep the facilities immaculate.
Although feta makes up 95 percent of the plant's output, Krause also enjoys creating other varieties like cheddar, cheddar jack, Gouda, jack, chile jack and Muenster. In addition, he produces Asiago, an Italian cheese similar to Parmesan, and asadero, a Mexican melting cheese used on quesadillas. For custom orders, he will add chile, tequila and roasted garlic.
Farmers Bring in Financing
Beyond attracting quality employees, Krause drew in several outside investors a few years ago, including Art Schaap, a farmer from nearby Clovis, who now supplies all the plant's milk.
Two years ago, the plant needed financing from a lender that could help the operation grow. Schaap and another farmer-investor, Wendell Bostwick, had a 20-year history with Ag New Mexico, and recommended the Farm Credit association.
"Financing through Ag New Mexico gives the plant the opportunity to buy new equipment and build cheese inventory when cheese prices are low," Schaap says. "That allows us to recoup profits when prices go up."
Cooper Glover, vice president of Ag New Mexico and assistant branch manager in Clovis, works with Krause and the investment team. "They share an entrepreneurial spirit," Glover says. "Chuck has deep roots in the industry, and he's very hands-on — he's there every day."

---
Tucumcari Mountain Cheese gets a lot of things right, and not just in the financial arena. In 2008, the company's feta took second and third place in a worldwide competition.
Last year, feta sales hit a bump in the road, prompting Krause to find markets for organic cheese in Albuquerque. The result: a new organic brand, Native Pastures. This year, while feta's booming again, organic cheese sales are up to 10 percent of production.
"Today, we're selling cheese, we're cash-flowing, things are going good," Krause says. But he and other investors aren't waiting for success to come to them. "You've got to change, you've got to grow. Success is a moving target."
– Nancy Jorgensen
Feta Packs a Flavorful Punch
Centuries ago, Byzantines discovered they could preserve cheese by packing it with brine in barrels. Today, feta, that same type of cheese, is growing in popularity across the U.S. This tangy, crumbly, fresh, low-fat white cheese is enjoyed in salads, on pizza and in Mediterranean pastries. "People want flavor," explains Chuck Krause. "You get more flavor for your buck with feta. Cheddar's got great flavor, but it gets lost in a salad."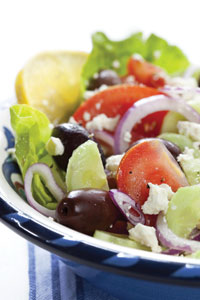 Greek Salad With Feta
Start with romaine lettuce, washed and torn into bite-sized pieces. Top with:
• Sliced tomatoes, sweet peppers, onions and cucumbers
• Pitted black Greek olives
• Crumbled feta cheese
• Vinegar and oil dressing
You can find Tucumcari Mountain Cheese and Nature's Pasture organic brand at Whole Foods Market and La Montañita Co-op in Albuquerque. Other retail outlets include Stansell's Thriftway and Make It Natural in Clovis, N.M., and United Supermarkets, from Amarillo to Dallas, Texas.
---